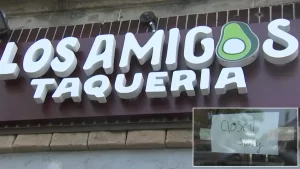 Los Amigos Taqueria has shuttered two of its Boston locations temporarily by the city after inspections revealed a slew of health violations, including unsanitary working conditions that appear to be linked to a Salmonella outbreak in the area, according to the local news.
In particular, Los Amigos Taqueria at 366 Washington Street in Brighton had its license to operate suspended following an inspection.
An ISD report published on the "Mayors Food Court" page states:
"Comments: There are multiple reports of a foodborne illness from items consumed at this location. Establishment was issued a TSOP (Temporary Suspension of the Permit). Samples were taken of implicated items, cooled/stored under refrigeration. All food items have been embargoed.Owner has been instructed not to handle any food items at this time without approval from the Health Division."
Did you or a loved one suffer a Salmonella illness from Los Amigos Taqueria?
If so, The Lange Law Firm, PLLC can help.   Our attorney understands how to investigate and handle Salmonella cases and can help you and your family with a legal claim for injury.  We believe that food producers, restaurants, and stores need to be held accountable for selling food contaminated with Salmonella.
The consultation is free and we never charge a fee unless we recover money on your behalf. Call (833) 330-3663 for a free consultation.
Our clients feel like family to us. Our clients call us when something terrible has happened and they need our help. We are committed to getting them the help they need, so that they can rebuild their lives.