E. Coli Lawyer | Idaho E. Coli Outbreak

Idaho E. Coli Outbreak — Romaine Lettuce Strikes Again
The CDC announced its investigation of an E. Coli outbreak that has infected at least 40 people in 16 states, 5 of those sick have developed HUS (a severe kidney complication). Three of those are from Idaho. CDC is advising that consumers not eat and retailers not sell any romaine lettuce harvested from the Salinas, California growing region. "History is repeating itself," said E. Coli lawyer  Jory Lange. "It looks like we are in the midst of another Romaine lettuce E. Coli outbreak. The same thing happened last year when a Romaine lettuce E. Coli outbreak broke just before Thanksgiving."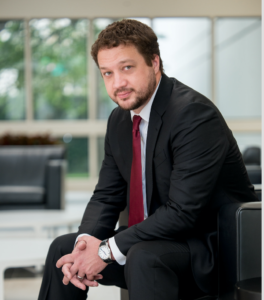 Is Idaho Included in the Romaine Lettuce E. Coli Outbreak?
Yes. At least 3 people in Idaho have gotten E. Coli in the Romaine lettuce E. Coli outbreak.  We expect the case counts to rise. It typically takes a couple of weeks for cases to be reported and included in the case counts. There are probably already more people who are sick. Their cases just have not been fully reported yet.
Has Romaine Lettuce Been Recalled?
Yes, the FDA has urged consumers not to eat Romaine lettuce from the Salinas, California growing region.  If romaine lettuce does not have labeling information for its growing area or the source cannot be confirmed, consumers should not eat or use the romaine. Restaurants and retailers should not serve or sell romaine lettuce if they cannot confirm it is from outside Salinas. Suppliers, distributors and other supply chain partners should also not sell or ship any romaine lettuce from Salinas.
This advice includes all types of romaine lettuce harvested from Salinas, California such as whole heads of romaine, hearts of romaine, and packages of precut lettuce and salad mixes which contain romaine, including baby romaine, spring mix, and Caesar salad.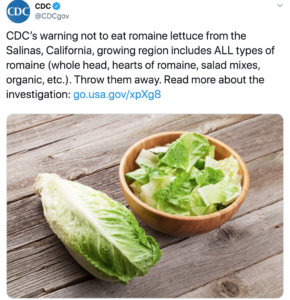 How did E. Coli get in romaine lettuce?
Most E. Coli outbreaks start with animal feces getting into our food. So whenever we see an E. Coli outbreak, one of the first things we ask is how did animal feces get into our food. Was it from irrigation water? Did a harvester not wash their hands? Was it a sick food server?
In one of last year's Romaine lettuce E. Coli outbreaks, we saw Romaine lettuce in Yuma, Arizona being grown downstream from a concentrated cattle feeding operation. Cow feces got into the irrigation water. And that irrigation water was then used on Romaine lettuce crops. The result was one of the worst E. Coli outbreaks we've ever seen.
Can you sue for E. Coli food poisoning?
Yes. A lawyer can help you sue for the compensation you deserve for your E. Coli food poisoning.  You may be able to sue the restaurant, grocery store, or food manufacturer. You can seek compensation for medical bills, wages lost during your illness and recovery, and pain and suffering.
How do you know if you have E. Coli food poisoning?
First, you need a stool (poop) test to prove that you have E. Coli. You can get that test from your doctor. Only a doctor can make a formal diagnosis of an E. Coli infection.
What are the signs and symptoms of E. Coli?
8 early signs and symptoms of E. Coli 0157:H7 infection are:
Nausea.
Vomiting.
Stomach cramps (abdominal pain)
Diarrhea that often is bloody.
Fever of about 100 F to 101 F (37.7 C to 38.3 C)
Malaise.
Loss of appetite.
Mild dehydration.
People who experience these symptoms should seek emergency medical care immediately.
Who is at the Highest Risk?
E. Coli can make you sick at any age or health condition. However, there are certain people that are more likely to have more severe E. Coli illnesses should they be exposed. Children under the age of 5 years, adults older than 65, and people with weakened immune systems are more likely than others to develop severe illness, including HUS, but even healthy older children and young adults can become seriously ill.
What should you do if you think you have E. Coli?
If you think you have E. Coli, call your doctor.  Ask your doctor for a stool (poop) test.  A stool test is the gold standard by which E. Coli infections are diagnosed.
E. Coli infections can be life threatening.  If you think you may have been infected with E. Coli, seek medical help.
Once you get a diagnosis, don't forget to report it to your local health department. You can reach the Idaho Department of Health's reporting page here.
Has Idaho been hit by other Romaine Lettuce Outbreaks?
Yes. In June of 2018, Idaho was part of a previous E. Coli outbreak linked to romaine lettuce with 12 confirmed cases of E. Coli illnesses. Thankfully, there were no cases of E. Coli illnesses that were part of the November 2018 outbreak.
Past Idaho Outbreaks
Raw Milk E. Coli and Campylobacter Outbreak (2015)
Central District Health Department (CDHD) and Southwest District Health (SWDH) identified four Shiga-Toxin Producing E. Coli (STEC O157:H7) and four Campylobacter cases who consumed Natural Farm Fresh Raw Milk. This local dairy sells raw milk at many locations across the Treasure Valley.
The outbreak ended with 12 illnesses linked to the outbreak.
Boise Co-Op Salmonella Outbreak (2015)
Boise, Idaho.  The Boise Co-Op was identified as the source of a Salmonella outbreak.  Hundreds of Idahoans reported getting sick after eating food from the Boise Co-Op.  Idaho's Department of Health and Welfare reported that nearly 300 Boise residents reported that they were infected with Salmonella. The outbreak was linked to sandwiches made at the co-op.
Boise Cheesecake Factory Salmonella Outbreak (2014)
In August 2014, the Central District Health Department (CDHD) investigated an outbreak of Salmonella Enteritidis among customers of the Cheesecake Factory located in Boise. A common food item eaten by 6 of the 11 sick cases was whipped cream.