April is National Grilled Cheese Month
Posted in Food Safety on April 26, 2019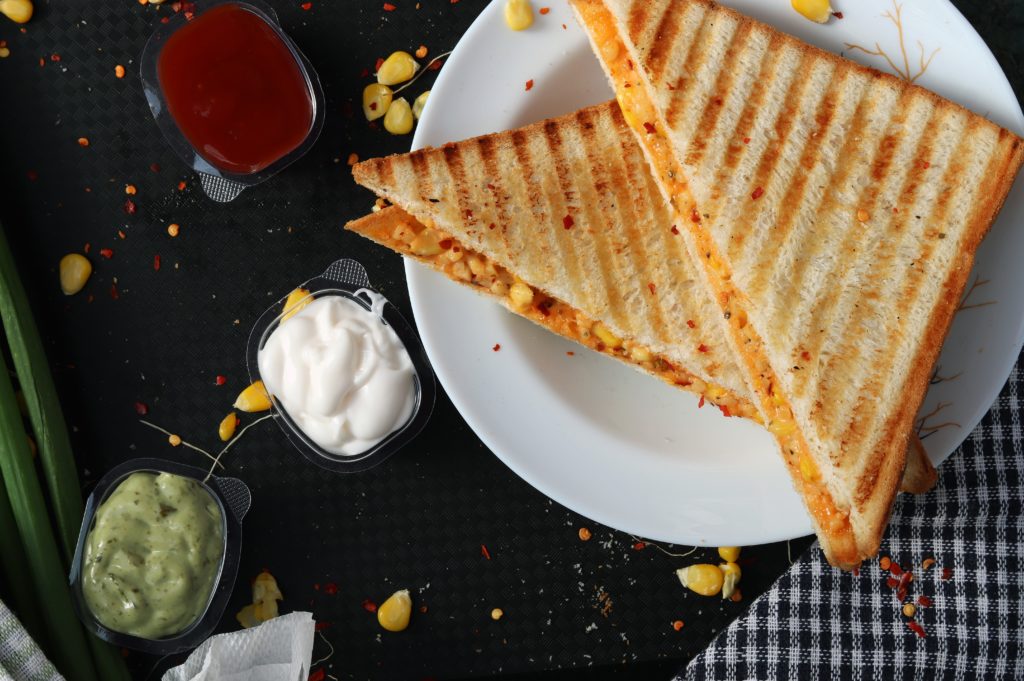 Everyone (except my kids) loves a grilled cheese sandwich. My boys are apparently the odd ones in the crowd when asked about eating grilled cheese the oldest says "I don't like dirty cheese sandwiches" to which I answer that there is more for me this way. For those of us who are grilled cheese lovers, the month of April is upon us. Happy National Grilled Cheese Month!
Growing up we devoured aged cheddar and loved it on a grilled cheese sandwich. My mom was the one who wasn't a huge fan, but Dad always picked this type of cheese. It is often seen on a wheel with a bright red wrapping. It is so delicious and savory. Mom was famous for her grilled ham and cheese sandwiches. She would use deli American on each side of the ham and it was something to behold.
We always had cheese of different varieties while I was growing up and I have done the same in my home. We love a good grilled Swiss cheese. An American grilled cheese with soup or even just a few dill pickles on the side.
Grilled cheese is literally a comfort food for me. On sick days from school it was something light to eat and just tasted so amazing when we had ailments.
According to Murray's Cheese
The grilled cheese sandwich as we know it is less than a hundred years old, and it was born right here in America. Indeed, the modern grilled cheese is a uniquely American creation.
How did this happen? Like so many essential creations, it resulted from the confluence of technology and necessity.
The first piece to fall into place was the individually wrapped slice of American cheese. This was popularized in the 1910s and gained steam into the 1920s. Then, the real game changer: the ready availability of sliced bread. The importance of the advent of sliced bread simply cannot be overstated. It was so great that it became the de facto thing that all other great things were marked against. We don't say, "The greatest thing since mashed potatoes" or, "The greatest thing since yogurt in a tube." We say, "The greatest thing since sliced bread." And one of the greatest things about this greatest thing is that it was easy and economical to place a piece of cheese in between two slices and make yourself a sandwich.
For many Americans, this quickly became a necessity. Sliced bread was first sold in 1928. The next year, the stock market crash and the Great Depression began. Grilled cheese became a staple of the American diet. A generation of children was raised on the sandwich.
It isn't every day that you come across something so simple and affordable yet so satisfying. Grilled cheese has that crispy, melty thing going for it, what we might refer to as goo-and-chew. And like so many commonplace dishes before it—paella, porridge, etc.—the sandwich proved to be a perfect canvas for creativity. As the economy began to recover, home cooks and chefs alike began to riff on it with more imaginative ideas, finding that you can make grilled cheese in endless fashions. You can make it with Stilton and bacon. You can make it with quince and spinach and feta. You can really make it however you want. And that's what Grilled Cheese Month is a celebration of.
Mobile Cuisine gives us some fun facts about grilled cheese:
Grilled Cheese Fun Facts: Cheese sandwiches can be uncooked, or grilled so that the bread toasts and the cheese melts (a dish referred to as a grilled cheese sandwich or simply grilled cheese). A grilled cheese is often heated by placing the buttered slices of bread, with the cheese between the slices, on a frying pan or griddle.
Cheeses that are grilled by themselves, include:

Halloumi
Saganaki
Leipäjuusto

September 3rd is National Grilled Cheese Day.
April 12th is National Grilled Cheese Sandwich Day.
Man has combined bread with cheese for centuries. Some scholars point to Roman cookbooks that included combining bread and cheese at mealtimes. Some scholars speculate that it was in the 1920's that someone came up with the idea to not only combine bread with cheese, but also to grill it as well.
S. government cookbooks describe Navy cooks broiling "American cheese filling sandwiches" during World War II.
The actual term "grilled cheese" doesn't make an appearance in print until the 1960's. Before then it was all "melted cheese" or "toasted cheese" sandwiches.
The most popular additions to a grilled cheese sandwich are bacon, ham and tomato.
How can you make your grilled cheese better than ever? Plated tells us all about that, too.
Add an egg– but be sure to cook it all the way. You don't want any food borne illness' from your grilled cheese sandwich.
Trade your butter for mayo. While many say this is totally disgusting, some will say that butter burns faster than mayo and this makes for a more evenly golden sandwich.
Toss in some greens. Avocado, lettuce and other green additions are becoming ever popular on the old classic.
Spice it up by using jalapeno peppers
Make it a dessert– Some people are adding chocolate paired with cheese to their grilled cheese and while it may sound bizarre it does have me somewhat tempted. Brie and Nutella anyone?
While others are piling on the toppings, others are simply adding some mustard to add a bit of tang while some are going all out and adding pickled veggies.
Consider that while the month may be nearly over that there is still plenty of time to add a grilled cheese or 2 to your meal planning and while you are at it share your amazing grilled cheese pictures on social media as a way to celebrate all things cheesy!  I may be a little bit on the classic side when it comes to grilled cheese sandwiches, but I am still a fan nonetheless.
When you share your photos on social media be sure to hashtag as they are apparently quite popular using #grilledcheese
By: Samantha Cooper, Contributing Writer (Non-Lawyer), Lover of Grilled Cheese