Death Reported in Backyard Chickens Salmonella Outbreak
Posted in Our Blog,Outbreaks & Recalls,Salmonella on June 25, 2020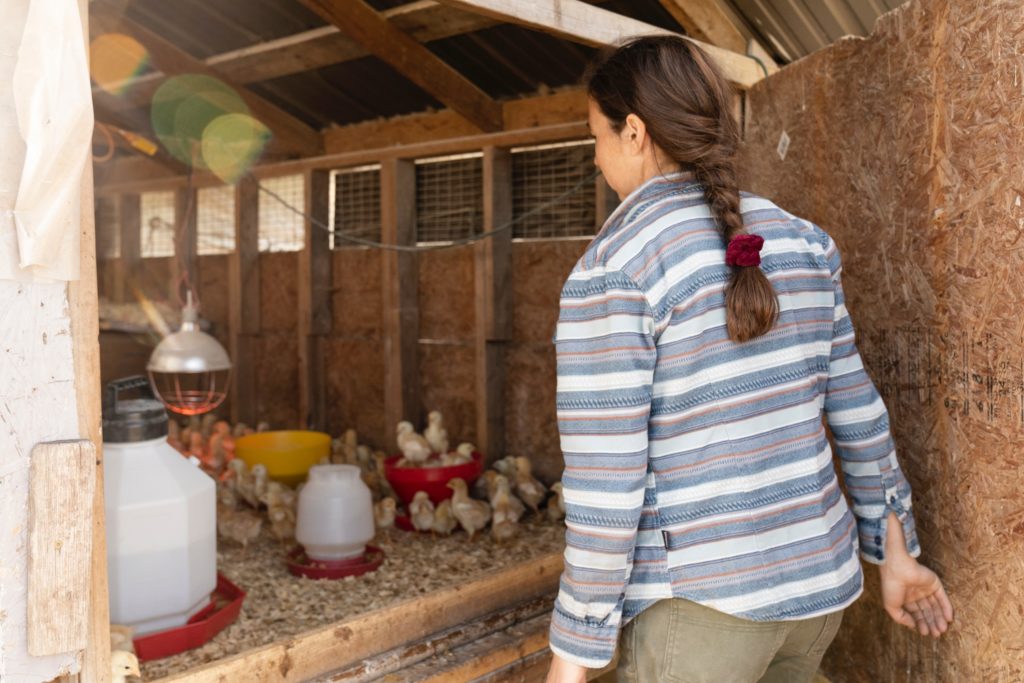 As of the writing of this article, 465 people in 42 (yes 42) states have become infected with Salmonella linked to their pet chickens. One person has sadly died. For those of you who recall, we see these pet chicken outbreaks every year. But they are preventable. If you keep backyard chickens or are around them, here is everything you need to know about this Backyard Chickens Salmonella Outbreak.
About the Backyard Chickens Salmonella Outbreak
According to the latest from the CDC, 465 people infected with one of the outbreak strains of Salmonella have been reported from 42 states. Of these illnesses, 86 people have been hospitalized. One person, in Oklahoma, has died and over 1/3 of the cases are children under 5 years old.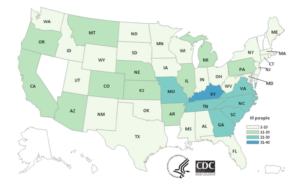 | State | Ill People |
| --- | --- |
| Alabama | 4 |
| Arkansas | 11 |
| Arizona | 11 |
| California | 19 |
| Colorado | 14 |
| Connecticut | 6 |
| Florida | 7 |
| Georgia | 26 |
| Iowa | 10 |
| Idaho | 3 |
| Illinois | 16 |
| Indiana | 9 |
| Kansas | 11 |
| Kentucky | 34 |
| Massachusetts | 8 |
| Maryland | 5 |
| Maine | 2 |
| Michigan | 11 |
| Minnesota | 6 |
| Missouri | 22 |
| Mississippi | 9 |
| Montana | 13 |
| North Carolina | 23 |
| North Dakota | 1 |
| Nebraska | 12 |
| New Jersey | 2 |
| New Mexico | 6 |
| New York | 5 |
| Ohio | 10 |
| Oklahoma | 9 |
| Oregon | 14 |
| Pennsylvania | 20 |
| South Carolina | 23 |
| South Dakota | 7 |
| Tennessee | 26 |
| Texas | 9 |
| Utah | 8 |
| Virginia | 21 |
| Washington | 1 |
| Wisconsin | 3 |
| West Virginia | 2 |
| Wyoming | 6 |
| Total | 465 |
The CDC reported in interviews with 226 ill people, 179 (79%) reported contact with chicks and ducklings. Those ill also reported obtaining chicks and ducklings from several sources, including agricultural stores, websites, and hatcheries.
Salmonella Involved in this Backyard Chickens Outbreak
The CDC reports that, since the last update on May 20, 2020, 368 more ill people and six additional Salmonella serotypes (Agona, Anatum, Enteritidis, Infantis, Mbandaka, and I 4,[5], 12:i:-) were added to this investigation.
Illnesses started on dates from January 14, 2020, to June 1, 2020. Ill people range in age from less than 1 year to 88 years, with a median age of 31. Fifty-six percent are female.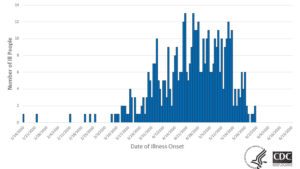 The outbreak is currently ongoing and likely to continue to grow in number.
The Concerns of Antibiotic Resistance
The CDC has further concern with this outbreak, as many of the types of Salmonella involved are resistent to antibiotics. "If antibiotics are needed, some infections related to these outbreaks may be difficult to treat with some commonly recommended antibiotics and may require a different antibiotic choice. Whole genome sequencing performed on 225 samples of Salmonella bacteria isolated from ill people predicted antibiotic resistance to one or more of the following antibiotics: amoxicillin-clavulanic acid (2.2%), ampicillin (3.4%), cefoxitin (2.2%), ceftriaxone (2.2%), chloramphenicol (0.4%), fosfomycin (5.2%), gentamicin (0.7%), streptomycin (75.7%), sulfisoxazole (2.2%), tetracycline (76.4%), and trimethoprim-sulfamethoxazole (1.1%). There was no antibiotic resistance predicted for 42 (15.7%) isolates. Testing of four outbreak isolates using standard antibiotic susceptibility testing by CDC's National Antimicrobial Resistance Monitoring System (NARMS) laboratory confirmed these results (fosfomycin was not tested by this method)."
Health Risks of Backyard Chickens
Backyard poultry, such as chickens, quail, and ducks, carry a host of germs harmful to humans. You can't see them, but they can see you. These germs are found in the droppings as well as on the bird itself and may cause illness ranging anywhere from minor skin infections to more life-threatening illnesses that can cause death. Common diseases that can be transmitted from birds to people include Avian Influenza (Bird Flu), Botulism (from Clostridium botulinum), Campylobacteriosis (from Campylobacter spp.), E. coli (known as Escherichia coli 0157:H7), Salmonellosis (from Salmonella ssp.), and West Nile Virus to name a few. Don't let yourself or your family be host to these terrible guests.
You can get sick with a Salmonella infection from touching backyard poultry or their environment. Backyard poultry can carry Salmonella bacteria even if they look healthy and clean and show no signs of illness.
How do I Prevent Getting Salmonella from My Pet Chickens
After contact with birds or bird droppings, such as cleaning out the coop, feeding the birds, collecting eggs, or socializing with them, it is very important to wash your hands with running water and soap. This is the most important thing you can do for your overall health outside of the backyard flock and even more important when dealing with known germ carriers. Always supervise children when they have contact with the birds, the coop, or any tools you use with the birds or the coop. Children often put things in their mouths and do not always understand the dangers. Something simple as touching an egg or a bird and then later putting their hands in their mouths could cause illness. Also pay attention to whether you have had the birds against your clothing. Contaminated clothing will need to be changed so keep the germs from spreading throughout your home.
For best results, refer to the following CDC hand washing guidance.
"Wet your hands with clean, running water (warm or cold), turn off tap, and apply soap.
Lather your hands by rubbing them together with the soap. Be sure to lather the backs of your hands, between your fingers, and under your nails.
Scrub your hands for at least 20 seconds. Need a timer? Hum the "Happy Birthday" song from beginning to end twice.
Rinse your hands well under clean, running water.
Dry your hands using a clean towel or air dry them."
After raising your chickens to egg laying maturity, you can finally enjoy the fruits of your labor. Well, their labor. Some chickens may lay an egg a day while others are somewhat less frequent. If you have 6 chickens, the eggs will begin to pile up fairly quickly. But what do you do with them? You can eat them yourself, give them to a friend or neighbor, or believe it or not… Feed it back to the chickens as a great source of protein. Whatever you decide to do with the eggs, you will need to follow some simple health guidelines.
After collecting eggs, limit surfaces you touch prior to handwashing. You can spread the germs through contact to other surfaces. Consider the door handle, light switch, kitchen counter that you are touching along the way.
The best thing, at the end of the day, is remember to wash your hands. The CDC recommends it. The FDA recommends it. Our Salmonella lawyer recommends it. Stay safe out there!
By: Candess Zona-Mendola, Editor