California Vibrio Raw Oysters Outbreak
Posted in Food Safety,Our Blog,Outbreaks & Recalls,Vibrio on May 7, 2019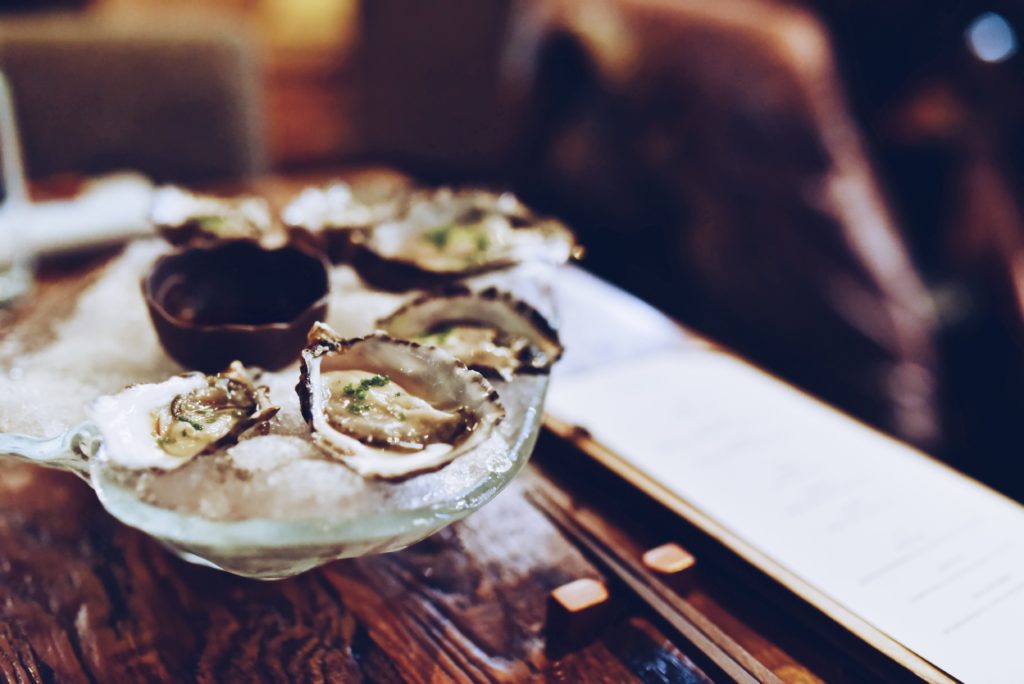 On May 3, 2019, the California Department of Public Health (CDPH) recommended that consumers avoid eating raw oysters harvested from Estero El Cardon in Baja California Sur, Mexico. We just found out why. It's because they are linked to an outbreak of several gastrointestinal illnesses in California. And when we say several, we don't just mean cases. We mean lots of different pathogens. Here is everything we know about this California Vibrio Raw Oysters Outbreak:
The Outbreak and Illnesses
According to the latest from the CDPH:
"In California, 12 individuals have reported illness in February, March, and April after consuming raw oysters sold by restaurants and retailers located in Los Angeles, Orange, Santa Barbara and San Diego Counties. The raw oysters have been distributed throughout the state. Laboratory testing was performed for eight cases and multiple pathogens were identified: Vibrio parahaemolyticus (3), Vibrio albensis (1), Vibrio species unidentified (1), Shigella flexneri serotype 1 (2), and norovirus (1). One of the Vibrio parahaemolyticus cases was co-infected with non-O157 Shiga toxin-producing E. coli."
The CDC Says
The CDC reports that there are now 5 states linked to this outbreak with 16 illnesses, as follows:
| State | Ill People |
| --- | --- |
| Alaska | 1 |
| California | 12 |
| Illinois | 1 |
| New Hampshire | 1 |
| Nevada | 1 |
| Total | 16 |
Case counts by pathogen or illness:
Three cases of Shigella flexneri infection
Three cases of Vibrio parahaemolyticus infection
One case of Vibrio parahaemolyticus and Shiga toxin-producing E.coli (STEC) non-O157 coinfection
One case of Vibrio parahaemolyticus and Shigella flexneri coinfection
One case of Shigella flexneri and Campylobacter lari coinfection
One case of Vibrio albensis infection
One case of norovirus genogroup 1 infection
One case of infection with Vibrio of unknown species
Four cases of illness without a pathogen identified
Investigation is Ongoing
According to the announcement, the CDPH continues to work closely with local health jurisdictions to collect information about the cases. The Mexican authorities are also investigating this outbreak.
The traceback evidence collected by the CDPH confirms that the oysters were harvested from Estero El Cardon, in Baja California Sur, Mexico. On May 7, Estero El Cardon was closed to further oyster harvesting. According to the FDA:
"Mexico implemented a precautionary closure of the growing area on May 7, 2019 as a result of Vibrio parahaemolyticus and other gastrointestinal illness concerns. On May 8th Mexico was informed a Shigella outbreak was confirmed. The growing area implicated remains closed while Authorities investigate the cause and the extent of the outbreak, to ensure implicated shellfish is removed from the food supply. At this time, it is believed no further product exists on the market. Due to a lag in reporting, State and Country officials are continuing to investigate illness reports. Simultaneous investigations into other reported illnesses are being conducted. Additional information will be posted as it becomes available, including if other illnesses are determined to be related."
Which Oysters Were Recalled for Vibrio?
California reports today that a recall of oysters has been initiated by DiCarlo Seafood Wilmington, CA. The recall information is as follows: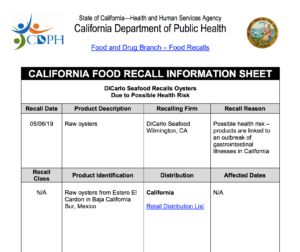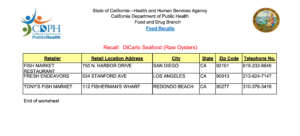 What Can You Do?
The best thing to do is this: avoid eating raw oysters and raw seafood. If you do eat shellfish, cook it until it reaches an internal temperature of at least 145°F. Quick steaming isn't sufficient. You need to cook them thoroughly.
The CDPH notified restaurants and retailers to protect customers by checking their inventory and shellfish tags that are required to identify the source to avoid any raw oysters harvested from Estero El Cardon in Baja California Sur, Mexico.
"This will ensure that potentially contaminated raw oysters are not available for purchase, and any leftover contaminated products are discarded. Consumers should ask the retailer or restaurant about the source if the product is not labeled or identified," according to the CDPH.
What the CDC Says
The CDC offers some advice on seafood preparation for anyone involved in preparing or cooking seafood: "The only way to kill harmful bacteria in oysters is to cook them properly. Hot sauce and lemon juice don't kill Vibrio bacteria. Drinking alcohol while eating oysters doesn't kill vibrio bacteria either. Cooking oysters properly kills harmful bacteria."
If you're eating raw oysters, you're putting yourself at risk for a nasty date with vibrio.
Those who were ill became sick from December 16, 2018 to April 4, 2019.
What is Vibrio?
Vibrio is a kind of bacteria that breeds in salt water. There's a whole genus of them, of about which twelve different kinds can make you sick. The bacteria that causes cholera is a kind of vibrio. The vibrio we'll be discussing here, however, isn't Vibrio cholerae – it's cousins from the same genus.
Vibriosis, the illness caused by the dozen or so species of Vibrio, affects about 80,000 people per year. These infections cause about 500 instances of hospitalization and 100 deaths per year.
Vibrio loves warm water. Population numbers soar between May and October, when the ocean is warmest.
During the high season, vibrio accumulates in delicious marine life like shrimp, crab, and oyster. Sometimes, there's enough vibrio in these foods to make you sick. Raw oysters in particular are notorious.
If you swallow enough contaminated saltwater or eat shellfish that hasn't been prepared properly, vibrio can cause an upset stomach and diarrhea.
I Think I May Be Sick
These bacteria can cause illness anywhere between 4 and 96 hours after exposure (eating raw seafood or exposure to salty, brackish water). Symptoms of a Vibrio infection include diarrhea, vomiting, abdominal cramps, nausea, vomiting, and fever.
California residents (and anyone else for that matter) should visit their doctor right away if they become ill after eating raw oysters or any raw seafood. Only a physician can diagnose a Vibrio or Ecoli illness, so a trip to the doctor is highly recommended. Don't forget to ask for a stool test.
If you have a confirmed illness, it is recommended that you report it to your local health department.
Who is at the Highest Risk?
The elderly and those with compromised immune systems (if you have problems with your liver, if you're undergoing chemo, or if you have a condition like AIDS) are at high risk of a more serious infection, where Vibrio moves to the bloodstream and can progress into a life-threatening illness. Once Vibrio hits the bloodstream, it can cause sepsis and other horrifying conditions. You might lose a limb, or worse – if you get to this stage and you haven't yet, seek care from a medical professional immediately.
A Side Note:
There's another way for Vibrio to enter the body. If you go swimming in salty or brackish water with an open wound, there's a possibility that Vibrio can slip past your body's defenses and cause an infection – sometimes bringing rashes of ugly sores. Because of these symptoms, Vibrio has sometimes been dubbed a "flesh eating bacteria." In a nutshell, if you think you have Vibrio, seek urgent medical attention.
The Lange Law Firm 
Our mission is to help families who have been harmed by contaminated food or water.  When corporations cause Vibrio and Ecoli food poisoning outbreaks or Legionnaires disease outbreaks, we use the law to hold them accountable.  The Lange Law Firm, PLLC is the only law firm in the nation solely focused on representing families in food poisoning lawsuits and Legionnaires disease lawsuits.
If you were infected with Vibrio, Ecoli, or Shigella after eating raw oysters and are interested in making a legal claim for compensation, we have a Vibrio lawyer ready to help you.  Call us for a free no obligation legal consultation at (833) 330-3663 or send us an e-mail here.
By: Candess Zona-Mendola, Editor (Non-Lawyer)