Canadian Chicken Listeria Outbreak
Posted in Listeria,Our Blog,Outbreaks & Recalls on August 25, 2019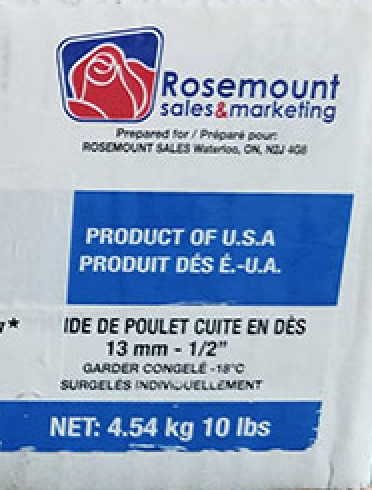 Canadian health authorities have announced that a cluster of Listeria infections appears to be linked to Rosemount brand cooked diced chicken. The product is now under recall. But it appears there is much we all need to know about this Canadian Chicken Listeria Outbreak:
The Outbreak and First Recall
According to authorities, the outbreak has affected people in the provinces of British Columbia, Manitoba, and Ontario. The Public Health Agency of Canada, the Canadian Food Inspection Agency, Health Canada, and provincial health agencies are working together to respond to the outbreak.
The specific product that's under recall is Rosemount cooked diced chicken meat 13 mm – ½" (#16305). It was packaged on January 21st of this year. The UPC from the recalled product is 2 06 20263 12454 7.
So far, seven different illnesses have been confirmed as part of the outbreak. Individuals fell ill in a window that stretches from November 2017 to June of 2019. That's quite a long window, even for products that are customarily kept frozen until they're needed.
Nonetheless, that's what the data tell us so far: two people fell ill in November 2017, and at least 5 have become ill more recently during the spring and summer of this year. Whole genome analysis performed on bacteria from the different outbreaks indicates that the illnesses in November of 2017 were caused by bacteria that's closely related genetically to the bacteria sampled from those who have fallen ill more recently.
According to public health authorities, the product was shipped to various Canadian provinces. British Columbia, Alberta, Saskatchewan, Manitoba, Ontario, Quebec and Nova Scotia are all confirmed as provinces in which the product was sold. There's also a chance that it could have been moved or sold to other provinces in Canada not listed above.
The diced chicken wasn't meant for direct sale to the public. If you're in Canada, you probably won't be seeing it on the shelves of your local grocery store. Instead, it was intended for sale in hotels, restaurants, and similar institutions — not for retail.
US Linked to Canadian Outbreak?
We think so. As health agencies in the US are looking for the source of Listeria monocytogenes outbreak that has sickened two dozen people across 13 states, it is likely these outbreaks are really the same. With two people already dead, it is a concerning outbreak to say the least.
As of today, a specific food item, grocery store, or restaurant chain has not been identified as the source of infections in the United States.
The Second Recall
Public health officials announced a second recall this week of diced chicken as outbreak investigators in Canada and the U.S. continue to look for the source. According to a recall notice posted by the Canadian Food Inspection Agency (CFIA).
"The food recall warning issued on Aug. 21 has been updated to include additional product information," according to the recall notice. "This additional information was identified during the CFIA food safety investigation. . . during its investigation into a foodborne illness outbreak."
Recommendations
If you're one of those institutions, and you think that you may have bought some of the product affected by the recall, you'd better go check to be sure. If you go and check and find that you do indeed have a bag or two of the Rosemount diced chicken meat, the Canadian government advises that you do not serve or sell the chicken to anyone. Similarly, don't prepare any food with the chicken and then go serving that to people.
Also important: the investigation is still ongoing. Canadian authorities aren't sure if other products are affected by the outbreak, and they're still working to figure out how many people have fallen ill, amongst other details.
Sometimes, it can take time to figure out exactly how many people have been affected by a particular outbreak. Listeria has an incubation period that's relatively long; you might not know for a month after your exposure to the bacteria that you're nursing an infection. It's plausible that there are people out there right now who have listeria bacteria in their bodies that, if removed, cultured, and genotyped, would demonstrate a high degree of genetic relatedness with the bugs implicated in this outbreak.
So far, it isn't clear how the diced chicken became infected with Listeria. Canadian health authorities haven't said if they've been able to trace the outbreak to a particular source — a production facility with contaminated equipment, for example, or another factor which may have transmitted the listeria to the chicken. We'll keep you updated if specific information along those lines becomes available.
Similarly, Canadian authorities haven't said whether they're going to be asking Rosemount to take any particular corrective actions — shutting down a facility temporarily, for example, so that it can be sanitized, or so that particular food safety practices can be updated. We'll let you know if they announce any changes along those lines, as well.
Listeria
In certain respects, listeria is similar to other types of food poisoning. You'll get a fever, cramps, and headache if you catch it. You may experience fatigue or muscle soreness. And, as is classically associated with food poisoning, you'll probably experience stomach trouble. That means nausea, diarrhea, and vomiting. All of these symptoms are common to a range of infections, including the flu, and not necessarily indicative of listeria.
What distinguishes listeria from other foodborne diseases is that it poses a particular risk to newborns, pregnant women, and human fetuses in development. Again, that doesn't quite read as unusual. It's the case with many foodborne diseases that they're more dangerous for the very young, the very old, or the immunocompromised than they are for adults with fully developed and functioning immune systems.
Listeria, however, poses a particular risk for pregnant women. It can cause miscarriage, stillbirths, or spontaneous abortion. It can also seriously endanger the life of the mother. It's a disease that's particularly dangerous for newborns, as well. If you're pregnant, you should take extra precautions to avoid contracting listeria.
If you're interested in seeing more articles about outbreaks of listeria, outbreaks in general, or outbreaks in Canada, then continue to watch this space. We publish regularly about this sort of thing. And, in the meantime, remember to practice good food safety and to stay vigilant out there!
How The Lange Law Firm Can Help
Our mission is to help families who have been harmed by contaminated food or water.  When corporations cause Listeria food poisoning outbreaks or Legionnaires' disease outbreaks, we use the law to hold them accountable.  The Lange Law Firm is the only law firm in the nation solely focused on representing families in food poisoning lawsuits and Legionnaires disease lawsuits.
If you got sick after eating diced chicken and are interested in making a legal claim for compensation, we can help.  Our Listeria lawyer can help you pursue compensation for your Listeria infection.  Call us for a free no obligation legal consultation at (833) 330-3663 or send us an e-mail here.
By:  Sean McNulty, Contributing Writer (Non-Lawyer)