CapriSun Recall
Posted in Food Safety,Our Blog,Outbreaks & Recalls on August 16, 2022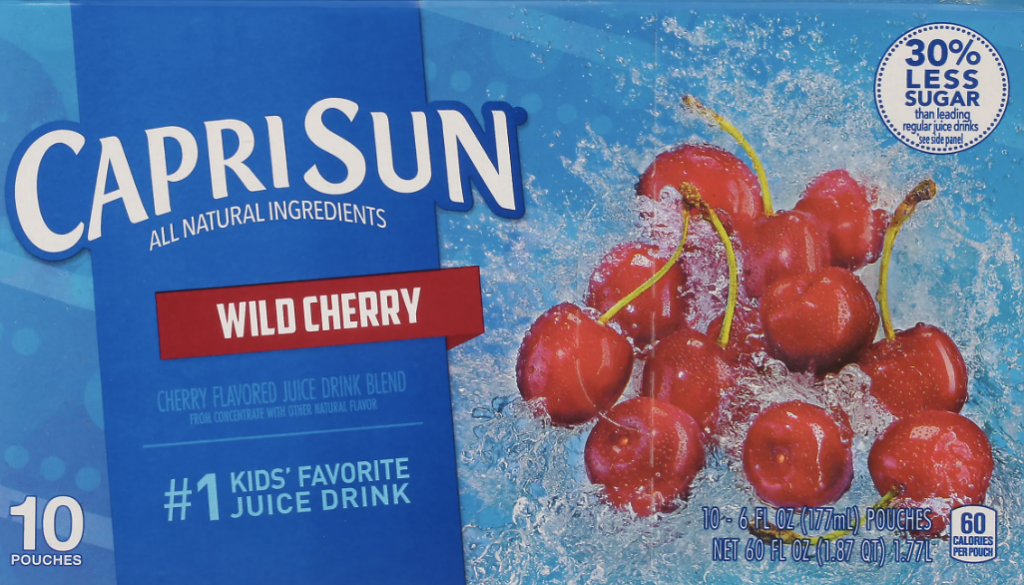 Kraft Heinz 
said in a statement
that a cleaning solution used to treat food processing equipment was "inadvertently introduced into a production line at one of our factories." The issue was discovered after it received "several consumer complaints" about the products' taste. The issue was discovered after we received several consumer complaints about the taste of the affected product. The Company is actively working with retail partners and distributors to remove potentially impacted product from circulation.
The company didn't disclose how many total pouches have been recalled. However, each case has four cartons that have 10 pouches each totaling in about 230,000 individual pouches possibly being affected.
Kraft Heinz stressed that only the Wild Cherry flavor has been affected by the contamination. The specific batch that has been recalled can be identified using several pieces of packaging information listed by the company. This includes a "Best Buy" date of June 25, 2023. On cartons, the recalled batches have a UPC code of 0 8768400100 4, while on pouches that code will be 87684 00409 00. Specific manufacturing codes can also be found on 
the company's official site
.
Product Size
Name of Product
Packaging Description
Manufacturer Code on Pouch
Manufacturer Code on Carton
Carton UPC
Case UPC

6.6 FL OZ

Capri Sun Wild Cherry Flavored Juice Drink Blend
Individual foil pouches packed in paperboard cartons.

Note: Cases shipped to retailers include 4 cartons that are shrink-wrapped together. Product is sold by the carton at retail.

25JUN2023
WXX LYY ####

Note: #### would be between 0733-0900 for product affected by this issue.

XX may be 01, 02, 03, 04, 09, or 10.

YY may be 01 through 12.

25JUN2023
WXX #### CT1404.

Note: #### would be between 0733-1000 for product affected by this issue.

XX may be 01, 02, or 03.

0 8768400100 4

87684 00409 00
What if my child ingested this product and is sick?
The information released about the Capri Sun recall does not mention what specific type of cleaning solution was involved. In general, parents concerned that their children may have consumed such fluids are urged to take one of several courses of action depending on the perceived severity or urgency of the problem: contact a poison control hotline, call 911 or take the child to an emergency medical center. A national hotline can be reached at 1-800-222-1222, or online at poison.org.
In response to tweets from parents whose children have been affected by the contaminated juice, or those concerned that it might, the official Capri Sun Twitter account has issued a blanket statement about next steps to be taken by customers.
The Lange Law Firm Can Help 
Our mission is to help families who have been harmed by contaminated food or water.  When corporations cause food poisoning outbreaks or Legionnaires disease outbreaks, we use the law to hold them accountable.  The Lange Law Firm is the only law firm in the nation solely focused on representing families in food poisoning lawsuits and Legionnaires disease lawsuits.
If you or your child is sick after ingesting juice in this CapriSun Recall and are interested in making a legal claim for compensation, we can help.  Call us for a free no obligation legal consultation at 833.330.3663, or send us an e-mail here.