Chicken Listeria Outbreak Hits U.S.?
Posted in Our Blog on August 25, 2019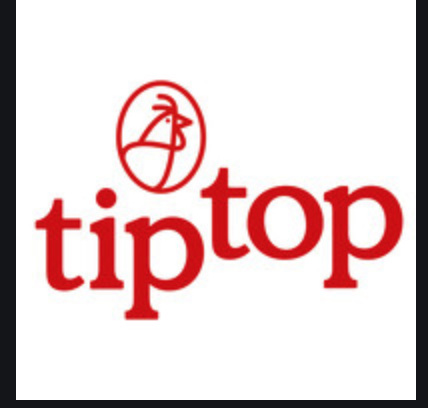 A chicken listeria outbreak may be brewing in the United States and Canada.  Early last week, Canada announced a listeria outbreak connected to cooked diced chicken.  Within days, the United States Department of Agriculture's Food Safety and Inspection Service announced a recall of fully cooked poultry products by Tip Top Poultry, Inc. out of Rockmart, GA. Then, on Friday, the CDC announced a Listeria outbreak in the United States.  Two Americans have died and twenty-two Americans have been hospitalized with Listeria infections.  This Listeria outbreak has put people into the hospital in 13 states.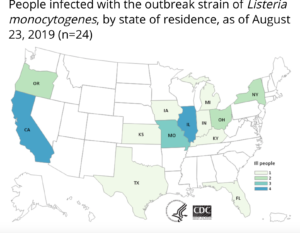 The patient case count by state is: California (4), Florida (1), Iowa (1), Illinois (4), Indiana (1), Kansas (1), Kentucky (1), Michigan (1), Missouri (3), New York (2), Ohio (2), Oregon (2), and Texas (1). Listeria specimens were collected from patients from July 20, 2017 to August 1, 2019. The patient age range is from 35 to 92 years.
This is a strange outbreak announcement, because the notice states that "A specific food item, grocery store, or restaurant chain has not been identified as the source of infections in the United States." This is very unusual. In most outbreak notices, a food is typically identified, although the grower, manufacturer, store, restaurant, or even brand name may not yet be named by the government.
The PulseNet system, a national sub typing network of public health and food regulatory agency labs that is coordinated by the CDC, was used to find people sickened in this outbreak. DNA fingerprinting is performed on all isolates submitted to PulseNet. Officials use this system to identify people who have been sickened by the same pathogen.
A Chicken Listeria Outbreak?
The notice does, however, state that the Public Health Agency of Canada is investigating a Listeria monocytogenes outbreak in that country that is linked to ready-to-eat frozen cooked diced chicken. Whole genome sequencing shows that the type of Listeria making people sick in Canada is "closely related genetically"to the Listeria making people sick in the U.S. Two recalls of three brands of chicken have been issued in Canada.
When Listeria strains are "closely genetically related", it is usually a strong indicator that they share a common food source.  In this case, the common link between the US Listeria outbreak and the Canadian Listeria outbreak may be cooked diced chicken.
This investigation is ongoing and a specific food item, grocery store, or restaurant chain has not been identified as the source of infections in the United States. State and local public health officials are interviewing ill people to determine what they ate and other exposures they had before their illness started. CDC will provide more information as it becomes available.
US Chicken Recalled
On August 20, 2019, Tip Top Poultry, Inc. announced its recall of approximately 135,810 pounds of fully cooked poultry products that may be adulterated with Listeria monocytogenes. According to the USDA's announcement: "The frozen, diced, and mechanically separated ready to eat chicken was produced on January 21, 2019 and display "PACK DATE 01/21/19" on the labels. The products subject to recall can be found in this spreadsheet. [View labels (PDF only)] The products subject to recall bear establishment number "P-17453" inside the USDA mark of inspection or on the case. These items were shipped to hotels, restaurants, and institutions nationwide."
The announcement is pretty candid about the potential link between the Canadian Chicken Listeria Outbreak and the mystery outbreak of Listeria cases in the United States. The USDA announcement comments:
"The problem was discovered on August 17, 2019, when the Canadian Food Inspection Agency (CFIA) notified FSIS that a sample of product produced by Tip Top Poultry, Inc. confirmed positive for the presence of Listeria monocytogenes.
Canadian public health and food safety partners, including the Public Health Agency of Canada and the Canadian Food Inspection Agency, have been investigating an outbreak of Listeria monocytogenes. A ready-to-eat diced chicken product collected as part of the investigation tested positive for Listeria monocytogenes. The investigation is ongoing."
USDA's FSIS routinely conducts recall effectiveness checks to verify recalling firms notify their customers of the recall and that steps are taken to make certain that the product is no longer available to consumers. This is why there is a concern that the products affected in this recall may still be sitting in the freezers of consumers. Check your freezers ASAP to ensure you are safe!
CDC Advice to Consumers in Listeria Outbreak 
CDC is not recommending that consumers avoid any particular food at this time. CDC will update its advice if more information becomes available, such as a supplier or specific food product linked to illness.
Listeria is most likely to sicken pregnant women and their newborns, adults aged 65 or older, and people with weakened immune systems. People who have underlying medical conditions or take medicines (like steroids or chemotherapy) that lower the body's ability to fight germs and sickness have weakened immune systems.
Some foods are more likely to contain Listeria. People at higher risk for infection should:
Heat lunch meats, cold cuts, or other deli meats to an internal temperature of 165°F or until steaming hot just before serving.
Avoid eating cold smoked fish, unless it is canned or shelf-stable or it is in a cooked dish, such as a casserole. A food is shelf-stable if it can be safely stored at room temperature.
Choose pasteurized milk and milk products, including soft cheese, ice cream, and yogurt.
FDA Advice to Consumers in Listeria Outbreak 
FSIS is concerned that some product may be in institutional freezers. Institutions who have purchased these products are urged not to serve them. These products should be thrown away or returned to the place of purchase.
Listeria Symptoms
Listeriosis can cause different symptoms, depending on the person and the part of the body affected. Pregnant women typically experience only fever and other flu-like symptoms, such as fatigue and muscle aches. However, infections during pregnancy can lead to miscarriage, stillbirth, premature delivery, or life-threatening infection of the newborn. People other than pregnant women: Symptoms can include headache, stiff neck, confusion, loss of balance, and convulsions in addition to fever and muscle aches. People with invasive listeriosis usually report symptoms starting 1 to 4 weeks after eating food contaminated with Listeria. Some people have reported symptoms starting as late as 70 days after exposure or as early as the same day of exposure. Listeriosis is treated with antibiotics.
In susceptible individuals, listeriosis can lead to a serious blood infection (septicemia) or inflammation of the membranes around the brain (meningitis). If the listeriosis infection spreads to the brain, the outcomes can be severe and may include:
Cranial nerve palsies: Paralysis and tremors.
Encephalitis: Inflammation of the brain.
Meningitis: Inflammation of the membranes covering the brain and spinal cord.
Meningoencephalitis: A combination of meningitis and encephalitis.
Cerebral abscesses: Localized pus build-up within the brain.
How To Report Listeria Infection
Please contact your local health department, also known as a county or city health department, if you believe you or someone you know became ill from eating a certain food. Ask to speak with the environmental health specialist, or sanitarian, about a possible food problem. Refer to your state health department website  to find more information about how to contact your local health department.
Reporting illnesses to your local health department helps them identify potential foodborne disease outbreaks. Public health officials learn about possible problems in food preparation, production, and distribution that may cause illness during investigations of foodborne disease outbreaks.
Fast Facts About Listeria Outbreaks:
Here are some key points about listeriosis. More detail and supporting information is in the main article.
Listeriosis is an infection caused by Listeria monocytogenes
An estimated 260 Americans die of listeriosis yearly.
Only immunosuppressed individuals and pregnant women are at risk of a serious case of listeriosis.
Listeriosis can lead to septicemia or meningitis.
Pregnant women are 10 times more likely to be infected with Listeria than the general population.
Preventing Listeria:
Although listeriosis is rare, there are a number of ways to further reduce the chances of becoming infected; these precautions are especially important during pregnancy:
Cleanliness – wash hands with warm soapy water before preparing food. Clean utensils and work surfaces in the same manner.
Raw vegetables – scrub clean under warm water with a brush.
Cook thoroughly – ensure that meat and egg dishes are heated thoroughly and throughout. A food thermometer can be useful.
Cheese – avoid soft cheeses including Brie, feta, Camembert, blue-veined cheeses, or Mexican-style cheeses such as queso fresco, panela, and queso blanco; unless the label clearly specifies the product was made with pasteurized milk.
Meat – avoid cold meats, especially deli meats and hot dogs, unless cooked at a high temperature before eating. Be careful to wash anything that comes into contact with raw and cold cooked meat.
Smoked seafood – avoid refrigerated smoked seafood unless it is cooked thoroughly before consumption.
How The Lange Law Firm Can Help
 Our mission is to help families who have been harmed by contaminated food or water.  When corporations cause Listeria food poisoning outbreaks, we use the law to hold them accountable.  The Lange Law Firm is one of the only law firms in the nation focused on representing families in food poisoning lawsuits.  The Lange Law Firm is investigating this chicken listeria outbreak.
If you were hospitalized with Listeria after eating chicken and are interested in making a legal claim for compensation, we can help.  Our Listeria lawyercan help you pursue compensation for your Listeria infection.  Call us for a free no obligation legal consultation at (833) 330-3663 or send us an e-mail here.
By Jory Lange and Samantha Cooper