Church BBQ Outbreak Possible Cause for Illness
Posted in Food Safety on November 4, 2018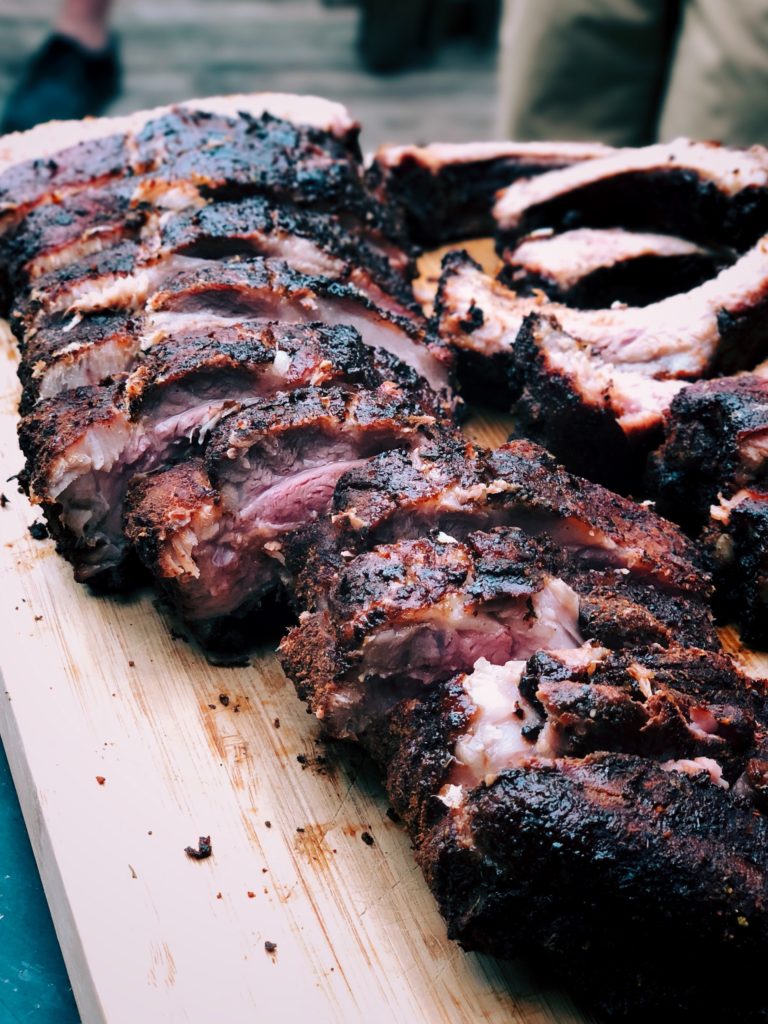 Many times as a child we attended BBQ dinners at our church. This was something that brought together members and even brought in new church guests who often joined after dining with the current church. Fellowship was a huge part of being in the church and I always enjoyed it so very much. We often did fundraisers and have even attended the fundraisers of other local churches in our area to support their causes and missions as well.
Recently in Kannapolis, North Carolina church members became ill after attending a church bbq. Spectrum News in Charlotte reported the illness once the news broke and shared the following with its readers:
More than a dozen people are reporting stomach and digestive illnesses which officials think may be traced to a North Carolina church's annual fundraising barbecue.
The health department serving Cabarrus County says it's gotten reports of people who ate the food at the event held by Poplar Tent Presbyterian Church in Concord. The church has hosted the late-fall event for more than 70 years.
Cabarrus Health Alliance officials say the people who reported vomiting, diarrhea and abdominal cramps are a fraction of the thousands who ate at the church barbecue and they aren't certain that food served there is the culprit.
Agency Chief Operating Officer Erin Shoe is urging anyone who brought home leftovers to throw it out.
Initial reports said that 13 people had become ill from eating the BBQ but later reports came in to state that number was very low. ABC 11 followed up on the story and reported Hundreds of cases of stomach and digestive illnesses have been reported in Kannapolis after a fundraising church barbecue. Cabarrus Health Alliance received over 200 emails reporting for 468 people. Of those, 62 percent reported being ill and 38 percent reported no symptoms, the Independent Tribune reports. Those who are sick have reported vomiting, diarrhea, and abdominal cramps.
Update 11/5:
UPDATE: November 5, 2018
Cabarrus Health Alliance staff continue to investigate illnesses with a possible link to the Poplar Tent Presbyterian Church BBQ held on November 1, 2018.
CHA staff asked anyone who ate at the BBQ to email investigation@cabarrushealth.org with their email contact information
Individuals who share their contact information will receive a link to an electronic questionnaire from the state to help further narrow down the source
As of 11:00am on Monday, November 5th, CHA has received over 200 emails reporting for 468 people. Of those, 62% reported being ill and 38% reported no symptoms.
CHA staff do not believe this is transmittable from person-to-person
Food and stool samples have been collected and the state lab will test for cause of illness
Anyone seeking medical guidance should contact their physician
Poplar Tent Presbyterian Church staff have been extremely helpful and supportive during this investigation
Update:
On November 17th an update was shared by Charlotte Observer stating that it was Brunswick Stew that sickened over 300 people. Bacteria in Brunswick stew poisoned nearly 300 people at a popular North Carolina church barbecue, health officials said in a statement Friday.
The bacteria — C. perfringens — "is a common cause for food poisoning and infection" that commonly develops "when foods are prepared in large quantities and kept warm for a long time before serving," according to the Cabarrus Health Alliance statement.
Health officials also tested barbecue pork, cole slaw and barbecue sauce served at the event, but only the Brunswick stew cultures revealed the presence of the sickening bacteria, according to the statement.
In a Nov. 5 statement, Cabarrus Health Alliance said it had received "over 200 emails reporting for 468 people. Of those, 62% reported being ill and 38% reported no symptoms." That percentage of reported illnesses totals 290 people.
On Nov. 7, the alliance sent "food and fecal samples" to the federal Centers for Disease Control and Prevention and N.C. public health labs, according to the alliance's website.
"People infected with C. perfringens develop diarrhea and abdominal cramps within 6 to 24 hours (typically 8 to 12 hours)," the Cabarrus Health Alliance statement said. "The illness usually begins suddenly and lasts for less than 24 hours."
What To Do:
If you suspect that you have become ill from a food that you have eaten at an event such as this one in North Carolina please seek medical attention. People who are often affected in a worse manner than well adults are the elderly, children and pregnant women.
It is a great idea to try and stay hydrated until you can be seen and also prepare to give a stool sample in many cases. This is to help track bacteria in the stool which can help link where your illness came from.
Also be prepared to speak with someone from your local health department should the need arise. Doctors often ask all of the questions, but sometimes you will be asked further questions by health officials in your area to help narrow down the cause of your illness and where you may have ingested the food that caused you harm.
Conclusion:
Thankfully, the church that was in charge of this event has been completely cooperative with state health officials in this investigation process which does make things run smoothly. No one would intentionally make such a large group of people sick especially from a church and hopefully lessons in food safety can be learned for their event next year which seems to be a huge annual fundraiser in this area.
If you or someone you know has been affected by a major food illness outbreak and you would like to discuss your options with an attorney please reach out to Jory Lange who can assist you with all legal matters and has your best interest at heart. There are no cost consultations and you pay nothing unless the case is won. Schedule your free consultation today at Make Food Safe.
By: Samantha Cooper, Contributing Writer (Non-Lawyer)