Cut Fruit is Risky: The Not So Innocent Melon Linked to Salmonella Outbreak
Posted in Outbreaks & Recalls,Salmonella on June 11, 2018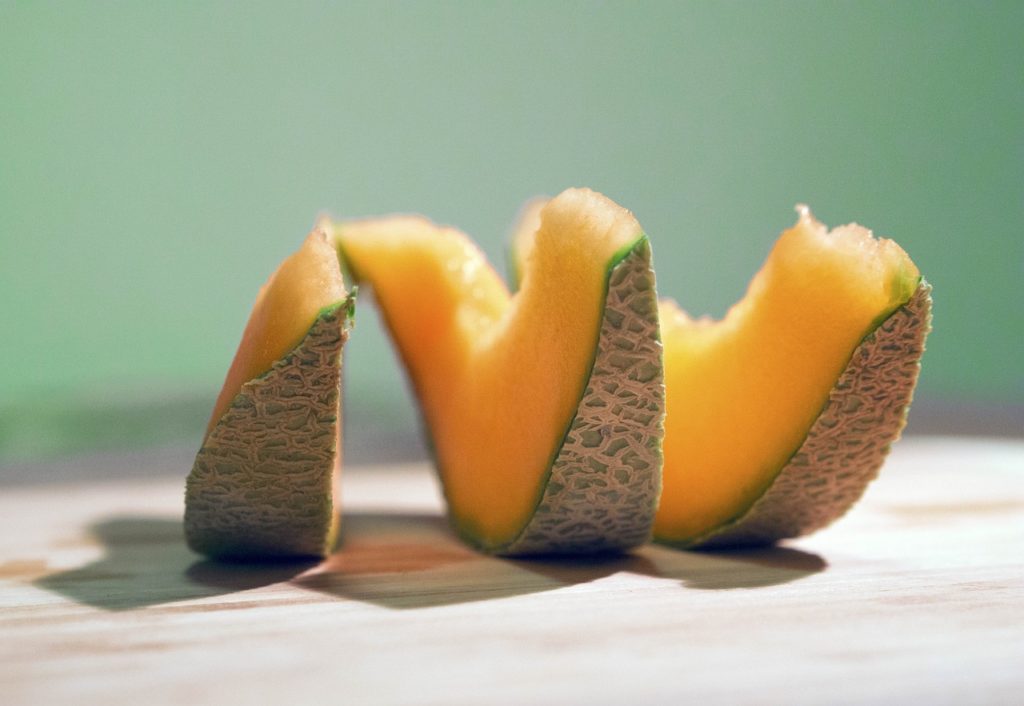 What's more tasty than fresh cut fruit on a hot summer day?  The sweet, juicy chill of a cold melon wetting your parched lips might come with a bit of a risk. Put down that melon. Let's talk about what may be in your favorite summer fruit.
The Center for Disease Control and Prevention (CDC) has issued an outbreak notice for Salmonella Adelaide indicated for pre-cut melons supplied by Caito Foods, LLC located in Indianapolis, Indiana.  While these cases are specifically linked, attributing to a current case count of 60 ill and 31 hospitalizations across 5 states (Illinois, Indiana, Michigan, Missouri, and Ohio), cut melons are a fairly high-risk food for foodborne illness.  This applies to those bought from retailers and fruit prepared in your home.
Let's First Talk About the Outbreak
The risk for infection with food related to this outbreak is still pretty high for those consuming cut melons if you live in the states of Georgia, Illinois, Indiana, Kentucky, Michigan, Missouri, North Carolina, and Ohio.  Despite pulling products from store shelves, consumers may still have the product in their own homes that could still be consumed. Additionally, bacteria such as Salmonella can have a lag time between consuming contaminated product to the individual falling ill, and finally to the point the case is connected to the outbreak.  Limitations in outbreak data involve self-reporting and the process that it takes to link individual illnesses to an outbreak.
The first hurdle is that many people who only experience mild illness have no reason to seek medical attention.  These cases are not reported or included in the outbreak data.  No one will ever know about these cases, save for maybe the individual hanging out in the bathroom longer than they would like to.  The only cases that can be linked are those that are confirmed by genetic analysis and patient interview.
The second hurdle is that linking an individual case to an outbreak takes time.  The patient must go through the incubation period after consuming a contaminated food before initial symptoms are experienced. Then the patient must become ill enough to seek medical attention.  If a sample is tested, it takes a bit of time for the initial results to come back indicating a potential foodborne illness.  At this point the sample is analyzed for genetic information and uploaded to a system called PulseNet, where it can be compared to other patient data. If the patient sample matches 2 or more other patients, an outbreak investigation is launched and/or the patient is added to the case count for the existing outbreak.  Additional investigation, such as patient interviews will help investigators learn more about where the source could have originated.
Salmonella can take between 12 and 72 hours to become symptomatic.  Typical symptoms include fever, abdominal cramps, and diarrhea.  This illness generally lasts anywhere from 4 to 7 days and most normally healthy individuals will recover without any medical attention. Some, however, experience additional complications.  This often occurs in the very young, the very old, or those with a compromised immune system. Major complications occur when the bacteria spread beyond the gastrointestinal tract and into other parts of the body.  In these more extreme cases immediate medical attention is necessary.  If antibiotic treatment is not promptly administered, severe Salmonella infection may lead to death.
The currently recalled pre-cut melons such as "fresh cut watermelon, honeydew melon, cantaloupe, and fresh-cut fruit medley products containing one of these melons produced at the Caito Foods Facility in Indianapolis, Indiana were distributed to Georgia, Illinois, Indiana, Kentucky, Michigan, Missouri, North Carolina, and Ohio to Costco, Jay C, Kroger, Payless, Owen's, Sprouts, Trader Joe's, Walgreens, Walmart, and Whole Foods/Amazon.  The investigation is ongoing to determine if additional stores and/or states will be included in the recall.
CDC Recommendation
The CDC urges consumers to not eat the recalled products.  If you do not remember where you purchased the pre-cut melon it is best to throw it away.  Be sure to check your fridge and freezer for the affected products and stay tuned to this week's, "What's in Your Kitchen: A Week in Recalls" on MakeFoodSafe.com for updates on this and other recalls that might your kitchen and your family.
Retailers are asked to not sell or serve the recalled product distributed by Caito Foods Distribution, Gordon Food Service, and SpartanNash Distribution.  Additional distributors may be added as the investigation continues.
The Not So Innocent Melon
Believe it or not, melons are not as innocent as they may seem. They are one of the worst offenders for spreading foodborne illness.  It's not their fault really.  It's how they were raised…  On the ground I mean.  Most melons grow on vines on the ground in the dirt where bacteria such as E. coli, Listeria, and Salmonella flourish.  While melons are armed with a thick protective coating, the rind is not a cloak of invisibility.  The microbes still hang out on the rind and hitch a ride along the harvesting, packing, and distribution process until it reaches your kitchen counter.
While the rind might protect the inside flesh from contamination while it is intact, unless the fruit is thoroughly scrubbed prior to cutting, the knife could drag bacteria from the external rind into the part of the fruit that you eat.  Once in contact with the flesh of the fruit, there is plenty of food for the bacteria to eat and reproduce.  If temperature conditions are favorable to growth, you have the potential for foodborne illness.
Stop the Spread of Foodborne Illness
Time and temperature are your weapons against foodborne illness.  Keep cut melon outside of what is referred to as the "danger zone."  This means keep foods colder than 41 degrees Fahrenheit or warmer than 135 degrees Fahrenheit.  Keep the melons cold until they are ready to consume and discard anything that comes warmer than 41 degrees for 2 hours or more.
Another secret weapon is warm water and elbow grease.  While it may seem strange at first, be sure to wash the outside of all fruits you consume.  Even the big watermelon.  Especially that ridged cantaloupe. Minimizing the bacteria present on the rind can help lower the risk of foodborne illness after the melon is cut.
MakeFoodSafe will continue to report on this outbreak as more information is made available.
By: Heather Van Tassell, Contributing Writer (Non-Lawyer)