Cyclospora at the Golden Arches
Posted in Cyclospora,Outbreaks & Recalls on July 19, 2018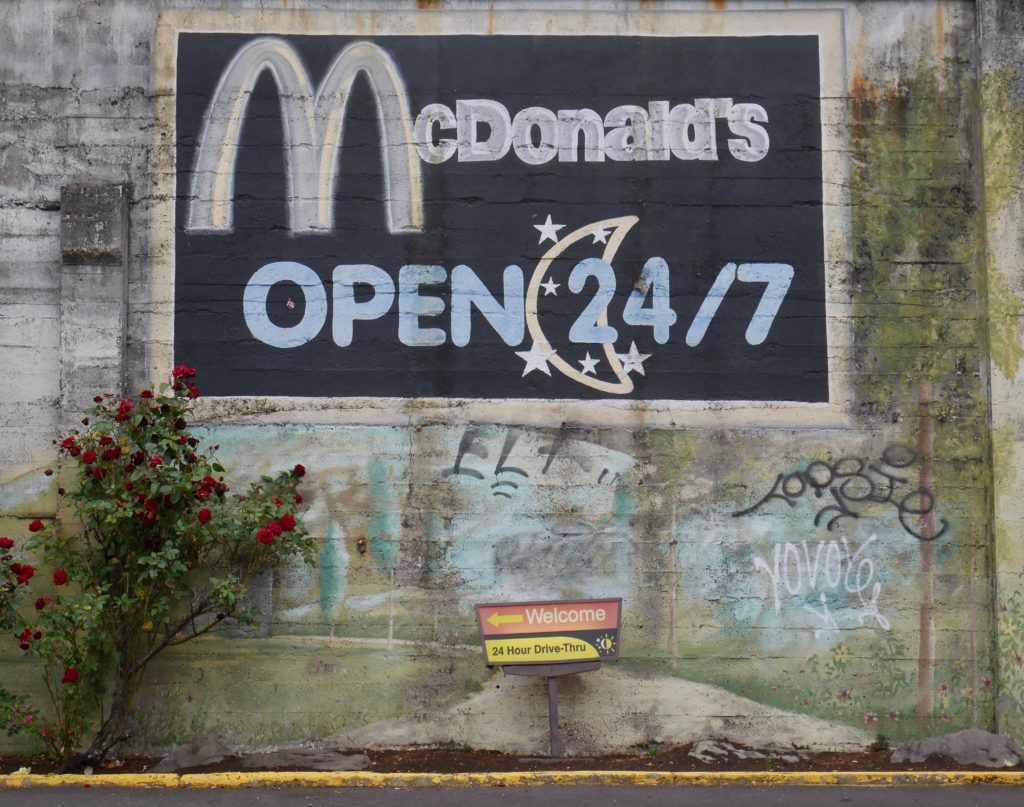 Cyclospora outbreaks have been linked to salads featured at a favorite nationwide fast food restaurant: McDonald's. In the United States, 14 states have been affected, and as a precaution, over 3000 restaurants stopped selling the salads and pulled them from shelves.
The states mentioned in this outbreak include: Illinois, Iowa, Indiana, Wisconsin, Michigan, Ohio, Minnesota, Nebraska, South Dakota, Montana, North Dakota, Kentucky, West Virginia and Missouri.
Among the hardest hit with the outbreak Illinois and Iowa who together have over 100 cases. No one can pinpoint why this area was hit so hard, even after an FDA investigation. Many people questioned if this outbreak was related to another incident of cyclospora involving Del Monte fresh vegetable trays which were responsible for another 200 illnesses, but they were determined to be unrelated.
In a statement, McDonald's said, "Out of an abundance of caution, we decided to voluntarily stop selling salads at impacted restaurants until we can switch to another lettuce blend supplier," the email said. "We are in the process of removing existing salad blend from identified restaurants and distribution centers — which includes approximately 3,000 of our US restaurants primarily located in the Midwest."
What is Cyclospora?
Until recently I had never heard of Cyclospora and obviously wanted to inquire online to find out more about what this illness was and how we could avoid it in our household. I was shocked to learn that often cyclospora does not show any signs very quickly after ingesting the contaminated food or water which has to come in contact with feces.
Cyclospora cannot be passed from one person to another and the time from becoming infected to showing symptoms is usually 1 week. Cyclospora infects the small intestine and causes watery stools with sometimes explosive diarrhea. Other symptoms include increased gassiness, loss of appetite, weight loss, stomach cramps, abdominal pain, bloating, nausea and fatigue according to the CDC. Flu-like symptoms are also sometimes present. It has also been discovered that some people who have been infected with Cyclospora show no symptoms at all. People note that after Cyclospora infection they suffer from relapse and are left feeling very tired.
It is recommended, if you think you have been infected, to seek professional help from your local healthcare provider. Once there if it is suspected that you have Cyclospora, you will be asked to submit a stool specimen and often people are asked to submit more than one over the course of several days. Identification of this illness is done in a lab and the stool will be checked for other organisms as well since Cyclospora is not a very common diagnosis.
Treatment includes a course of 2 antibiotics, which your healthcare provider will prescribe. These tpyically include Bactrim, Septra, or Cotrim. It is recommended that anyone who has been diagnosed with Cyclospora should be sure to make sure that their fluid intake remains at a steady level to reduce the risk of dehydration from diarrhea and also to get plenty of rest.
For those who are allergic to sulfa drugs when infected with Cyclospora they are asked to speak with their healthcare provider to obtain other options for treatment.
How to Prevent Cyclospora
As with many other things these days, avoiding what you think may include parasites that may cause illness is the number one key, but often we have no way of knowing. Paying attention to media outlets and websites such as this one to get updates on recalled foods is a great way to stay "in the know".
Proper hand washing with warm soapy water prior to handling fruits and vegetables as part of the proper safe handling precautions. Washing all cutting boards, dishes and utensils including countertops between handling meats, fruits and vegetables is an absolute must.
Wash all fruits and vegetables before eating, cutting or cooking. Anything with a pre-washed label does not need to be washed again at home. Consider scrubbing firm fruits, vegetables and melons with a produce brush which can be purchased from many retailers. Cutting away damaged and bruised portions of the fruits or vegetables can help prevent spread of parasites as well.
Store fruits and vegetables as soon as possible or within 2 hours of cutting or cooking. Always remember to keep them separate from meats, poultry and seafood.
Those who are travelling to countries where cyclospora is endemic are recommended to be cautious of produce and drinking water.
Concerns Over Food Recalls
While we refuse to live our lives in fear of eating things because of the influx of food related recalls recently there are still a lot of concerns that we have as parents especially knowing that children are hit, especially hard when infected with these types of illness. As parents, we are just extra cautious with the handling of foods here within our homes, practice hand washing as if it is an art and we are teaching our boys to be mindful of how they handle their foods and snacks.
Many people are reporting that they feel anxious after hearing about food recalls and I would be lying if the thought didn't cross my mind that I am a little concerned about these recalls, but at the end of the day we just try to be really careful and realize that most incidents are very isolated and while they include a large number of people the amount of people in the world make it a very small number in contrast.
Family food safety has become something that we are working very hard on, especially with being safe while preparing foods and showing even our youngest child the proper ways to do things. I am fortunate for my years in a professional kitchen and a boss that was absolutely bent on teaching proper food handling and hand washing techniques that have lasted well beyond my years of working in their establishment. We are teaching the next generation the same techniques, and so far, we have avoided all food related illnesses within our home and I feel that this is simply because we are aware of proper handling of fruits, vegetables and meats.
By: Samantha Cooper, Contributing Writer (Non-Lawyer)