Deep Fried Turkey Safety
Posted in Food Safety,Our Blog,Salmonella on November 11, 2018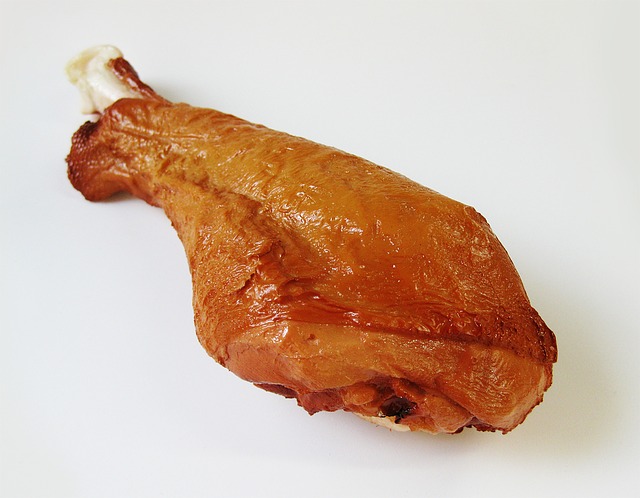 I have a confession to make. Once a year, I turn into this primal beast, eat as much as possible, take a nap, then do it all over again until the sun goes down. There is no room for the weak of heart here. The normal clothing of choice is something loose to allow for a fuller than full stomach and plenty of comfortableness when sleeping. There is no shame, no regret, and never do I give up – at least until the turkey is all gone that is (or my wife yells at me to get out of the kitchen). This is why I am now thinking about Deep Fried Turkey Safety.
Thanksgiving will soon be upon us folks. I have already had my fair share of Eggnog to start the season off right much to the distaste of my family. And while I have many reasons to be thankful and voice them often; I am oh so thankful for Thanksgiving turkey. I think I'm allowed one day out of the year to be a bit on the gluttonous side right?
Speaking of Thanksgiving turkey, what is your favorite way to prepare the centerpiece of the feast? Over the years I would have to say I have enjoyed (and not enjoyed) many different methods of cooking. One of the most interesting ways would have to be deep frying.
Years ago, a close friend of mine decided to deep fry his turkey and asked if I would not only help but merge our families for that day around the table. Of course I said yes. Not only was I curious about what exactly went into deep frying a turkey, I am from a big family so to me, the more the merrier.
Skeptical of the process I did a little research on the whole thing but left this adventure up to my friend. In retrospect, my biggest concern was cooking two turkeys that day knowing how long it takes to normally cook one. I was amazed at how fast deep frying was, but was also unaware of the dangers. Call it dumb luck or two guys who know how to cook; we made two turkeys that day without catching anything on fire or blowing up the neighborhood.
If I were to say that everything went according to plan though I would be lying. We had a small hiccup cooking the second turkey but that was due to it not having enough time to thaw out completely. My guess: another hour would have done the trick. And by hiccup I mean the oil got agitated more than it should and spilled but not enough for it to matter.
Most people hear the words deep fried turkey and immediately think of videos they have watched where the fryer catches on fire or blows up; causing the turkey to be ruined either by fire or by a fire extinguisher. When attempting to deep fry a turkey, there is a hard and fast set of rules to follow. Deviation from these rules could be dangerous so it is better to follow them. The problem:  everyone has a set of rules to follow.
For the purpose of our topic today, I will only be giving you an outline of these tips. Just like most things in life you do for the first time, do the research. You wouldn't go scuba diving without at least some prior knowledge right? I take my cooking seriously but that is due to me wanting to create the best meal I can. This is a step beyond that. If improperly prepared, deep frying a turkey can lead to painful consequences. Here are a few tips to get you started:
Completely (and I mean completely) thaw out the turkey. We all know that hot oil and water never play nice. Using a fresh turkey is preferable but not always an option so make sure a frozen one is thawed.
Never exceed the max fill line for your deep fryer. This may take a little math to figure out but trust me; spilling hot oil on the floor is not a fun thing.
Slowly place the turkey into the oil once it has reached the desired temperature. You know how you dip the tip of your toe into the pool to see how cold it is? Go slower than that.
Pay close attention to the internal temperature of the turkey. Know the cook times and stick to them. You don't want Salmonella to be invited to your meal.
When lifting the turkey out of the fryer, remove it slower than you put it in.
Give the turkey time to drain and cool before carving. Ever had bacon pop and send oil onto your skin? Yeah, keep that in mind.
Here is a comprehensive list of tips and precautions to follow broken down into where you are cooking.
When it comes to preparation, I have tried many different avenues when it comes to turkey. You know what you like best. Questions like brining versus injection or what types of rubs to use are all up to you. Be creative if you feel so inclined. I may be inclined in another post to tell you about the time I used Mt. Dew as an injection and apart from deep frying, it was the best turkey I have ever tasted.
Whatever you decide to do this Thanksgiving with your turkey, consider the best ways to prepare and store it. This infographic has a lot of information about the little things we tend to forget as well as temperature recommendations to follow. If you have the time, foodsafety.gov has tons of articles to read in preparation for the big dinner.
All this talk of turkey and everything else that goes along with it has made me hungry. Patience is a difficult thing when talking about turkey though.
Beyond all the fuss around the kitchen, remember to take the time to be thankful. Not only on Thanksgiving but every day of the year. We have much to be thankful for.
Stay safe turkey lovers.
And save some for me.
By: Dwight Spencer, Contributing Writer (Non-Lawyer)