Ecstasy Found in European Bubbly
Posted in Our Blog on October 16, 2022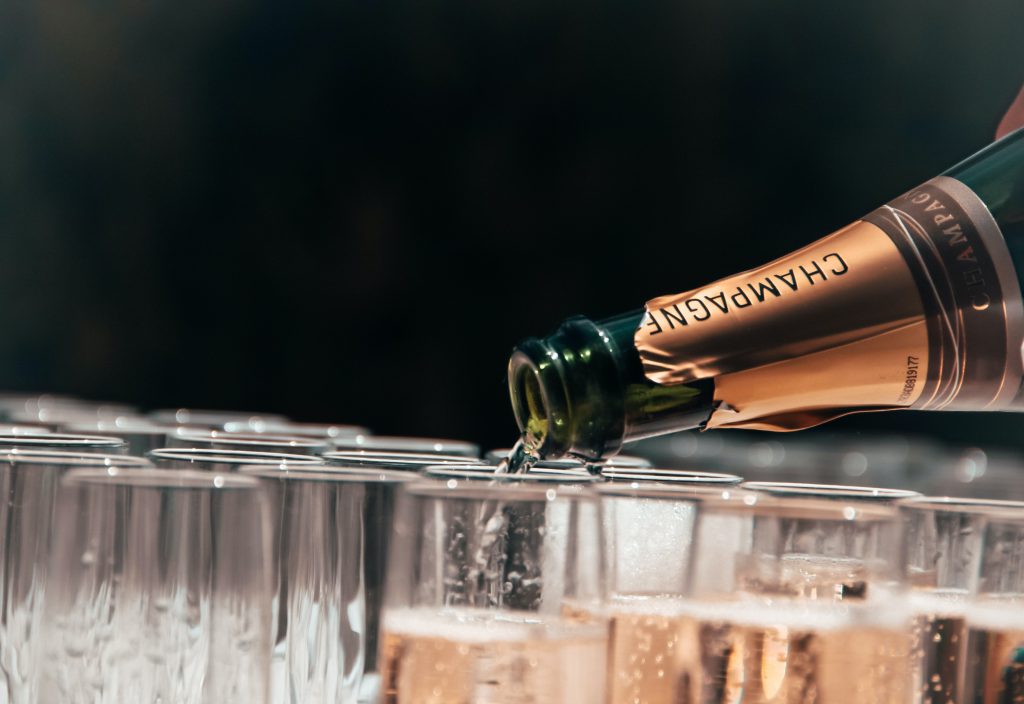 Infused alcoholic beverages have been increasing in popularity in recent years. Fruits and herbs can be very complementary. Drug infused alcohol is also on the rise, though not legal in most states in the US. This is usually seen with marijuana, but other drugs may make the scene in the future. It becomes increasingly dangerous as more drugs enter this trend.
While alcohol paired with drugs may occur in the club scene, some party goers got more than they bargained for as they celebrated.
An unusual contamination in a well-known champagne brand leads to a second recall after 1 death and at least 10 others poisoned in Europe. Moët & Chandon, responded to accounts of contamination with the party drug in February earlier this year after MDMA (Methylenedioxymethamphetamine), commonly known under the street name ecstasy and issued a recall on February 26, 2022. After the recent incidents, another lot has been recalled. The investigation is ongoing.
When Bubbly Turns Deadly
The recent investigation into the bubbly beverage began after Dutch health officials reported that four people had fallen ill after consuming a tampered $540 bottle in the Netherlands.
That $540 price tag is for the magnum bottle – a whopping 3 liters of the high end champagne.
Shortly after, in Germany, a night out in Weiden in der Oberpfalz in Bavaria, in the southern area of Germany lead to one death and seven others being hospitalized. This ordeal was caught on camera. Officials found footage on social media and put the pieces together.
The German outbreak occurred during a celebration at the local La Vita eatery to toast the end of COVID-19 lockdown restrictions to mark the end of a pandemic curfew. The XXL bottle was ordered.
Harald Georg Z., age 52, collapsed after taking a large sip from a magnum of Moët & Chandon. According to German media, he and others in his party suddenly began cramping with foam on their lips. Harald Georg Z. made for the restroom but passed out before he got there.
According to investigators, the large bottle contained 1,000 times the dose of a single ecstasy pill.
The Recall
In response, Moët has issued a recall for two lots.
The recall includes the 3 liter XXL Ice Imperial bottles of Moët & Chandon.
First Batch Lot # LAJ7QAB6780004
Second Batch Lot # LAK5SAA6490005
Recalled product was distributed to Germany, Luxembourg, and the Netherlands.
Source of Contamination?
The investigation is ongoing to determine the source of the tampered bottles. Officials reported that they were unsure of how the bottle became adulterated and sources indicated the issue did not originate from the Moët Hennessy plant. More information seems to be leading investigators to believe that the product was emptied out, refilled with liquid MDMA, and resealed with different corks.
The Brussels Times reported that at least one of the doctored bottles was purchased on open sale and other reports indicated the product was found both online and in local stores.
What to Look For
While the tampered bottle would not look any different from a safe one before uncorking and pouring it, there are some differences between the tainted product and the real deal.
"Champagne infused with MDMA does not sparkle, smells like anise, and has a reddish-brown color."
Affected bottles must be immediately reported to the police.
What is MDMA?
MDMA – commonly known as ecstasy, is a psychoactive drug. Affects include altered sensations, increased energy, and pleasure when consumed in typical dosages. Long-term use can lead to memory loss, paranoia, and sleeping difficulties.
The dosage found in the tampered product is significantly different from typical dosages. The concentrated liquid form can have extreme reactions.
According to Newsweek, the European nonprofit Foodwatch explained, "Touching and/or drinking the contents of the bottle is life-threatening, even trying it by dipping the tips of your fingertips can cause massive health problems. Champagne infused with MDMA does not sparkle, smells like anise, and has a reddish-brown color. Affected bottles must be immediately reported to the police."
A very small amount of MDMA can cause serious adverse reactions.
Many drug laws in Germany have become more lenient, more notably for the possession of marijuana. But MMDA and other amphetamine psychedelics continue to be illegal in the country. In fact, possession of more than 30 mg of MMDA is punishable with anywhere from 1 to 5 years in prison at upwards of 5000 euros.
How Did This Happen?
Based on reports it seems that the contamination did not occur at the Moët Hennessy plant where the offending product was produced. Based on lots being recalled, it could be a problem that occurred downline from the production process. Perhaps in shipping or distribution.
Is it a situation of someone intentionally causing harm? Or could it be a drug trafficking situation that made its way into general commerce? I expect more information to be coming about this scenario soon. Or could it have been a party favor gone wrong?
Could This Be a Problem in the United States?
Moët & Chandon is produced in the city of Epernay in France and the recall seems to be limited to European countries at this time. This product is available in more than 150 countries, the website boasts, so it is possible this problem could be expanded to other continents as well.
Sources indicate that the tampering has occurred beyond the production plant, so likely somewhere in the distribution process. That being said, it is possible that tainted product could reach additional boarders.
"The Federal Food Safety Agency is following the situation closely, and is in close contact with the authorities and federations concerned," the agency said in a statement. "The agency has asked consumers who have purchased this product to be extremely careful, and absolutely not to consume it."
To be on the safe side, verify lot numbers are not part of the recall (Lot # LAJ7QAB6780004 and Lot # LAK5SAA6490005), check for tell-tale signs of impure product (smells of anise, reddish brown color, and does not sparkle), and report anything out of the ordinary.
À ta santé!