Hard-boiled Eggs Listeria Outbreak Leads to Death in Texas
Posted in Listeria,Our Blog,Outbreaks & Recalls on December 19, 2019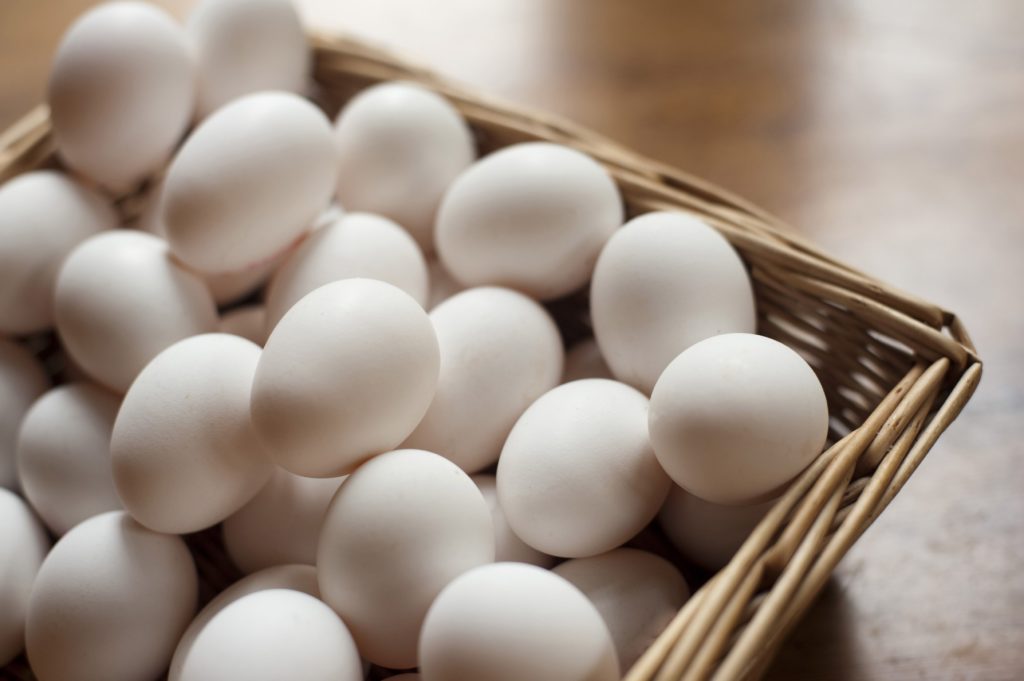 The CDC has reported that there are 7 people sickened with Listeria in a multi-state Hard-boiled Eggs Listeria Outbreak. Of those ill, 4 have been hospitalized and one person has died in Texas. According to the CDC's announcement:
"CDC is concerned that bulk, fresh hard-boiled eggs produced by Almark Foods of Gainesville, Georgia, are contaminated with Listeria and have made people sick. These products were packaged in plastic pails for use nationwide by food service operators. These products have not been recalled. However, because Listeria can cause severe infections, CDC is warning against selling, serving, or using these eggs to make other food products."
Outbreak At-A-Glance
Those who have been sickened with Listeria are in 5 states.
| State | Ill People |
| --- | --- |
| Florida | 1 |
| Maine | 1 |
| Pennsylvania | 1 |
| South Carolina | 2 |
| Texas | 2 |
| Total | 7 |
According to the CDC, "Listeria specimens from ill people were collected from April 10, 2017, to November 12, 2019. Ill people range in age from less than 1 to 82 years, with a median age of 75. Seventy-one percent of ill people are male. Of six ill people with information available, four hospitalizations have been reported. One death has been reported from Texas.One illness was reported in a newborn who was infected with Listeria while the mother was pregnant, but the newborn survived."
Traceback
Through health department interviews four sick individuals (80%) reported eating products containing eggs. Three of these people reported eating hard-boiled eggs in deli salads purchased from grocery stores and in salads eaten at restaurants.
CDC noted two environmental samples from February 2019 that are closely related genetically to bacteria from ill people in this outbreak. FDA reports that these samples were taken during a routine inspection of the Almark Foods facility. These results provide additional evidence that people in this outbreak got sick from eating hard-boiled eggs produced by Almark Foods.
As of now, the investigation is ongoing. Health agents are continuing to collect records from grocery stores and restaurants where those who are sick reported eating hard-boiled eggs. It is hopeful that this investigation will yield information about the distribution and production chain, as well as the source of hard-boiled eggs to the locations reported by ill people.
Has there been a recall?
As mentioned, there has not been a recall initiated at this time. It appears that the eggs related to the outbreak are produced in bulk, and not those that have been individually packaged. The CDC mentioned that "Almark Foods hard-boiled eggs sold directly to consumers, or any other brands of hard-boiled eggs or products made with hard-boiled eggs. The data collected to date has not indicated that these products are linked to illness." Retailers and food service operators should know who supplies their bulk hard-boiled eggs.
These eggs:
were sold in bulk
were peeled, hard-boiled, and packaged in plastic pails of various sizes
have a 49-day shelf-life
According to the company's website, they sell these products in, " singles, doubles, half-dozen and dozens. Our most popular bulk package is our 4/5 lb. dry pack."
The concern here is that consumers will not be able to tell if products they've purchased from stores or restaurants are contaminated eggs.
What is Listeria?
Listeria are bacteria that can grow at cold temperatures, like those inside a refrigerator. Even freezing doesn't stop it. When it contaminates food, you can't see, smell, or taste it.
People get the infection most often from deli meats that aren't processed properly or from dairy products made from milk that isn't pasteurized — in other words, the milk hasn't been heated to kill germs.
Other common sources of past outbreaks include:
Cantaloupes
Hot dogs
Soft cheeses
Raw milk and raw milk products
Frozen vegetables
What are the Symptoms of Listeria?
The CDC reports that when Listeria causes gastroenteritis, symptoms usually develop within a few hours to two to three days.  However, when the severe, invasive form of Listeriosis develops, symptoms can take from three days to three months to appear.
Listeria symptoms vary from person to person.  Like other foodborne pathogens, Listeria can cause fever and diarrhea.  The CDC advises that:
"Pregnant women: Pregnant women typically experience only fever and other flu-like symptoms, such as fatigue and muscle aches. However, infections during pregnancy can lead to miscarriage, stillbirth, premature delivery, or life-threatening infection of the newborn."
"People other than pregnant women: Symptoms can include headache, stiff neck, confusion, loss of balance, and convulsions in addition to fever and muscle aches."
Pregnant women and their newborns, adults aged sixty-five and older, and people with weakened immune systems are most at risk for Listeriosis. People on dialysis are 50 times more likely to get a Listeria infection.
Non-invasive gastrointestinal illness stemming from Listeria usually resolves in otherwise healthy people.  However, the more serious, invasive illness resulting from Listeria can cause septicemia and meningitis.
How Do I Know If I Have a Listeria Infection from this Outbreak?
Only a doctor can make a diagnosis of a Listeria infection. If you have eaten ready-to-eat chicken products and have become sick, urgent medical attention is highly recommended.
It is best not to panic, but it is a good idea to monitor your health and symptoms in the days and weeks after exposure.
And if you do start feeling the symptoms of Listeria, seek medical attention. The Centers for Disease and Control and Prevention estimate that approximately 1,600 people get listeriosis each year with 260 fatalities. These statistics show that despite the relatively low number of infections, the risk of fatality is significant.
How Can I Protect My Family from a Listeria Infection?
If any fresh hard-boiled eggs produced by Almark Foods is in your home, do not eat it.
In prior recalls of Listeria-contaminated foods, the CDC has recommended that people:
"Throw the [product] away in a closed plastic bag placed in a sealed trash can. This will prevent people and animals from eating it."
"Wash the refrigerator drawer and other areas where the [product] was stored with hot water and soap."
"Wash cutting boards, surfaces, and utensils used to cut, serve, or store recalled [product]. If possible, use a dishwasher; otherwise, use hot water and soap, followed by sanitizing with a solution of one tablespoon chlorine bleach added to one gallon of hot water."
"Wash your hands with warm water and soap after cleaning up."
If you have already eaten food that may be contaminated with Listeria, the CDC advises:
"You should seek medical care and tell the doctor about eating possibly contaminated food if you have a fever and other symptoms of possible listeriosis, such as fatigue and muscle aches, within two months after eating possibly contaminated food. This is especially important if you are pregnant, age 65 or older, or have a weakened immune system."
"If you ate food possibly contaminated with Listeria and do not feel sick, most experts believe you do not need tests or treatment. Talk with your medical provider if you have questions about what to do after eating possibly contaminated food."
How The Lange Law Firm Can Help
Our mission is to help families who have been harmed by contaminated food or water.  When corporations cause Listeria food poisoning outbreaks or Legionnaires' disease outbreaks, we use the law to hold them accountable.  The Lange Law Firm is the only law firm in the nation solely focused on representing families in food poisoning lawsuits and Legionnaires disease lawsuits.
If you got sick after eating diced chicken and are interested in making a legal claim for compensation, we can help.  Our Listeria lawyer can help you pursue compensation for your Listeria infection.  Call us for a free no obligation legal consultation at (833) 330-3663 or send us an e-mail here.
By:  Candess Zona-Mendola, Editor (Non-Lawyer)