Hy-Vee Cyclospora Bagged Salad Recall
Posted in Cyclospora,Cyclospora,Our Blog,Outbreaks & Recalls on June 29, 2020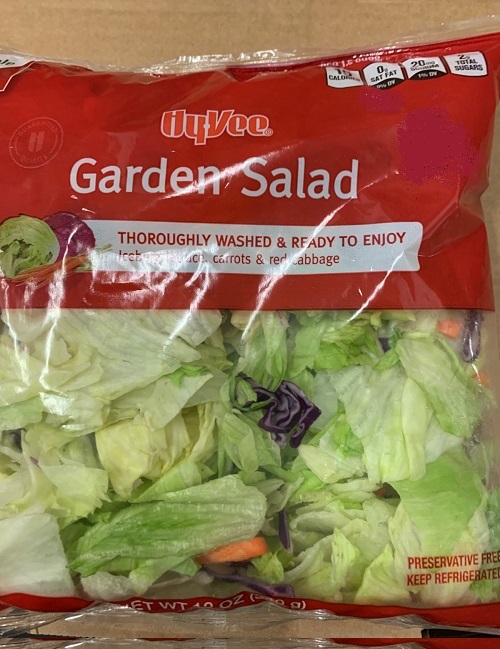 There is nothing quite like the feeling of knowing that you have a recalled product in your fridge or pantry. This time as with many in the past there has been a cyclospora related recall in several stores including Hy-Vee. Here's what we know about this Hy-Vee Cyclospora Bagged Salad Recall:
Fresh Express which is a brand that many of us have grown to love has manufactured salads under several names. The brand associated with Hy-Vee is their 12 ounce Hy-Vee Bagged Garden Salad originally now includes 13 private label bagged salads. Hy-Vee officials said the products were distributed to Hy-Vee grocery stores across the eight states it operates stores in: Iowa, Illinois, Missouri, Kansas, Nebraska, South Dakota, Minnesota and Wisconsin.
Hy-Vee's Recall Notice:
The potential for contamination was brought to Hy-Vee's attention when Fresh Express – which manufactures the product – announced that the U.S. Food and Drug Administration (FDA) and the Centers for Disease Control Prevention (CDC) expanded its investigation of an outbreak of Cyclospora in the upper Midwest section of the United States. The 12 salads are in addition to the 12 oz. Hy-Vee Bagged Garden Salad product that Hy-Vee pulled last week after initial notification of the investigation. Hy-Vee now has 13 private label bagged salad products (all expiration dates) that are being recalled as a result.
The products were distributed to Hy-Vee grocery stores across its eight-state region of Iowa, Illinois, Missouri, Kansas, Nebraska, South Dakota, Minnesota and Wisconsin.  
Symptoms of cyclosporiasis begin an average of seven days after ingestion of Cyclospora. Symptoms of cyclosporiasis may include: watery diarrhea (most common), loss of appetite, weight loss, cramping, bloating, increased gas, nausea, fatigue, vomiting, and low-grade fever. If not treated, symptoms can persist for several weeks to a month or more. People who are in poor health or who have weakened immune systems may be at higher risk for severe or prolonged illness.
Consumers with questions may contact Hy-Vee Customer Care representatives 24 hours a day, seven days a week at 1-800-772-4098.
The list below outlines the 13 products that have been recalled. No other Hy-Vee branded salads are impacted by today's recall.
UPC                     DESCRIPTION                                                           SIZE
0-07450-24669    HY-VEE SOUTHWEST CHOPPED SALAD KIT    13.4 OZ
0-07545-12053    HY-VEE SHREDDED ICEBERG                                8 OZ
0-75450-08530    HY-VEE VEGGIE DELUXE SALAD                        12 OZ
0-75450-12046    HY-VEE GREENER SUPREME BLEND                  12 OZ
0-75450-12047    HY-VEE AMERICAN BLEND SALAD                    12 OZ
0-75450-12048    HY-VEE ITALIAN BLEND SALAD                          10 OZ
0-75450-12051    HY-VEE COLESLAW MIX                                        16 OZ
0-75450-12058    HY-VEE ROMAINE GARDEN SALAD                    12 OZ
0-75450-24668    HY-VEE ASIAN CHOPPED SALAD KIT                 13.7 OZ
0-75450-24670    HY-VEE SUNFLOWER CHOPPED SALAD KIT     13.2 OZ
0-75450-24672    HY-VEE CHIPOTLE CHEDDAR CHOPPED KIT    11.4 OZ
0-75450-24674    HY-VEE GARDEN SALAD                                        12 OZ
0-75450-24715    HY-VEE AVOCADO RANCH CHOPPED KIT          12.8 OZ
The Hy-Vee website also offers product images for consumers who still have questions as to whether or not they have purchased the recently recalled products. 
What Is Cyclospora & How To Treat It
The CDC provides us with so much information about Cyclospora including what it is and how to treat it. 
Cyclospora cayetanensis is a parasite composed of one cell, too small to be seen without a microscope. This parasite causes an intestinal infection called cyclosporiasis.
Cyclospora is spread by people ingesting something—such as food or water—that was contaminated with feces (stool). Cyclospora needs time (typically, at least 1–2 weeks) after being passed in a bowel movement to become infectious for another person. Therefore, it is unlikely that Cyclospora is passed directly from one person to another.
If not treated, the illness may last from a few days to a month or longer. Symptoms may seem to go away and then return one or more times (relapse). It's common to feel very tired.
Your health care provider will ask you to submit stool specimens to see if you are infected. You might be asked to submit more than one specimen from different days. Identification of this parasite in stool requires special laboratory tests that are not routinely done. Therefore, if indicated, your health care provider should specifically request testing for Cyclospora. In addition, your health care provider might have your stool checked for other organisms that can cause similar symptoms.
The recommended treatment is a combination of two antibiotics, trimethoprim-sulfamethoxazole, also known as Bactrim, Septra, or Cotrim. People who have diarrhea should also rest and drink plenty of fluids.
No highly effective alternative drugs have been identified yet for people with Cyclospora infection who are unable to take sulfa drugs. See your health care provider to discuss potential options.
Avoiding food or water that might have been contaminated with stool may help prevent Cyclospora infection.
Consumers and retailers should always follow safe fruit and vegetable handling recommendations:
Wash: Wash hands with soap and warm water before and after handling or preparing fruits and vegetables. Wash cutting boards, dishes, utensils, and counter tops with soap and hot water between the preparation of raw meat, poultry, and seafood products and the preparation of fruits and vegetables that will not be cooked.

Prepare: Wash all fruits and vegetables thoroughly under running water before eating, cutting, or cooking. Fruits and vegetables that are labeled "prewashed" do not need to be washed again at home. Scrub firm fruits and vegetables, such as melons and cucumbers, with a clean produce brush. Cut away any damaged or bruised areas on fruits and vegetables before preparing and eating.

Store: Refrigerate cut, peeled, or cooked fruits and vegetables as soon as possible, or within 2 hours. Store fruits and vegetables away from raw meat, poultry, and seafood.
The Lange Law Firm 
Our mission is to help families who have been harmed by contaminated food or water.  When corporations cause Cyclospora food poisoning outbreaks or Legionnaires' disease outbreaks, we use the law to hold them accountable.  The Lange Law Firm, PLLC is the only law firm in the nation solely focused on representing families in food poisoning lawsuits and Legionnaires disease lawsuits.
If you or your child was infected with Cyclospora or any other parasite and are interested in making a legal claim for compensation, we have a Cyclospora lawyer ready to help you.  Call us for a free no obligation legal consultation at (833) 330-3663 or send us an e-mail here.
By: Samantha Cooper