Jewel-Osco Cyclospora Bagged Salads Recall
Posted in Cyclospora,Cyclospora,Our Blog,Outbreaks & Recalls on June 29, 2020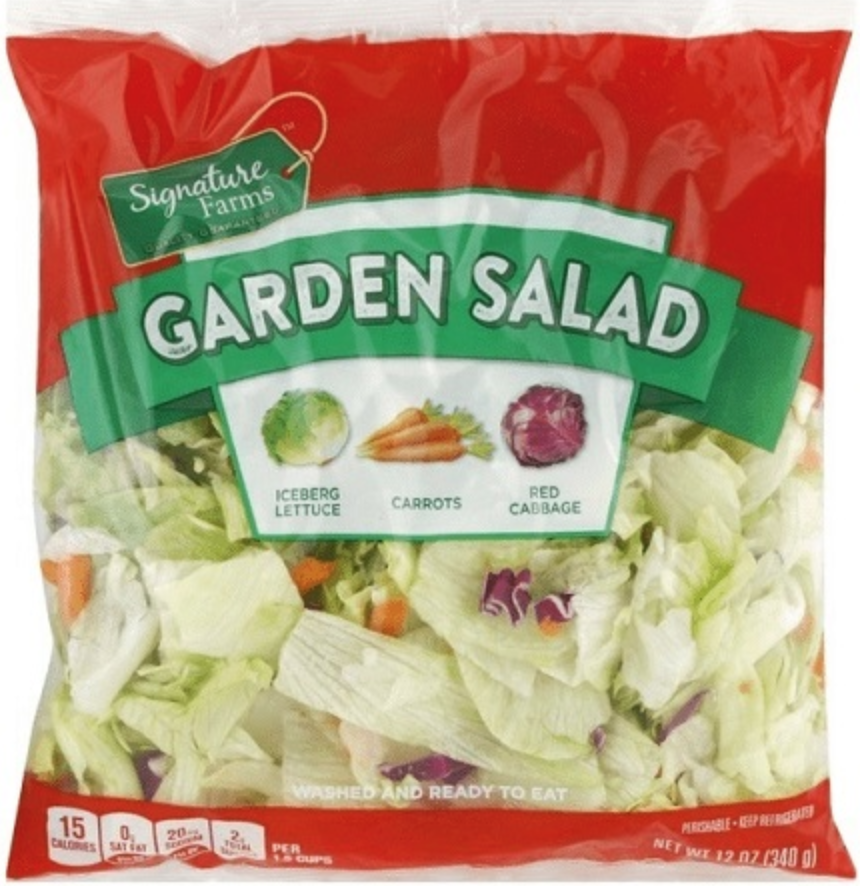 Unfortunately another loved grocery chain has been affected by the latest Cyclospora outbreak. Here's what we know about the Jewel-Osco Cyclospora Bagged Salads Recall:
Jewel-Osco Recalls Bagged Salads
Here is what Jewel-Osco had to say about the outbreak and recall:
In cooperation with the Fresh Express recall of bagged salads potentially linked to an outbreak of Cyclospora infections in the Midwest, Jewel-Osco is voluntarily recalling bagged Signature Farms Garden Salad sold in its stores in Illinois, Indiana, and Iowa.
The recalled Signature Farms Garden Salad was sold in 12-ounce bags in the Produce section. The recalled products have BEST IF USED BY dates of May 16 through July 4 (5-16-20 through 7-04-20). The BEST IF USED BY date is printed on the top right corner of the front of the package. The product has a UPC code of 21130 98135, which can be found on the back of the package and bears the unique plant number S5417.
Cyclospora cayetanensis is a microscopic parasite of humans. This parasite, when it contaminates food or water and is then ingested, can cause an intestinal illness called cyclosporiasis. Most people infected with Cyclospora develop diarrhea. Other common symptoms include loss of appetite, weight loss, stomach cramps/pain, bloating, increased gas, nausea, and fatigue. Vomiting, body aches, headache, fever, and other flu-like symptoms may be noted. Some people who are infected with Cyclospora do not have any symptoms. If not treated, the illness may last from a few days to a month or longer. Symptoms may seem to go away and then return one or more times.
Consumers are asked to check their refrigerators for the recalled product. Consumers who have purchased the product are asked to discard or return it to the place of purchase for a refund. Customers who have questions about the recall can contact Jewel-Osco at 1-877-723-3929.
As part of the press release Jewel-Osco issued a photo of their bagged salad to help consumers know 100% for sure they have the product in their refrigerator or not. 
More About Cyclospora
Avoiding food or water that might have been contaminated with stool may help prevent Cyclospora infection.
Consumers and retailers should always follow safe fruit and vegetable handling recommendations:
Wash: Wash hands with soap and warm water before and after handling or preparing fruits and vegetables. Wash cutting boards, dishes, utensils, and counter tops with soap and hot water between the preparation of raw meat, poultry, and seafood products and the preparation of fruits and vegetables that will not be cooked.
Prepare: Wash all fruits and vegetables thoroughly under running water before eating, cutting, or cooking. Fruits and vegetables that are labeled "prewashed" do not need to be washed again at home. Scrub firm fruits and vegetables, such as melons and cucumbers, with a clean produce brush. Cut away any damaged or bruised areas on fruits and vegetables before preparing and eating.
Store: Refrigerate cut, peeled, or cooked fruits and vegetables as soon as possible, or within 2 hours. Store fruits and vegetables away from raw meat, poultry, and seafood.
The Current Outbreak & Recalls
The most recent outbreak has included many states and stores. CDC, public health and regulatory officials in several states, and the U.S. Food and Drug Administration (FDA) are investigating a multistate outbreak of Cyclospora infections linked to bagged salad mix containing iceberg lettuce, carrots, and red cabbage produced by Fresh Express and purchased at ALDI, Hy-Vee, Jewel-Osco, and Walmart stores in the Midwestern United States.
At A Glance:
Take action if you have symptoms of a Cyclospora infection:
Talk to your healthcare provider.

Write down what you ate in the two weeks before you started to get sick.

Report your illness to the health department.

Assist public health investigators by answering questions about your illness.
Latest Outbreak Information
206 people with laboratory-confirmed Cyclospora infections and who reported eating bagged salad mix before getting sick have been reported from 8 Midwestern states (Illinois, Iowa, Kansas, Minnesota, Missouri, Nebraska, North Dakota, and Wisconsin).

Illnesses started on dates ranging from May 11, 2020 to June 17, 2020.

23 people have been hospitalized. No deaths have been reported.

Epidemiologic and traceback evidence

indicates that bagged salad mix containing iceberg lettuce, carrots, and red cabbage produced by Fresh Express is a likely source of this outbreak.

Bagged salad mixes purchased at ALDI, Hy-Vee, Jewel-Osco, and Walmart do not explain all of the illnesses in this outbreak. CDC and FDA continue to investigate to determine whether other products are a source of illnesses.
The Lange Law Firm Can Help You
Our mission is to help families who have been harmed by contaminated food or water.  When corporations cause Cyclospora food poisoning outbreaks or Legionnaires' disease outbreaks, we use the law to hold them accountable.  The Lange Law Firm, PLLC is the only law firm in the nation solely focused on representing families in food poisoning lawsuits and Legionnaires disease lawsuits.
If you or your child was infected with Cyclospora or any other parasite and are interested in making a legal claim for compensation, we have a Cyclospora lawyer ready to help you.  Call us for a free no obligation legal consultation at (833) 330-3663 or send us an e-mail here.
By: Samantha Cooper