July: National Watermelon Month
Posted in Our Blog on July 18, 2019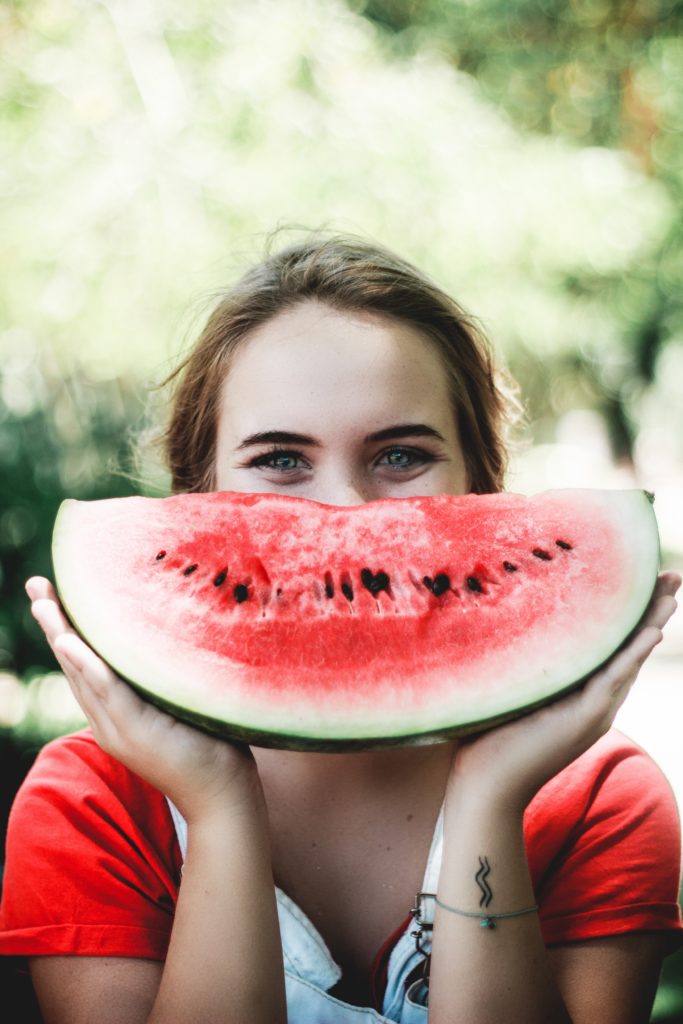 There is nothing better than the taste of a good cold slice of watermelon on a hot summer day. I don't know many people who don't enjoy this delicious fruit. July is such a popular month for one of my favorite melons. It seems to be everywhere, including farmer's markets and grocery stores nationwide. Bins come to the stores packed full and quickly disappear with its popularity for being easy to handle and of course sweet. Watermelon can be found anywhere from the breakfast table to backyard cookouts and personally I will take it any way I can get it. And guess what? It's National Watermelon Month!
History Lesson Time
What is the history of watermelon though? Where did it come from and how did it get to be so popular? Some facts may be surprising and here are some little tidbits courtesy of watermelon.org
Watermelon is thought to have originated in the Kalahari Desert of Africa. The first recorded watermelon harvest occurred nearly 5,000 years ago in Egypt and is depicted in Egyptian hieroglyphics on the walls of their ancient buildings. Watermelons were often placed in the burial tombs of kings to nourish them in the afterlife.
From there, watermelons spread throughout countries along the Mediterranean Sea by way of merchant ships. By the 10th century, watermelon found its way to China, which is now the world's number one producer of watermelons.
The 13th century found watermelon spread through the rest of Europe via the Moors.
Southern food historian, John Egerton, believes watermelon made its way to the United States with African slaves as he states in his book, "Southern Food."
About 200-300 varieties are grown in the U.S. and Mexico, although there are about 50 varieties that are very popular.
The modern watermelon lover sees his or her watermelon options as these five types: Seeded, Seedless, Mini, Yellow and Orange. My favorite type happens to be orange. While it does look really unique in a fruit salad and often gets confused with its like-colored friend cantaloupe when mixed up the taste and texture is amazing. It is sweet and just melts in your mouth.
The first recorded watermelon harvest occurred nearly 5,000 years ago in Egypt.
Watermelon is 92% water.
Watermelon's official name is Citrullus Lanatus of the botanical family Curcurbitaceae. It is cousins to cucumbers, pumpkins and squash.
By weight, watermelon is the most-consumed melon in the U.S., followed by cantaloupe and honeydew.
Early explorers used watermelons as canteens.
The first cookbook published in the U.S. in 1776 contained a recipe for watermelon rind pickles.
Updated! According to Guinness World Records, the world's heaviest watermelon was grown by Chris Kent of Sevierville, Tennessee in 2013, weighing in at 350.5 lbs.
The United States currently ranks 5th in worldwide production of watermelon. Forty-four states grow watermelons with Florida, Texas, California, Georgia and Arizona consistently leading the country in production.
How to Grow Watermelons
Burpee a well known garden supply store has some great tips for people wanting to grow their own watermelons:
Every gardener should plant a hill or two of watermelons as they are easy to grow and, oh so good on sultry summer afternoons.
Try a small variety such as an eight-pound 'Seedless Big Tast Hybrid' that will fit in the refrigerator easily, or go for the glory and sow watermelon seeds for a whopper like the 30-pound 'Million Bucks Hybrid'. Heirloom fans will want to plant 'Moon and Stars', introduced in 1926 with a deep green skin speckled with tiny yellow stars and quarter-size moons. The leaves are speckled with yellow stars as well. If you don't have room in the garden for watermelon vines, think about growing them in the middle of the lawn. Yes, in the middle of the lawn. Simply dump two 40-pound bags of composted cow manure and one 40-pound bag of topsoil into a heap on the lawn. Mix and mound with a trowel or by hand to integrate all materials. Water well and plant 6 to 8 seeds and later thin to three plants. The vines will ramble all over the lawn, and you will have to mow around them. But, the watermelon foliage will shade most of the grass underneath it and slow growth.
After harvest, pull up watermelon vines; rake the nutrient-rich manure mix over the lawn for fertilizer and water well. Within a week, the grass will be growing vigorously again, and it will be a healthy dark green.
Seedless Watermelons
Seedless watermelons were invented over 50 years ago, and they have few or no seeds. When we say seeds, we are talking about mature seeds, the black ones. Oftentimes, the white seed coats where a seed did not mature are assumed to be seeds. But this isn't the case! They are perfectly safe to swallow while eating, and don't worry – no seeds will grow in your stomach.
So, how are seedless watermelons grown? Chromosomes are the building blocks that give characteristics, or traits, to living things including plants and watermelons. Watermelon breeders discovered that crossing a diploid plant (bearing the standard two sets of chromosomes) with a tetraploid plant (having four sets of chromosomes) results in a fruit that produces a triploid seed. (Yes, it has three sets of chromosomes). This triploid seed is the seed that produces seedless watermelons!
In other words, a seedless watermelon is a sterile hybrid which is created by crossing male pollen for a watermelon, containing 22 chromosomes per cell, with a female watermelon flower with 44 chromosomes per cell. When this seeded fruit matures, the small, white seed coats inside contain 33 chromosomes, rendering it sterile and incapable of producing seeds. This is similar to the mule, produced by crossing a horse with a donkey. This process does not involve genetic modification.
How To Pick A Good Watermelon?
I find that picking a watermelon is a huge effort at the store or farmer's market. At our local market I find that asking the man who grows helps a ton. He has a method of picking based on when we want to slice the melon.
Again, coming from watermelon.org here is the official way to choose a watermelon:
They say it is as easy as 1-2-3:
Look the watermelon over.
You are looking for a firm, symmetrical watermelon that is free from bruises, cuts or dents.
Lift it up.
The watermelon should be heavy for it's size. Watermelon is 92% water, most of the weight is water.
Turn it over.
The underside of the watermelon should have a creamy yellow spot from where it sat on the ground and ripened in the sun.
I see people tapping, plucking, scraping, etc while in the store but this method looks pretty simple and foolproof.
This National Watermelon Month be sure to enjoy your watermelons but also pay attention to MakeFoodSafe and be aware of any recalls.
By: Samantha Cooper, Contributing Writer (Non-Lawyer)