Is K2D Foods dba Colorado Premium Foods the Source of the Multistate E. coli O103 Outbreak?
Posted in E. coli,Our Blog,Outbreaks & Recalls on April 24, 2019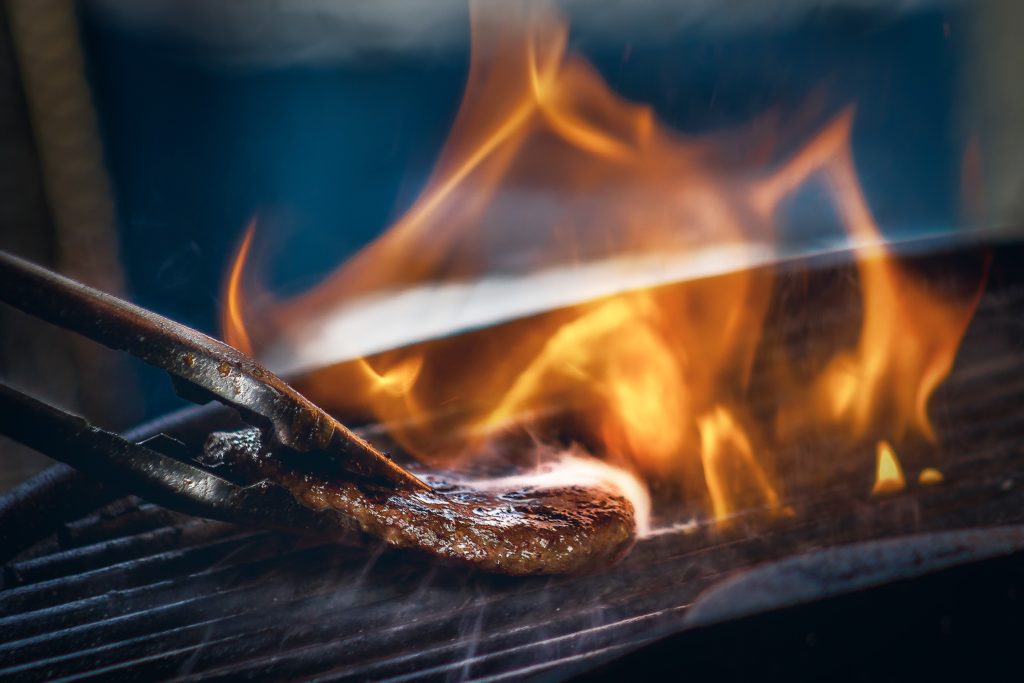 Late yesterday, the Centers for Disease Control and Prevention reported that the Ecoli O103 outbreak that has rocked the nation has expanded to 156 people with confirmed illnesses with the outbreak strain of E. coli O103 in 10 states. Of these 22 people have been hospitalized, and, thankfully, no one has died or developed hemolytic uremic syndrome. As the case counts continue to grow, many people are taking a step back and asking, "what food is making everyone sick and who manufactured it?" But have we found the source? Could it be Colorado Premium Foods? Here is what we know in the Colorado Premium Foods E. coli Outbreak:
We know a piece to that puzzle.
On April 12, 2019, news broke that ground beef was to blame. At the time, 109 people were reported to have the same outbreak strain of Ecoli O103. But now, with 156 illnesses in 10 states, the outbreak does not seem to be showing any signs of stopping. In fact, more states appear to continue to be added, as follows:
| | |
| --- | --- |
| State | Ill People |
| Florida | 3 |
| Georgia | 33 |
| Illinois | 1 |
| Indiana | 1 |
| Kentucky | 65 |
| Minnesota | 1 |
| Mississippi | 1 |
| Ohio | 8 |
| Tennessee | 41 |
| Virginia | 2 |
| Total | 156 |
The CDC gives us another visual to show the widespread nature of this outbreak here, with Kentucky, Tennessee, and Georgia taking the hardest hit: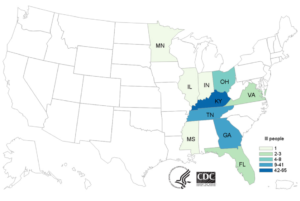 The latest reports further updated the statistics as:
"Illnesses started on dates from March 1, 2019, to April 7, 2019. Ill people range in age from less than 1 year to 83 years, with a median age of 19. Fifty percent are female. Of 127 people with information available, 20 (16%) have been hospitalized. No deaths and no cases of hemolytic uremic syndrome have been reported.
Illnesses that occurred after March 26, 2019, might not yet be reported due to the time it takes between when a person becomes ill with E. coli and when the illness is reported. This takes an average of two to three weeks."
No Source It Seems?
But even as of yesterday, there's no specific source to point the finger at. For such a large outbreak, the CDC still reports that, "[a]t this time, no common supplier, distributor, or brand of ground beef has been identified…CDC is not recommending that consumers avoid eating ground beef at this time. Consumers and restaurants should handle ground beef safely and cook it thoroughly to avoid foodborne illness." The CDC confirmed that, "USDA-FSIS and state regulatory officials are continuing their traceback investigations to determine the source of raw ground beef supplied to grocery stores and restaurants where ill people reported eating."
But could the culprit be right under our noses? Could they have already found them?
The same day the CDC reported an expansion in cases, FSIS reported a recall in ground beef products for the rarely seen Ecoli O103 strain of STEC Ecoli – the same species seen in the latest outbreak. Coincidence? Maybe Not…
Have We Found the Culprit? Is K2D Foods dba Colorado Premium Foods the Source of the Multistate E. coli O103 Outbreak?
K2D Foods dba Colorado Premium Foods is recalling 113,424 pounds of raw ground beef "that may be contaminated with E. coli O103," according to the USDA's Food Safety and Inspection Service (FSIS).  The CDC, FSIS, and Tennessee Department of Health have been investigating a multistate E. coli O103 outbreak.  FSIS reports that, "Unopened, intact ground beef collected as part of the ongoing investigation from a restaurant location, where multiple case-patients reported dining, tested positive for E. coli O103."
Isn't it interesting how the Colorado Premium Foods ground beef recall comes on the same day that the CDC announced the E. coli outbreak has grown?  With 156 people in 10 states linked to this growing E. coli outbreak (20 of those people have been hospitalized), it seems highly likely that they all share the same distribution chain.
As noted above, Kentucky, Tennessee, and Georgia have been hardest hit by this E. coli outbreak.  There are 65 confirmed cases in Kentucky, 41 confirmed cases in Tennessee, and 33 confirmed cases in Georgia.  Other states in which people have become ill in this E. coli outbreak include Ohio, (8 cases), Florida (3 cases), Virginia (2 cases), and Illinois, Indiana, Minnesota, Mississippi (1 case each).
Colorado Premium Foods is recalling ground beef that it shipped to distributors in Ft. Orange, Florida and Norcross, Georgia.  Those distributors then further distributed the ground beef to restaurants to additional, currently unknown states and places.
The recalled beef was distributed in cardboard boxes containing "GROUND BEEF PUCK" and bearing the establishment number "EST. 51308".  The ground beef had "Use Thru" dates of 4/14/19, 4/17/19, 4/20/19, 4/28/19, and 4/30/19.  Here are examples of the labels: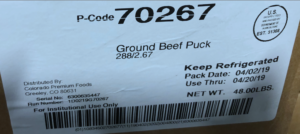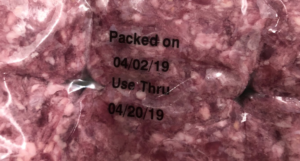 How Do I Know If I Have Ecoli?
The only way to truly know if you have Ecoli is through a stool test from your doctor. Don't forget to ask for one! (Also, if you indeed have Ecoli, it is a good idea to let your local health department know.) in the meantime, if you think you have an Ecoli infection, keep an eye out for these symptoms:
Severe stomach cramps
Watery diarrhea (often bloody)
Vomiting
Sometimes a fever, which usually is not very high (less than 101˚Fahrenheit)
The majority of people infected with E. coli will exhibit symptoms of diarrhea and abdominal cramps within 2 to 8 days after ingestion of the bacteria.
Urgent medical attention is highly recommended if you or someone you love has the above symptoms. Early medical attention can help reduce the risk of more severe illness and potential long-term complications.
The Lange Law Firm
Our mission is to help families who have been harmed by contaminated food or water.  When corporations cause Ecoli food poisoning outbreaks or Legionnaires disease outbreaks, we use the law to hold them accountable.  The Lange Law Firm, PLLC is the only law firm in the nation solely focused on representing families in food poisoning lawsuits and Legionnaires disease lawsuits.
If you were infected with Ecoli after eating ground beef and are interested in making a legal claim for compensation, we have an Ecoli attorney ready to help you.  Call us for a free no obligation legal consultation at (833) 330-3663 or send us an e-mail here.
By: Jory D. Lange, Jr. and Candess Zona-Mendola, Editor (Non-Lawyer)