Korean Enoki Mushrooms Cause Listeria Outbreak – Sun Hong Foods Recalls Enoki Mushrooms
Posted in Listeria,Our Blog,Outbreaks & Recalls on March 10, 2020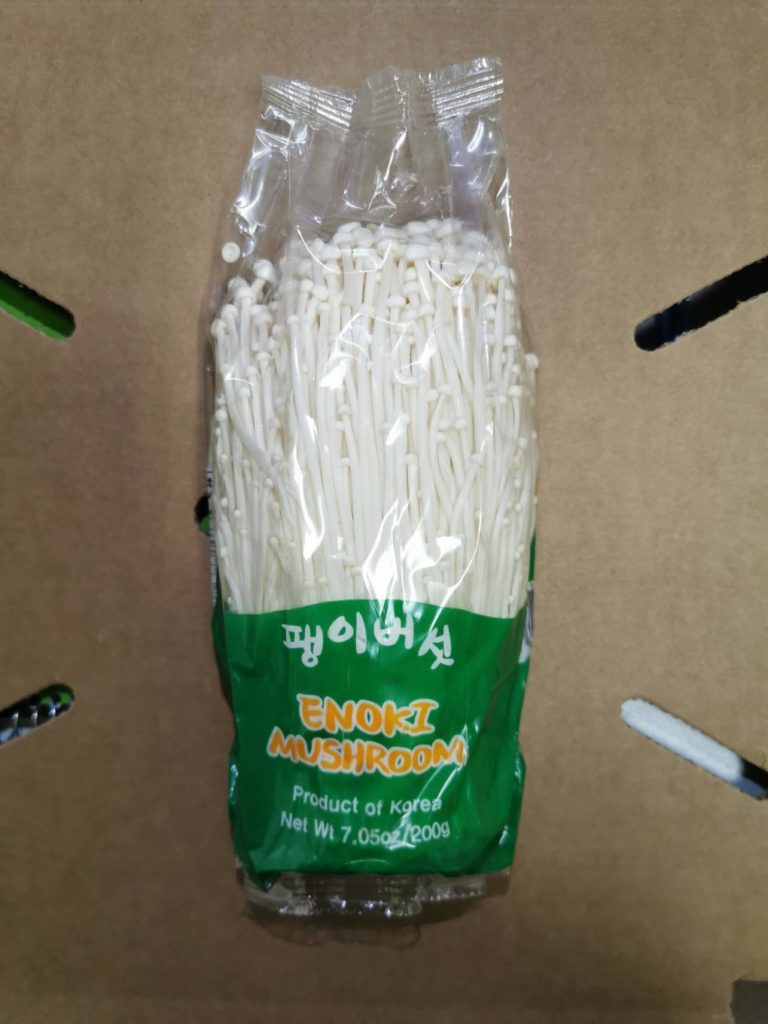 Korean enoki mushrooms have caused a listeria outbreak, killing 4 people and hospitalizing 30 people. Here's what we know about this Korean enoki mushrooms listeria outbreak.
Outbreak Stats
Enoki mushrooms have sickened people with Listeria in Arizona (2 people), California (9 people), Florida (2 people), Hawaii (3 people), Indiana (1 person), Kentucky (1 person), Maryland (2 people), Massachusetts (2 people), Michigan (1 person), Missouri (1 person), Nevada (1 person), New Jersey (1 person), New York (4 people), North Carolina (1 person), Rhode Island (1 person), Tennessee (1 person), and Virginia (3 people).
The first person contracted Listeria on November 23, 2016.  Since this time, people continued to get Listeria in 2017, 2018, and 2019.  The last person contracted listeria on December 13, 2019.  Sun Hong Foods recalled its Enoki mushrooms on March 9, 2020.
The CDC published its Enoki mushroom outbreak investigation on March 10, 2020.
What do Enoki Mushrooms Look Like?
Enoki mushrooms are white, with long stems and small caps. They were sold in clusters. The affected products are sold in clear plastic bags with green panels.  "Enoki Mushroom" and "Product of Korea" was written in orange letters on the front of the plastic bags, beneath four Korean characters.  Bags weighed 7.05 oz/200g.  The UPC code is UPC 7 426852 625810.  The back of the package reads "Sun Hong Foods, Inc."  Enoki mushrooms were sold in stores' refrigerated sections.
Where Were Enoki Mushrooms Sold?
Sun Hong Foods' Enoki Mushroom were sold in California, Florida, Illinois, Oregon, Texas, and Washington.  According to Sun Hong Foods' recall notice, its Enoki Mushroom may have been sold at J&L Supermarket, Jusgo Supermarket, ZTao Market, New Sang Supermarket, Galleria Market, and Asian Supermarket.
What is Listeria?
Listeria monocytogenes is a bacterium that causes the illness Listeriosis. According to the Centers for Disease Control and Prevention (CDC) each year an estimated 1,600 people get Listeriosis and about 260 die.  In general, symptoms include fever and diarrhea, while more invasive infection (when the bacteria spreads past the gut) can be more severe.  Pregnant women typically experience milder symptoms such as flu-like symptoms, while non-pregnant women may experience more severe symptoms such as headache, fever, muscle aches, stiff neck, loss of balance, confusion, and even convulsions.
Invasive symptoms are generally reported between 1 to 4 weeks after eating contaminated food, however some may experience symptoms in as little as one day or as late as 70 days.  Non-invasive versions of Listeriosis are often not diagnosed because otherwise healthy individuals may not present any signs or symptoms or the symptoms may be very mild. 
Why is Listeria of Such Concern?
Listeria is hardy. It thrives in room and freezing temperatures. It can survive in salty environments, like the salt introduced to a cheese during the aging process. There is only one way to rid a food of Listeria and that is heating – through pasteurization and/or heating to optimum cooking temperature.
Listeria can cause serious infection in young children, elderly people, or those with compromised immune systems. Also, pregnant women are especially at risk as the infection can pass directly to the fetus. Symptoms of Listeria include high fever, severe headache, stiffness, nausea, abdominal pain, and diarrhea. Listeria monocytogenes can grow at refrigerator temperatures, as low as 40 degrees Fahrenheit (4 degrees Celsius). The longer ready-to-eat refrigerated foods are stored in the refrigerator, the more opportunity Listeria has to grow. Listeria monocytogenes is very hardy because it resists freezing, drying, and heat. Additionally, Listeria is particularly virulent as it can cause meningitis and spontaneous abortion, and has a mortality rate of approximately 30 percent.
Listeria symptoms vary from person to person.  Like other foodborne pathogens, Listeria can cause fever and diarrhea.  The CDC advises that:
"Pregnant women: Pregnant women typically experience only fever and other flu-like symptoms, such as fatigue and muscle aches. However, infections during pregnancy can lead to miscarriage, stillbirth, premature delivery, or life-threatening infection of the newborn."
"People other than pregnant women: Symptoms can include headache, stiff neck, confusion, loss of balance, and convulsions in addition to fever and muscle aches."
Pregnant women and their newborns, adults aged sixty-five and older, and people with weakened immune systems are most at risk for Listeriosis.
Non-invasive gastrointestinal illness stemming from Listeria usually resolves in otherwise healthy people.  However, the more serious, invasive illness resulting from Listeria can cause septicemia and meningitis.
How to Reduce Your Risk of Listeria Infection
There are some things that you can do to help reduce the risk of developing a Listeria infection.
If the recalled products is in your home, the CDC recommends that you:
"Throw the mushrooms away in a closed plastic bag placed in a sealed trash can. This will prevent people and animals from eating it."
"Wash the refrigerator drawer and other areas where the mushrooms were stored with hot water and soap."
"Wash cutting boards, surfaces, and utensils used to cut, serve, or store recalled mushrooms. If possible, use a dishwasher; otherwise, use hot water and soap, followed by sanitizing with a solution of one tablespoon chlorine bleach added to one gallon of hot water."
"Wash your hands with warm water and soap after cleaning up."
The federal and state agencies continue to recommend medical attention to anyone who has eaten the products affected by the recall and expansions and have become ill. Monitoring for the next 3 to 70 days is also recommended in those who have eaten the affected products, but are not yet showing any signs or symptoms of illness.
Precaution is Always Key, Especially During this Korean Enoki Mushrooms Listeria Outbreak
The basic rules are usually the simplest to follow in terms of avoiding any foodborne illness. Wash hands frequently before and during the preparation of food, cook all food thoroughly, and wash raw fruits and vegetables. Additionally, avoid drinking unpasteurized milk and fruit juices as well as untreated surface water. To prevent harmful bacteria from growing in foods, always refrigerate food promptly. Make sure to cook food to its proper temperature as this ensures that harmful bacteria will be destroyed. Also of importance is preventing cross contamination by separating all uncooked food, especially meat and produce.
The Lange Law Firm Can Help
Our mission is to help families who have been harmed by contaminated food or water.  When corporations cause Listeria food poisoning outbreaks, we use the law to hold them accountable.  The Lange Law Firm PLLC is one of the only law firms in the nation focused on representing families in food poisoning lawsuits.  This is what we do.
If you were diagnosed with Listeria after eating Sun Hong Foods mushrooms and want to make a legal claim for compensation, we can help. Our Listeria lawyer can help you pursue compensation for your Campylobacter food poisoning.  Call us for a free no obligation legal consultation at (833) 330-3663 or send us an e-mail here.
By: Jory Lange and Candess Zona-Mendola