Listeria Deli Meat Listeria Outbreak
Posted in Listeria,Our Blog,Outbreaks & Recalls on April 17, 2019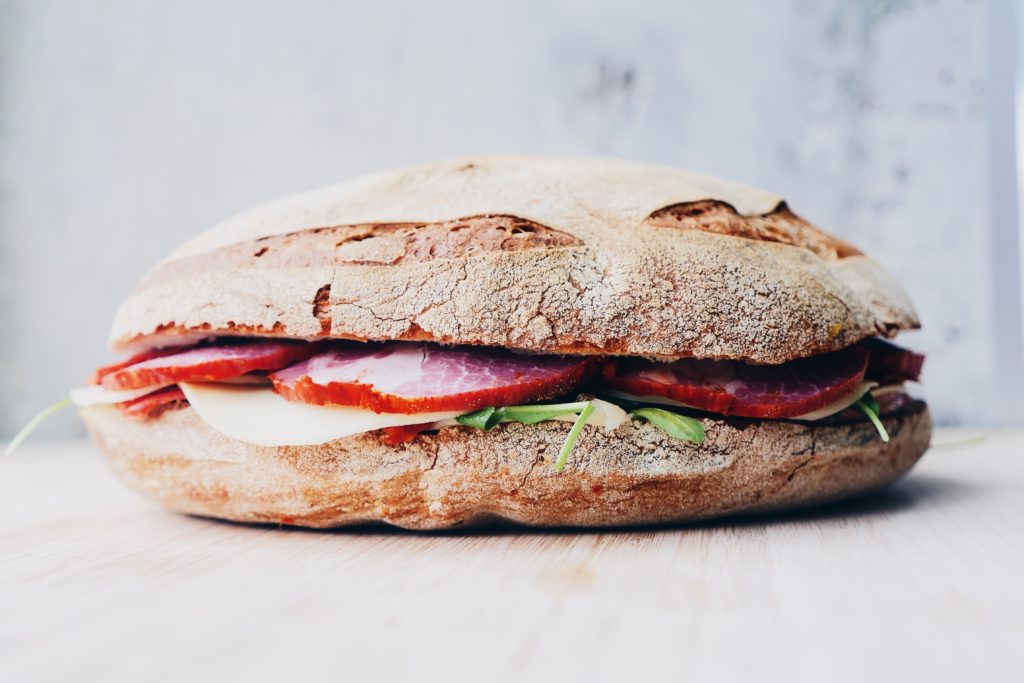 The CDC just announced yet another outbreak this month. This one involves something most of us eat everyday. The pathogen: Listeria. Here's what you need to know about the Listeria deli meat cheese outbreak.
The Outbreak
According to the early reports, 8 people have been hospitalized and 1 person has died in a Listeria outbreak linked to deli-sliced meats and cheeses.
| State | Ill People |
| --- | --- |
| Michigan | 2 |
| New Jersey | 1 |
| New York | 2 |
| Pennsylvania | 3 |
| Total | 8 |
The victims of this Listeria outbreak are from Michigan, New Jersey, New York, and Pennsylvania.  One person in Michigan died.
Their illnesses began in November of 2016, February, May, and September of 2017, February of 2018, and February and March of 2019.
The CDC reports that the outbreak strain of Listeria has been found in meat sliced at a deli and from deli counters in multiple stores.  No single, common supplier of deli products has been identified in this outbreak.  "In interviews, ill people report eating different types and brands of products, including meats and cheeses, purchased from and sliced at deli counters in many different retail locations."
Who is at the Highest Risk for Listeria?
Pregnant women and their newborns, the elderly, the very young, and people with weakened immune systems are more likely to get sick with listeriosis. They are also at the highest risk of severe illness and complications, including central nervous system issues.
This outbreak is a reminder that people at higher risk for severe Listeria infection should handle deli-sliced meats and cheeses carefully to prevent illness.
Advice to Consumers and Retailers
The CDC has some advice for all of us and those who make and sell our food, as follows:
"People who are at higher risk for Listeria infection should avoid eating lunch meats, cold cuts, or other deli meats, unless they are heated to an internal temperature of 165°F or until steaming hot just before serving.
If you develop symptoms of a Listeria infection after eating deli-sliced products, contact a healthcare provider and tell them you ate deli-sliced products. This is especially important if you are pregnant, age 65 or older, or have a weakened immune system.
If you have eaten deli-sliced products and do not have any symptoms of a Listeria infection, most experts believe that tests or treatment are not needed, even for people who have a higher chance of Listeria infection.
Listeria bacteria can survive at very low temperatures and can spread easily to other foods and surfaces. Consumers should clean refrigerators, kitchen countertops, utensils, and other surfaces that touch deli-sliced products.
You can take steps to prevent Listeria infection:

Don't let juice from lunch meat and hot dog packages get on other foods, utensils, and food preparation surfaces.
Wash hands after handling deli meats, lunch meats, deli cheeses, and hot dogs.
Store opened packages of meat sliced at a local deli no longer than 3 to 5 days in the refrigerator.

Retailers should clean and sanitize deli slicers frequently and other areas where deli products are prepared, stored, or served. Follow the manufacturer's recommendations for sanitizer strength and application to ensure it is effective.

Regularly clean food contact surfaces, equipment, and utensils in direct contact with deli products, such as cutting boards, tables, cheese slicers, and knives.
Make sure food contact surfaces, such as cutting boards, are smooth, sealed, non-porous, and easily cleanable.
The FDA website has printable materials and more information about sanitizing commercial deli slicers."
CDC will update the advice to consumers and retailers if more information comes available, such as a supplier or type of deli product linked to illness.
Symptoms of Listeria
Listeriosis can cause different symptoms, depending on the person and the part of the body affected.

Pregnant women typically experience only fever and other flu-like symptoms, such as fatigue and muscle aches. However, infections during pregnancy can lead to miscarriage, stillbirth, premature delivery, or life-threatening infection of the newborn.
People other than pregnant women: Symptoms can include headache, stiff neck, confusion, loss of balance, and convulsions in addition to fever and muscle aches.

People with invasive listeriosis usually report symptoms starting 1 to 4 weeks after eating food contaminated with Listeria; some people have reported symptoms starting as late as 70 days after exposure or as early as the same day of exposure.
Listeriosis is treated with antibiotics.
About Listeria
Listeria is a hardy bacterium typically found in soils or the intestines of animals. Unlike Salmonella and Ecoli, Listeria grows and thrives in cold environments, like refrigerators, freezers, and food manufacturing facilities. The only way to kill Listeria in food products is by cooking and pasteurization. Past outbreaks of Listeria infections have been found in:
Ready-to-eat deli meats and hot dogs
Ice cream
Refrigerated pâtés or meat spreads
Unpasteurized (raw) milk and dairy products
Soft cheeses made with unpasteurized milk, such as queso fresco, Feta, Brie, Camembert
Refrigerated smoked seafood
Raw sprouts
The Lange Law Firm
Our mission is to help families who have been harmed by contaminated food or water.  When corporations cause Listeria food poisoning outbreaks or Legionnaires' disease outbreaks, we use the law to hold them accountable.  The Lange Law Firm, PLLC is the only law firm in the nation solely focused on representing families in food poisoning lawsuits and Legionnaires disease lawsuits.
If you were infected with Listeria after eating deli meat or cheeses and are interested in making a legal claim for compensation, we have a Listeria Lawyer ready to help you.  Call us for a free no obligation legal consultation at (833) 330-3663 or send us an e-mail here.
By: Candess Zona-Mendola, Editor (Non-Lawyer)