Manhattan Plaza Legionnaires' Disease Outbreak?
Posted in Legionnaire's disease,Our Blog,Outbreaks & Recalls on July 12, 2019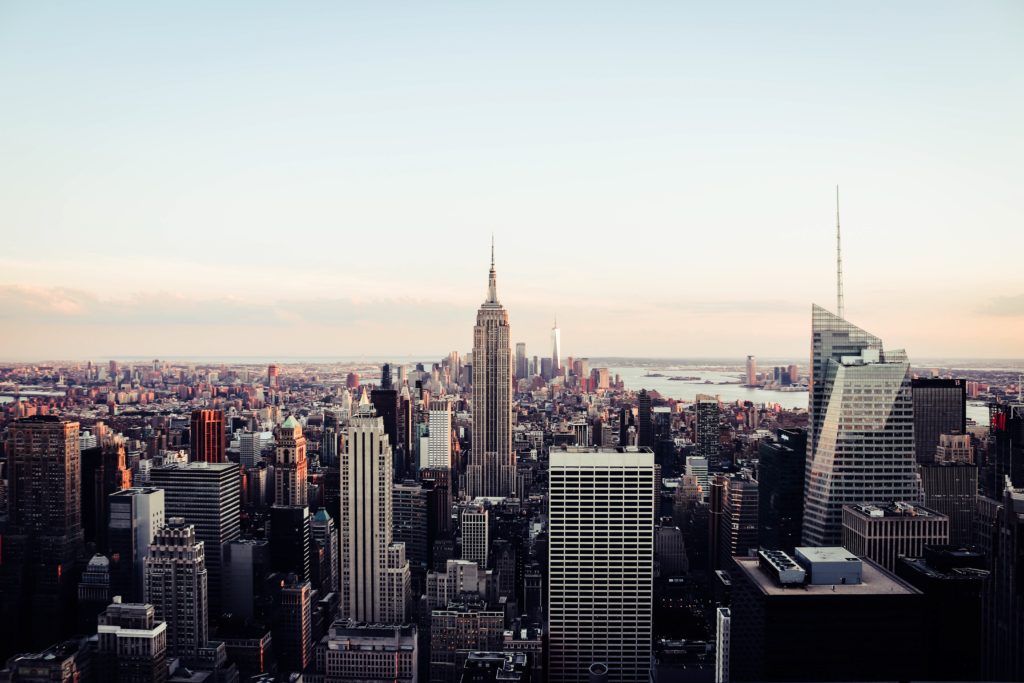 According to CBS news, two residents of Manhattan Plaza, 400 West 43rd Street, have been diagnosed with Legionnaires' disease.  People ages 50 and older, with chronic lung disease or weakened immune systems are especially vulnerable to Legionnaires' disease. Here's what we currently know about the Manhattan Plaza Legionnaires Disease Outbreak.
What the Health Department Thinks?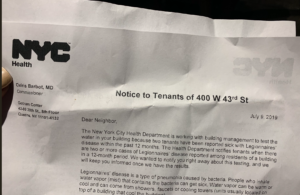 In a letter to tenants, NYC Health Department Commissioner Oxiris Barbot, M.D. wrote, "The New York City Health Department is working with building management to test the water in your building because two tenants have been reported sick with Legionnaires' disease within the past 12 months."
Cooling Tower Contamination
The major source of Legionella infection includes water distribution systems of any large building such as hotels or hospitals. Other sources include cooling towers, humidifiers, whirlpool spas, hot springs and mist machines. Air conditioners are not a source of the Legionnaires.
Cooling towers and water heaters form an ideal condition to grow the bacteria. The temperature of the water in most of the water systems that carry Legionella can come to Legionella bacteria growth appropriate temperature i.e. around 68-122 degrees Fahrenheit. The cooling tower moves the air through its recirculated water systems and emits a considerable amount of water vapor into the atmosphere. When these vapors that contains Legionella bacteria is inhaled by someone, they can get sick.
In fact, as reported by Wikipedia, French researchers found that the Legionella bacteria once travelled up to 6 km through air from a large contaminated cooling tower at a petrochemical plant in Pas de Calais, France. The outbreak was so huge that it killed 21 of the 86 infected people who had Legionella.
Studies have found Legionella to be present in 60-80% of cooling towers. Legionella is also prevalent in lakes, streams and ponds but the amount is so low that you are unlikely to get infected from these sources.
"The fact that invisible water vapor from a cooling tower can carry deadly pathogens like Legionella, and can cause so many hospitalizations and deaths, is alarming," said attorney Jory Lange.
What is Legionnaires' Disease?
Many people have never heard of Legionnaires' disease.  Legionnaires' disease is a severe form of pneumonia.  It is caused by a bacteria called Legionnella pneumophila. 
What are the Symptoms of Legionnaires' Disease?
Typical symptoms of Legionnaires' disease may include:
cough that can be either dry or productive (with or without bloody sputum)
headache
high fever with chills
weakness or fatigue
muscle aches
chest pain
shortness of breath
gastrointestinal issues, such as watery diarrhea, abdominal pain, or nausea
lethargy
mental status changes (including confusion)
Legionnaires' disease can also lead to changes in heard rate or a drop in blood pressure.
Legionnaires' disease is often diagnosed with a chest x-ray to confirm pneumonia followed up with a urine test and culture from sputum (or phlegm) samples.  In some cases, washings from the lung may also be cultured to confirm presence of the deadly bacteria.
Antibiotic treatment is necessary to kill the bacteria growing and thriving in the body. Most cases show antibiotic treatment as quite successful.  Generally healthy people tend to recover easier, but they often still need hospital care.  Others are not so lucky.  About 1 in every 10 infected with Legionnaires' disease will die due to complications such as lung failure.  Those odds become worse for those who contract Legionnaires' disease during a hospital stay.  That statistic rises to a whopping 1 in 4.
How Do You Get Legionnaires' Disease?
You can get Legionnaires' disease by inhaling water vapor (mist) or aspirating water that contains the legionella bacteria.
What Causes Legionnaires' Disease?
Legionnaires' disease is caused by inhaling water vapor or aspirating water that has been contaminated with legionella bacteria.  Legionella bacteria "are ubiquitous in the environment and can grow in human-made water systems in buildings, whirlpool spas, decorative fountains, and cooling towers," according to the New York City Department of Health.  When not properly maintained, these human-made water systems provide the warm water temperatures in which legionella bacteria thrive.  When these water systems become contaminated, the water vapor they release can spread legionella bacteria.
Has New York City Had Outbreaks of Legionnaires' Disease Before?
Yes.   Hundreds of New Yorkers are diagnosed with Legionnaires' disease each year.  The number of cases of Legionnaires' disease diagnosed in NYC is increasing. Last year, there was a Washington Heights Legionnaires' disease outbreak. 
Is There Compensation for Legionnaires' Disease?
Yes.  If the owner of a building was negligent in failing to properly reduce or prevent the spread of legionella bacteria and this causes a Legionnaires' disease outbreak, then victims of Legionnaires' disease can pursue a lawsuit against the negligent parties to obtain compensation.
Can A Legionnaires' Disease Lawyer Help?
Yes.  When a Legionnaires' disease outbreak resulted from a building owner's negligence, a Legionnaires' disease lawyer can help to prove that:
the building owner failed to follow important safety rules
the safety rules exist to prevent legionella bacteria from growing and spreading through the air, where they can get people sick
had the building owner followed the important safety rules, no one would have gotten sick with Legionnaires' disease
The Lange Law Firm
Our mission is to help families who have been harmed by contaminated food or water.  When corporations cause food poisoning outbreaks or Legionnaires disease outbreaks, we use the law to hold them accountable.  The Lange Law Firm is the only law firm in the nation solely focused on representing families in food poisoning lawsuits and Legionnaires disease lawsuits.
If you were infected with Legionnaires disease after visiting or living in Manhattan Plaza, and are interested in making a legal claim for compensation, we can help.  Call us for a free no obligation legal consultation at (833) 330-3663, or send us an e-mail here.
By: Jory D. Lange, Jr. and Candess Zona-Mendola (Editor – Non-Lawyer)