Meal Prep Safety (Because Food Poisoning is Not a Great Way to Lose Weight)
Posted in Food Safety on January 31, 2019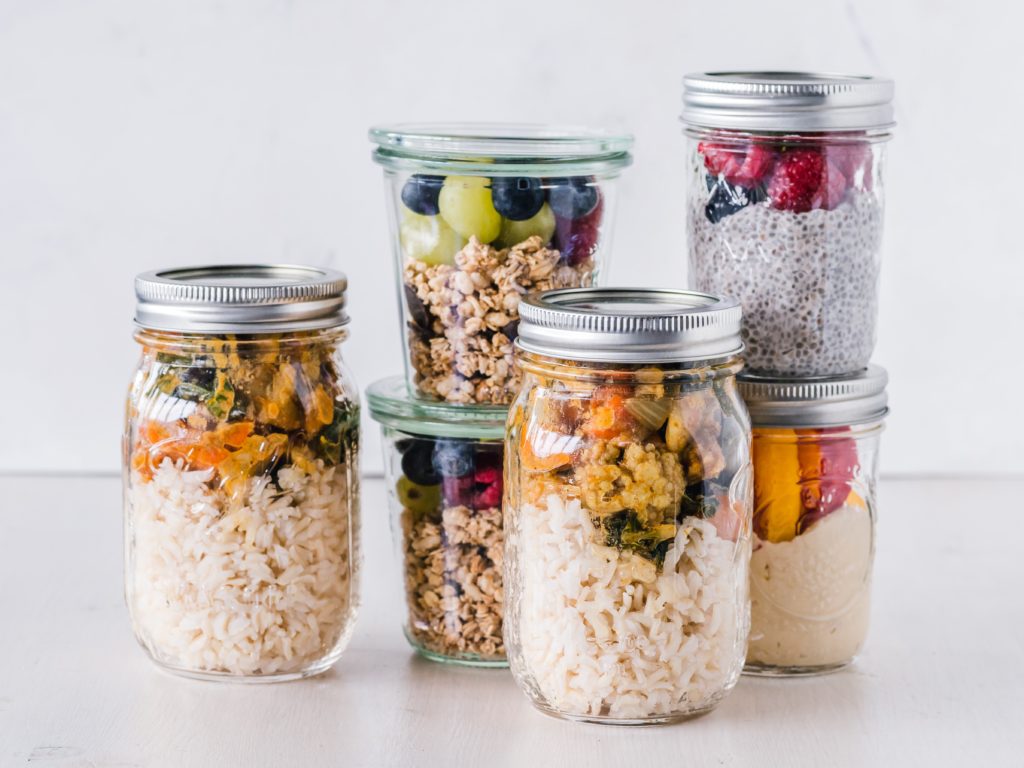 It's that time of year again.  Thoughts go from" sweets and treats and tons of savory eats" to "let's get healthy and work out and New Year's resolutions."  It seems like everyone I know is on the meal prepping bandwagon.  Meal prepping is a great way to get your food life organized and make eating healthy easy. But are you being safe? Here's our tips on meal prep safety, no matter if you are just beginning or are a meal prepping pro.
Plan. Prep. Prevent.
Meal prepping refers to the act of preparing some or even all of your meals in advance.  People meal prep for many different reasons.
Lose weight or get healthy
Save time on the consuming task of cooking every night
Save money to avoid making fast food choices like eating out.
If any of these reasons sound like one of your goals, you may have thought about meal prepping.  There are obvious benefits to this approach, but any time you are talking about food storage there is a risk of foodborne illness.  Don't let your "eat healthy, time and money saving plan" end with your family fighting for the bathroom or worse – in a hospital bed.
Let's start at the beginning.  How to meal prep.
Meal Prepping Made Easy
Blogger, cook book writer, and meal prep extraordinaire, Kevin Curry provides quite a few tips and tricks on his page fitmencook.com.  Kevin explains that "preparation is the key on your journey."  Even the strongest of will-powers are tested without having healthy alternatives ready and available.  "When we don't have food prepared or healthy snack options, we tend to reach for items that may not support fitness goals."
He recommends for beginners to start with at least 2 meals and 1 snack a day and include their "trigger meal" – the one that you are most likely to cave and eat something unhealthy.  This preparation can mean the difference keeping your diet and blowing it.
When meal prepping, you have the opportunity to make several different meals all at once.  Take advantage of this time.  For example, chop all the onion and garlic you will use at once and distribute it to each meal.  Try different seasonings to shake things up.  You can bake a whole sheet pan of chicken, each with a different seasoning and twist.  If baking or roasting, take advantage of that pre-heated oven.  Cook several dishes at once at the same time.  Take advantage of the racks in your oven.  Roast vegetables and meat at the same time.
Just remember, don't go too crazy.  While cooking up a storm, think about how many days this food will last you or your family.  Cooking a months' worth of food is not a good idea.  Curry suggests keeping it under 5 days.  This is fairly close to what we do in my family.  He says to keep 3 days of meals in the refrigerator and freeze the rest.
When meal prepping, it isn't just about the cooking.  You also have to consider food storage.
Food Storage Made Easy
The temperature of your refrigerator and freezer are key to safe food storage.  This is true for keeping your prepped meals safe, but also everything else you store in that appliance.  The containers you choose are also important.  Lets break down food storage to be sure you are safely storing the healthy bounty you have prepared.
Temperatures
Your refrigerator temperature should be set to at least 40 ºF.  While this temperature can be a little colder, it should not rise above 40 ºF or you risk food spoilage.  The freezer should be set to at least 0 ºF.  This temperature could be lower.  But you want your frozen food to stay frozen so it should not rise above 0 ºF for long-term food storage.
Cooling Food
Food should be refrigerated within 2 hours of cooking.  Allow foods to cool a bit before putting directly into the refrigerator.  Spread food into thin layers.  A deep container should be avoided.  Meal prepping is much safer in longer, more shallow containers.  This prevents warm pockets from forming and promotes even cooling.  Warm pockets prevent food from cooling properly, allowing it more time in the "danger zone" (41 – 141 ºF).
Containers
Glass containers are great for meal prepping.  Clear glass allows you to see the contents of your containers.  In my house, glass is preferred because we tend to cook directly in the pyrex dish.  I am a big fan of the toaster oven and glass containers are toaster oven friendly.  Anytime I can save dishes, the better.
If you are meal prepping in plastic containers, be sure the plastic is BPA free.  Manufactures have come up with many different plastic storage options.  Choose your container based on your most convenient re-heating method.
Be sure meals that you plan to freeze are in airtight containers.  This will help prevent freezer burn.  Don't let your hard work and money go to waste on food you are not going to want to eat.
Defrosting Made Easy
If you followed Curry's advice and have those extra meals waiting for you in the freezer, you are going to want to defrost them safely.  Defrost them in the fridge the night before you plan to eat them.  It might be tempting to leave the container on the counter or pop it in the microwave frozen.  This could be very dangerous.  If the food thaws and warms unevenly any bacteria on or in the food can start to multiply quickly.
Re-heating Made Easy
You have several options for re-heating your prepped food.  Microwaves, ovens, stovetops, crockpots, and rice cookers.  Each method has their own strengths and limitations.
Microwaves – Microwaves are a fast and convenient way to re-heat food. Microwave safe plastics (choose BPA free), glass, and microwavable ceramic containers are appropriate containers to use.  If the food is thawed, place food in the microwave using the rotation function if available.  Stop microwave and stir or flip food halfway through expected heat time.  Note that microwaving tends to heat from the inside out.
Ovens – If you have chosen glass containers, remove them from the fridge for a few minutes to keep them from getting temperature shock. You can also place the glass container in the oven while it is pre-heating so that the container does not break upon drastic temperature change.
Stovetops – The stovetop is another method of heating. It is quick, though might generate additional dishes.
Crockpots – I recently saw mini lunch crockpots that are perfect for re-heating lunch portions at work. They were originally designed for truck drivers or those on the road to easily re-heat foods.  Whether mini for a single meal or a large crockpot for the family dinner, crockpots make a great outside of the box option.
Rice cookers – Rice cookers are highly under-rated. I love my rice cooker! In fact, just before Thanksgiving last year our home's stove went awry.  I managed to finish making my contribution to the family dinner – Chicken n' Dumplin's without much issue.  I used the rice cooker on the sauté-simmer function to cook most meals until our stove could be repaired.  Heating foods in a rice cooker will require additional dishes, just like the stovetop but serves as a great option for re-heating food.
Smoothie Prep Made Easy
Smoothies are a great way to get in a quick, healthy breakfast or a meal on the go.  Can you prep a smoothie?  Why not?  Portion out ingredients for each smoothie into a sealable bag or airtight container.  Prep no more than 4 days of smoothies at a time.  When you are ready to make your smoothie, simply dump the contents into your blender and push the button.
Another great option is to make smoothie ice cubes.  Blend veggies and/or fruit and pour the contents into ice cube molds.  Once frozen, transfer the smoothie cubes to an airtight container.  Pop those smoothie cubes into other smoothies in place of ice.
Happy meal prepping!
By: Heather Van Tassell, Contributing Writer (Non-Lawyer)