No! Not Nutella! The Nutella Factory Shut Down
Posted in Food Policy,Food Safety,Our Blog on April 2, 2019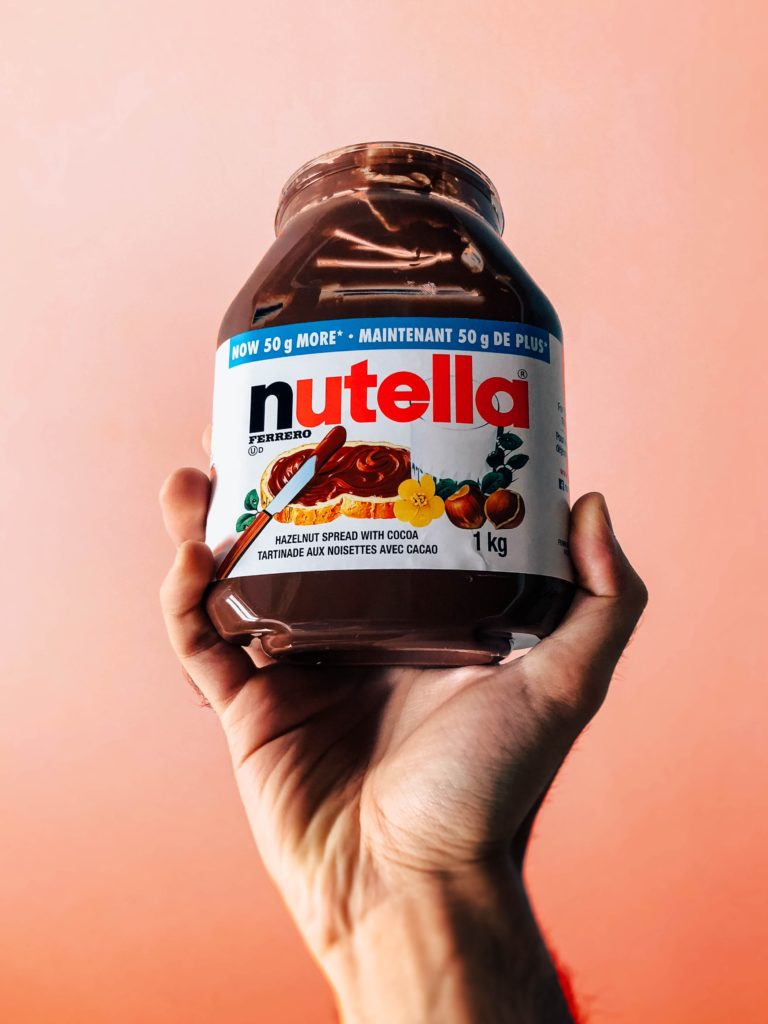 It's sad (or unfortunate, at least) but true. Until about seven years ago, I had never even heard of Nutella. But through subtle propaganda instigated by my children, I bought a jar. In all honesty, I prefer the time-honored peanut butter, but my kids loved the Nutella. They put it on virtually everything, even hard-boiled eggs. Yes, you read that right. But guess what, the factory that makes this wonderful treat recently shut down. Here's what you need to know about the Nutella Factory Shut Down.
In Normandy, France, the world's largest producer of Nutella has been shut down as a precaution after "quality issues" were found in samples of the spread as well as some candy bars. The type of quality issues have not yet been identified as the investigation is ongoing. The factory produces 600,000 jars a day. A representative of the parent company, Ferrero, stated, "For now, we can say that no product currently on the market is affected by the situation and that the supply of our customers continues uninterrupted."
A Brief History of Nutella
An Italian pastry maker by the name of Pietro Ferrero came up with the idea of creating a sweet paste shaped into a loaf made from sugar, hazelnuts, and a pinch of cocoa. Cocoa was in short supply after WWII. On May 14, 1946, the Ferrero Company was founded. In 1951, the loaf-shaped product was converted into something that could be spread, and by 1964, the iteration that we now know as Nutella was created.
Food Safety is a Worldwide Implementation
In developed nations around the world, food safety is of critical importance, and breaches in any stage of the food chain from field to fork are investigated. Although the type of quality issues were not readily defined or available regarding the Nutella production, inspection of food plants is conducted by a French agency that is analogous to our own United States Department of Agriculture (USDA). In France, it is known as the French Ministry of Agriculture and Food. Under this agency's aegis is the Directorate General for Food (DGAL) that implements policies related to food safety and food quality controls.
By comparison, our food safety protocols involve primarily two agencies: the USDA and the Food and Drug Administration (FDA). Determining which agency is responsible for what can be tricky. Please excuse the pun, but in a nutshell, the FDA oversees eighty percent of our food supply, including all domestic and imported food sold across state lines. The FDA does not oversee meat and poultry. The FDA accomplishes this through the inspection of food production establishments and warehouses, collection and analyses of samples for food safety hazards, development of codes, guidelines and interpretation of such codes and collaborating with states in implementing regulations. The FDA also mandates the recalls of unsafe food and provides educational outreach to industries and consumers on safe food handling practices.
The USDA is primarily responsible for overseeing domestic and imported meat and poultry, exclusive of game meat. Also covered under the USDA's regulatory umbrella are meat or poultry-containing stews, pizzas and frozen foods, processed egg products, and frozen and dried pasteurized egg products.
Is Nutella Bad For You?
If you're looking for a low-calorie treat, Nutella is definitely not it. It's approximately one-third fat and fifty eight percent sugars. Also, it contains palm oil, which gives the concoction its easy spread ability. However, the makers of Nutella have been drawing some attention as to how they use the palm oil. According to its website, palm oil is the best ingredient for "guaranteeing its special spreadabilty and, above all, avoiding the hydrogenation process that would produce otherwise unhealthy trans fats."
In May, the European Food Safety Authority (EFSA) stated that the glycerol-based process contaminants found in palm oil are a "potential health concern." Such contaminants are formed when vegetable oils are heated to high temperatures and then refined into substances that are damaging to DNA and could cause cancer. These studies were conducted on animal subjects. Further, at high levels of exposure (undefined), the potential contaminants are a health hazard for all age groups, especially for infants, toddlers, and children under ten.
However, in one of its regulations, the United States Food and Drug Administration (FDA) have deemed that palm oil is generally recognized as safe. "There is no US ban in place regarding the use of palm oil in foods," said Megan McSeveney, a spokesperson for the FDA.
Other foods that contain palm oil are Pop Tarts, Kit Kat candy bars, some Ben & Jerry's ice creams, Cheerios, Nutri-Grain bars and some of Target's Archer Farms brand foods.
Fun Facts About Nutella
Nutella was first sold as a solid block called "pasta gianduja", which could be sliced and served on bread, but later evolved into a spreadable version called Supercreama.
The Nutella name came about as a result of combining the English word "nut" and the Latin suffix for sweet: "ella".
For many years, Italian shops would offer children who came in with a slice of bread a free smear of Nutella.
In 2012, French proposals to increase the tax on palm oil, one of Nutella's main ingredients, sparked an international controversy. The amendment became known as the "Nutella tax."
At the start of 2015, one jar of Nutella was sold every 2.5 seconds worldwide.
In 2013, five tons of Nutella was stolen from a parked van in Germany.
You could circle the globe 1.4 times with the amount of Nutella produced in 2013.
Michele Ferrero, Pietro Ferrero's son, was thought to have been Italy's richest man, according to Forbes, with a net worth of $26.8 billion.
An Amazing Nutella Cookie Recipe
I can be a risk-taker, so in spite of the warnings about palm oil, I went ahead and made a batch of these super simple cookies made with Nutella. They are really, really good. Here's an amazing recipe from Bigger Bolder Baking.
Three Ingredient Nutella Cookies
Prep time:   10 minutes
Cook time:   10 minutes
14-16 servings
Ingredients
1 cup all-purpose flour
1 cup Nutella
1 large egg
Instructions
Heat oven to 350 degrees, and line a baking sheet with parchment paper.
Add the Nutella, flour, and egg to a large bowl. Mix until well combined.
The mixture will form a thick dough but should be moist enough to roll into balls.
Using your hands, roll about two tablespoons of dough into balls and place on the baking sheet, flattening slightly with your fingertips.
Bake for 8-10 minutes until they are cooked around the edges and still slightly soft in the middle. Let the cookies sit on the baking sheet for five minutes and then cool on a baking rack.
By Kerry Bazany, Contributing Writer (Non-Lawyer)