Oregon Red Onions Salmonella Outbreak
Posted in Our Blog,Outbreaks & Recalls,Salmonella on July 31, 2020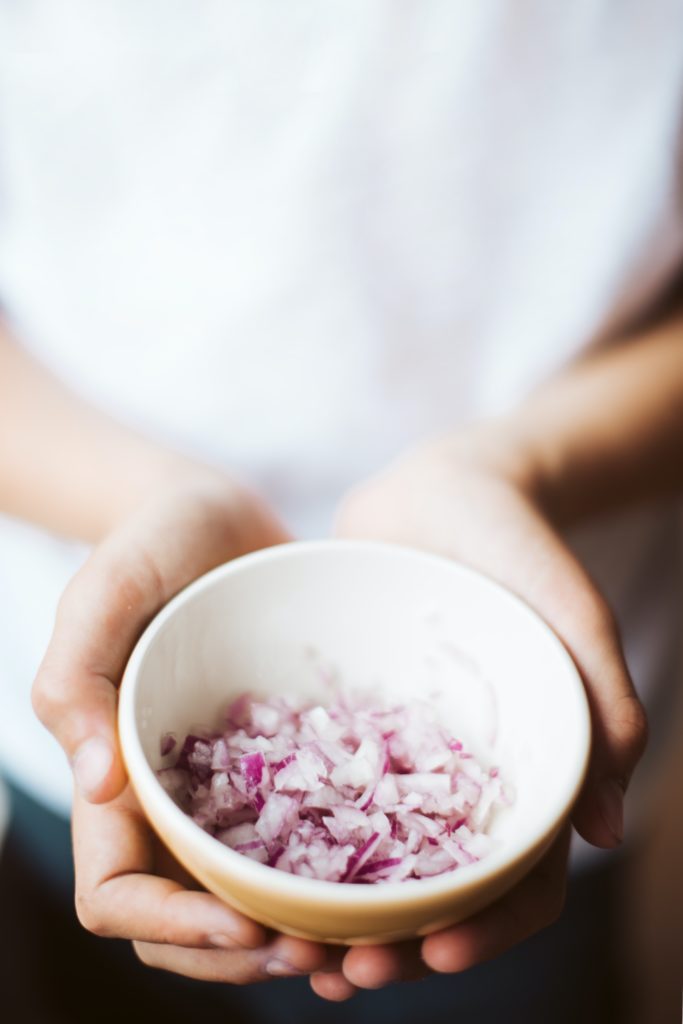 Oregon (among other states) is in the middle of a large and dangerous outbreak. Over the past few weeks, more and more cases of Salmonella have been reported, which have now been linked to red onions. During the midst of a pandemic, it is hard to not let other outbreaks cast a shadow but we need to still be aware of them. Here is what we know about this an Oregon Red Onions Salmonella Outbreak:
In the past few days, some new information has come to light that we all need to be made aware of. While we have this time together, I want us to look at what is happening, what the CDC and other Health Agencies are saying, and look at how we need to keep ourselves and our families safe.
The CDC reported back in mid-July there was a mystery Salmonella outbreak, and it was spreading fast.
About the Oregon Red Onions Salmonella Outbreak
To date, this is what we know:
There have been 396 reported cases.
34 states are involved in this outbreak
59 individuals have been hospitalized
0 deaths have been recorded.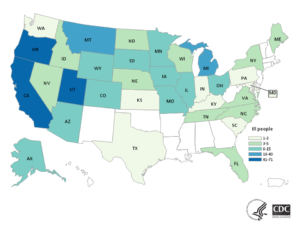 The states that have recorded cases so far are:
Current state case counts are: Alaska (6), Arizona (14), California (49), Colorado (10), Florida (3), Idaho (5), Illinois (10), Indiana (2), Iowa (15), Kansas (1), Kentucky (1), Maine (4), Maryland (1), Michigan (23), Minnesota (10), Missouri (6), Montana (33), Nebraska (5), Nevada (5), New York (4), North Carolina (3), North Dakota (5), Ohio (7), Oregon (71), Pennsylvania (2), South Carolina (1), South Dakota (11), Tennessee (5), Texas (1), Utah (61), Virginia (4), Washington (2), Wisconsin (5), Wyoming (11).
While it took a concerted effort between local Health Officials, the CDC, and Canada's Health Organization; the reason behind the outbreak has been discovered:
Red Onions
While information is pouring in as to where the produce originated, there are a few things we can glean from the reports of those who were unlucky enough to have Salmonella.
Pro Tip: In the event of an outbreak, it is best to remember not to panic. Even if you have eaten the food in question, most hospitals are equipped to handle all types of situations.
Stop right this moment and check your kitchen for red onions. If you have them, throw them out. Until we know where the product originated from, it is best to throw it all away.
When eating at a restaurant, do not order red onions on anything and do not eat food with red onions on it.
If you or any members of your family are showing symptoms, seek medical help immediately.
Oregon Health Officials in Josephine County traced two cases back to a restaurant in Grants Pass: Si Casa Flores. Since the initial outbreak, seventeen different samples of food have been collected to determine what is causing Salmonella to spread from there to its patrons.
To date, Oregon has reported 71 cases of Salmonella so doctors and local hospitals are busy treating and trying to help get to the bottom of this. Health Officials have asked anyone who ate at Si Casa Flores to fill out an on-line survey to help get a better understanding of what was eaten and identify the source.
Oregon Health Officials are not responding to questions as this is an ongoing investigation.
According to the CDC, "Salmonella affects about 1 million Americans every year, leading to 19,000 hospitalizations and 380 deaths."
Signs and symptoms can look like other intestinal issues so seeking professional medical help is a must. Here are a few of the major symptoms:
Nausea and vomiting
Stomach cramps
Fever
Headache
Bloody stools
Chills
Diarrhea
Muscle and joint pain
Salmonella bacteria live in the intestines of most living organisms. Almost all of Salmonella infections are caused by ingesting feces through eating and drinking. There are other ways we can contract Salmonella but all of them can be stopped with one simple rule: wash your hands.
It is important to note that most cases of Salmonella infection will clear up on its own. However, infants, the elderly, and those with lowered immune systems need to be cleared by a doctor to ensure the infection does not worsen.
The CDC has made a list of Five Fast Facts to help in the prevention of Salmonella.
You can get a Salmonella infection from a variety of foods. It is important to understand that foods contaminated can look and smell normal.
Salmonella can spread from animals to people and people to animals. Again, washing your hands can stop the transfer.
Salmonella is more common in the summer. Be sure to refrigerate food right after eating to ensure bacteria doesn't grow.
Salmonella illnesses can be dangerous for certain people. Infants and the elderly can be severely damaged, especially if not treated right away.
Salmonella causes more illnesses than we know. For every one confirmed case, there are about 30 that are not known about.
Information from the Government of Canada was released yesterday but it still applies to those in the United States:
If you have red onions at home:
Look for a label showing where the red onion was grown. It may be printed on the package or on a sticker.
If the packaging or sticker shows that it is from the U.S., don't eat it. Throw it away and wash your hands.
If it isn't labeled, don't eat it. Throw it away and wash your hands.
If you don't know whether the red onion found in a premade salad, sandwich, wrap or dip contains red onion from the U.S., don't eat it. Throw it away and wash your hands.
Wash and sanitize drawers or shelves in areas (such as fridges and cupboards) where red onions were stored.
If you buy red onions at a store:
Look for a label showing where the red onion was grown. It may be printed on the package or on a sticker.
If the packaging shows that it is from the U.S., don't buy it.
If it is an unpackaged product, or is not labeled, ask the retailer whether the red onion comes from the U.S.
If you can't confirm that the red onion in stores is not from the U.S., don't buy it.
As more information is made available, we will get it to you in order for you to be informed of any changes. Until that time, take a minute to inventory your kitchen, looking for red onions, read as much as you can about what we are dealing with, and more importantly; tell others about this outbreak. We are all in this together.
How The Lange Law Firm Can Help
Our mission is to help families who have been harmed by contaminated food or water.  When corporations cause Salmonella food poisoning outbreaks, we use the law to hold them accountable.  The Lange Law Firm is one of the only law firms in the nation focused on representing families in food poisoning lawsuits.
If you got sick in this latest Oregon Red Onions Salmonella Outbreak and are interested in making a legal claim for compensation, we can help.  Our Salmonella lawyer can help you pursue compensation for your Salmonella food poisoning.  Call us for a free no obligation legal consultation at (833) 330-3663 or send us an e-mail here.
By: Dwight Spencer