Phthalates: The Harsh Chemicals in Restaurant Foods
Posted in Food Safety on October 18, 2018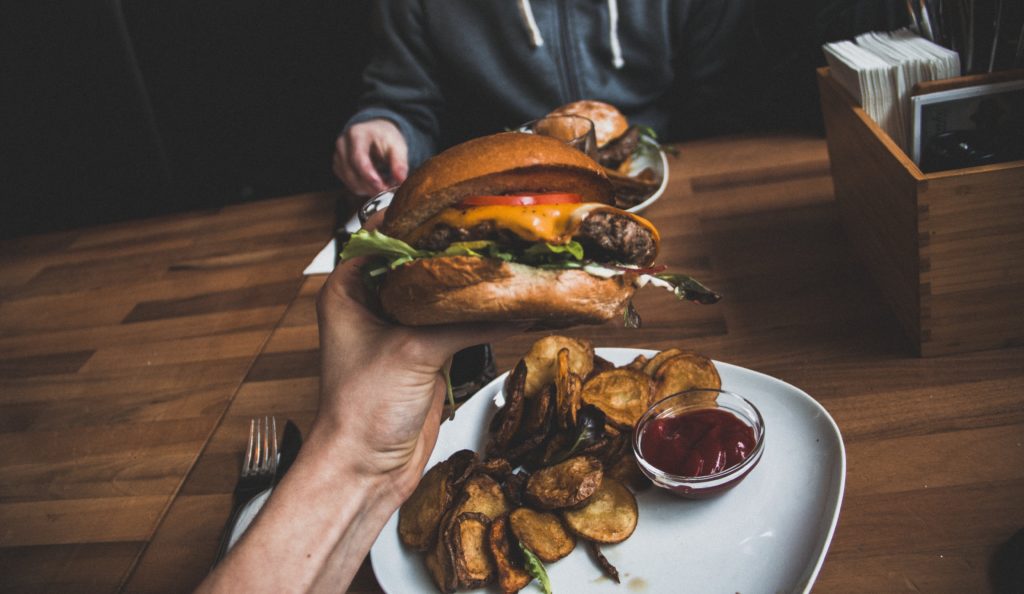 There is a new study that proves burgers and other fast foods consumed at restaurants, fast food outlets, and cafeterias are often associated with higher levels of phthalates. This means that dining out at these fast food outlets, cafeterias, and restaurants can increase the total level of potentially health harming chemicals called phthalates in our bodies, according to the latest study.
What Are They?
Phthalates are a group of chemicals that are used in food packaging and processing materials that are known to disrupt and change hormones in the body. Studies have linked them to various health problems, including birth defects and others.
The study is one of the first completed to compare exposure of phthalates in people who preferred dining out to those who rather eat home cooked meals. People who reported to have more meals at a cafeteria, fast food restaurants, and other restaurants had much more phthalate levels than those who ate at home. The levels were approximately 35 percent higher than people who had food purchased from the grocery store, the study concluded.
The study has clearly suggested that food prepared at home is less likely to contain high levels of phthalates and other harmful chemicals that are linked to an increase in fertility problems, pregnancy complications, and other health issues, as reported by senior author Ami Zota, ScD, MS and assistant professor of environmental and occupational health at the Milken Institute of Public Health (Milken Institute SPH) at the George Washington University.
The findings of the study point out an important and previously unrecognised source of exposure to the phthalates for the US populations.
Experiment:
Lead author of the study, Julia Varshavsky who is PhD, MPH and did conducted the study while she was present at the University of California, Berkeley, School of Public Health, Zota and their colleagues extracted and used the data from the National Health and Nutrition Examination Survey (NHANES) collected between 2005 and 2014. There were a total of 10,253 participants in the study that were asked question on what they ate and where the food they had came from in the last 24 hours. The researchers collaborated the answers and analyzed the links between what people ate and the levels of phthalate break down products that were found in each participant's urine sample.
Findings:
The team found out that 61% of the participants reported that they dined out at a fast food outlet, cafeteria or a restaurant the previous day. Here is what the researchers found:
The association between exposure to phthalate and dining out was quite significant in all the age groups but the magnitude of association was found to be highest among the teenagers;
Adolescents who were frequent consumers of fast food and other food that was purchased outside the home had 55 percent higher phthalate level as compared to those who preferred to consumed home cooked food;
Certain kind of foods especially cheeseburgers and other variety of sandwiches were associated with an increase in the level of phthalates. These foods had more phthalates only when they were purchased at a cafeteria, restaurant or a fast food outlet.
The study revealed that sandwiches that are sold and consumed at fast food outlets, cafeteria or a restaurant are associated with 30% higher levels of phthalate in all age groups.
The toxic effect of these hormone disrupting chemicals can cause much more of a problem in pregnant women, children and teens. Therefore, it is important that we find ways to limit the exposure, adds Varshavsky who is a postdoctoral scientist at the University of California, San Francisco. Studies in the future should investigate how to effectively intervene to remove phthalates from the food chain.
A previous study done by Zota and colleagues found that people who are more fast food, burger, fries and other foods had 40 percent higher phthalate levels than people who ate such foods rarely. The new study looks much more broadly at dining out and not just at the fast food outlets to find out the link between outside food and amount of phthalates in the body. According to the author, the findings are quite disturbing as almost two thirds of the population in US eats some food outside the home everyday.
The study has additional authors like Rachel Morello Frosch at the University of California, Berkeley and Tracey Woodruff at the University of California, San Francisco.
Research team used an innovative way to assess the real world exposures to multiple phthalates called cumulative phthalate exposure. This way takes into account that some forms of phthalates are much more toxic than the others. The National Academies of Sciences has recommended using these cumulative assessments twice – first, it was in a 2008 report when the cumulative risk assessments was suggested to estimate human health risk caused by this class of chemicals and next in 2017, when there was a report pointing out that certain phthalates can lead to reproductive hazards to humans.
There are a lot of products that contain phthalates like gloves used in handling food, food processing equipments and take out home boxes among a lot other items that are used in day to day operations at restaurant, cafeteria and fast food meals. There are research work that suggests that these chemicals can leach from the containers or wrappings and processing equipments into your food. When verifies with additional research, the study findings suggest that people who are frequently dining out at the outlets are getting a side of phthalates with their delicious meals.
How to reduce exposure to phthalates?
Home cooked meals are one of the best ways to limit the exposure to phthalates and other harmful chemicals. Not only are home cooked meals good for your health, it also is a good way to reduce sugar, unhealthy fats and salt. The study also points out that home cooked meals might not have as many phthalates as a restaurant meal.
Phthalate contamination in the food supply represents a much larger public health problem that must be considered and addressed by policymakers. Previous research proves that policy actions such as bans can help in reducing human exposure to phthalates and other harmful chemicals.
By: Pooja Sharma, Contributing Writer (Non-Lawyer)