Rediviva Campylobacter Food Poisoning Outbreak?
Posted in Campylobacter,Our Blog,Outbreaks & Recalls on March 2, 2020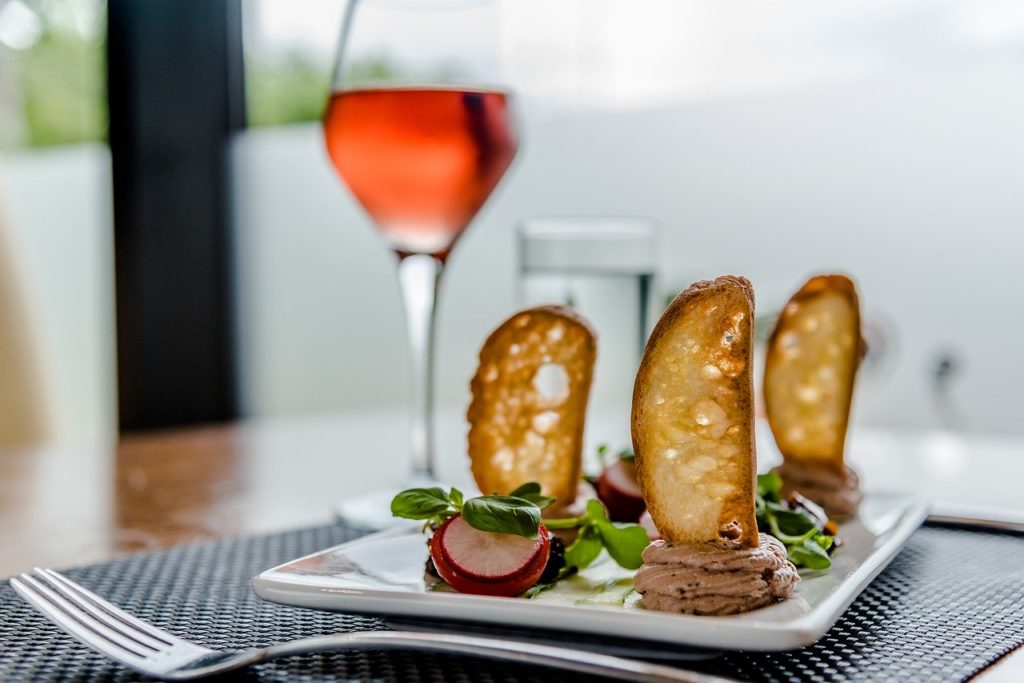 Grays Harbor County Environmental Health Division is investigating the Rediviva Campylobacter food poisoning outbreak.  Rediviva has closed during the investigation.  Environmental Health learned that at least 19 people got sick after eating at Rediviva on Valentine's Day.  At least one person has been hospitalized.
Here's what we know about this Rediviva Campylobacter Food Poisoning Outbreak:
Rediviva is located at 118 E Wishkah St, Aberdeen, WA 98520.
Chicken Liver Mousse?
According to news reports, Environmental Health believes that improperly cooked chicken liver mousse may have been the cause of the Rediviva Campylobacter food poisoning on Valentine's Day.  "Many of the known ill patrons continue to exhibit symptoms of illness. Though the investigation is ongoing, Environmental Health believes that the illness was caused by chicken liver mousse," Environmental Health said.
"Something to keep in mind is that Campylobacter is easily killed by thoroughly cooking poultry to an internal temperature of at least 165 degrees. … It doesn't spread easily to others, but it can result in serious illness, especially with those that are immunocompromised," she explained.
Rediviva's Multiple Violations
Environmental Health closed Rediviva on February 27th, one day after an inspection revealed multiple "critical" food safety violations.
Critical Violations
According to Environmental Health, Rediviva's critical violations included:
Person in charge is unable to demonstrate knowledge of the regulations to the regulatory authority representative. Failure to demonstrate knowledge regarding foodborne disease prevention as it relates to the employee health exclusions/removal of exclusions.
Food worker used bare hands to handle ready-to-eat foods items stored within the top section of the prep cooler. Bare hand used to transfer food from container to container.
Raw duck stored above raw pork and raw beef in the Avantco 2-door reach-in cooler.
Simultaneous use of the prep sink for storage of raw potatoes and raw oysters. Raw potatoes storage on the prep sink drain board while the oysters were being actively rinsed. Both compartments of the food preparation sink were used to store and/or rinse raw oysters. The prep sink facility (sink basin and drain boards) was not properly cleaned and sanitized after contact with raw animal foods. Unclean knives observed in the sink basin before and after use of the prep sink.
Unapproved specialized processing methods observed. Establishment used for custom processing wild game for personal use.
Menu expansion without proper notification or approval. Unapproved food handling methods include but are not limited to use of a vacuum sealer for reduced oxygen packaging and par cooking. The only vacuum packaged product on-site is wild game (elk and duck).
The PIC (Person in charge) and food workers had difficulty finding a temperature measuring device for evaluating food temperatures. Staff only able to locate one metal stem thermometer, the thermometer did not have a suitable diameter probe designed to measure the temperature of thin masses.
Non-Critical Violations
Rediviva's "Non-Critical" violations included:
Upon delivery oysters were placed in the food prep sink. Food workers did not evaluate the receiving temperature of raw oysters. A food worker shucked one oyster per direction of inspector. Internal temperature of the oyster was 55 degrees Fahrenheit.
Visible accumulation of food soil and grease on multiple food contact surfaces throughout the establishment. This includes but is not limited to the surface (food contact surface) of the vacuum sealer, various knives, the robocoup food processor and pans/equipment placed on storage shelves.
The non-food contact surface of equipment throughout the establishment has an accumulation of grime and debris. This includes but is not limited to doors/handles of reach-in coolers, prep cooler and the microwave.
Visible accumulation of food soil, grease and other debris on floors and walls in the kitchen, warewashing area and prep area. Physical facilities are not cleaned at a frequency that prevents the excessive accumulation of food soil.
On social media, the restaurant responded as follows: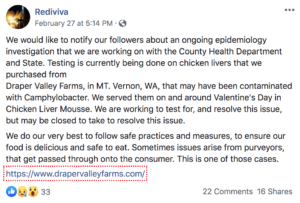 What is Campylobacter?
Campylobacter is the most common form of food poisoning in the United States. In fact, it is also one of the most common causes of diarrheal illness in the United States. There are about 1.3 million cases of campylobacter each year. Most cases are not part of the outbreaks like this one but are individual (called sporadic cases).
Symptoms
The symptoms for this form of food poisoning are common to many of the other foodborne illness. These include:
diarrhea (sometimes bloody),
fever,
and abdominal cramps.
Symptoms can start after 2-5 days a person is exposed to bacteria. It can last for about a week. People who have a weakened immune system, children, elderly and pregnant women could have more complications during treatment. in these cases, there is also a risk and concern for potential long term complications, including reactive arthritis.
Antibiotic Resistance Concern
In recent times, we are seeing Campylobacter becoming increasingly resistant to antibiotics, especially fluoroquinolones and macrolides, which are the most frequently used antimicrobials for the treatment of campylobacteriosis when clinical therapy is warranted. The CDC has put out several warnings when it comes to antibiotic resistance related to foodborne pathogens.
"The high rates of resistance to fluoroquinolones have limited their usefulness in treating Campylobacter infections. Macrolides like azithromycin are the current drugs of choice when antibiotic treatment is indicated. Resistance to macrolides in Campylobacter has remained stable. In 2017, 28% of C. jejuni and 38% of C. coli isolates were resistant to ciprofloxacin, and 3% of C. jejuni and 7% of C. coli isolates were resistant to the macrolide azithromycin."
Diagnosis and Treatment
Campylobacter is diagnosed by testing a specimen of the feces of the sick individual. Fecal culture is the most common diagnostic procedure for campylobacter illness. After 48 hours, the doctors will look for leukocytes in the culture. These leukocytes many even be found in animals. This is how the puppies and other animals are examined for campylobacteriosis when they are sick.
Most people can easily recover without any treatment. All they need is some extra fluids and rest. Antibiotics may be required in some cases. If your dog is recovering from the treatment, you should make sure that he is hydrated and is not showing any worsening signs. Also, make sure that all his follow up treatments are done.
Campylobacter does not spread from person to person, but it can be transferred to an individual when they come in contact with the infected person while changing diapers or during intercourse.
How The Lange Law Firm Can Help
Our mission is to help families who have been harmed by contaminated food or water.  When corporations cause Campylobacter food poisoning outbreaks, we use the law to hold them accountable.  The Lange Law Firm is one of the only law firms in the nation focused on representing families in food poisoning lawsuits.
If you got sick on or around Valentine's Day in this latest Rediviva Restaurant Campylobacter Outbreak and are interested in making a legal claim for compensation, we can help.  Our Campylobacter Lawyer can help you pursue compensation for your Campylobacter food poisoning.  Call us for a free no obligation legal consultation at (833) 330-3663 or send us an e-mail here.
By: Candess Zona-Mendola, Editor (Non-Lawyer)