Salami Sticks Salmonella Outbreak
Posted in Our Blog,Outbreaks & Recalls,Salmonella on October 24, 2021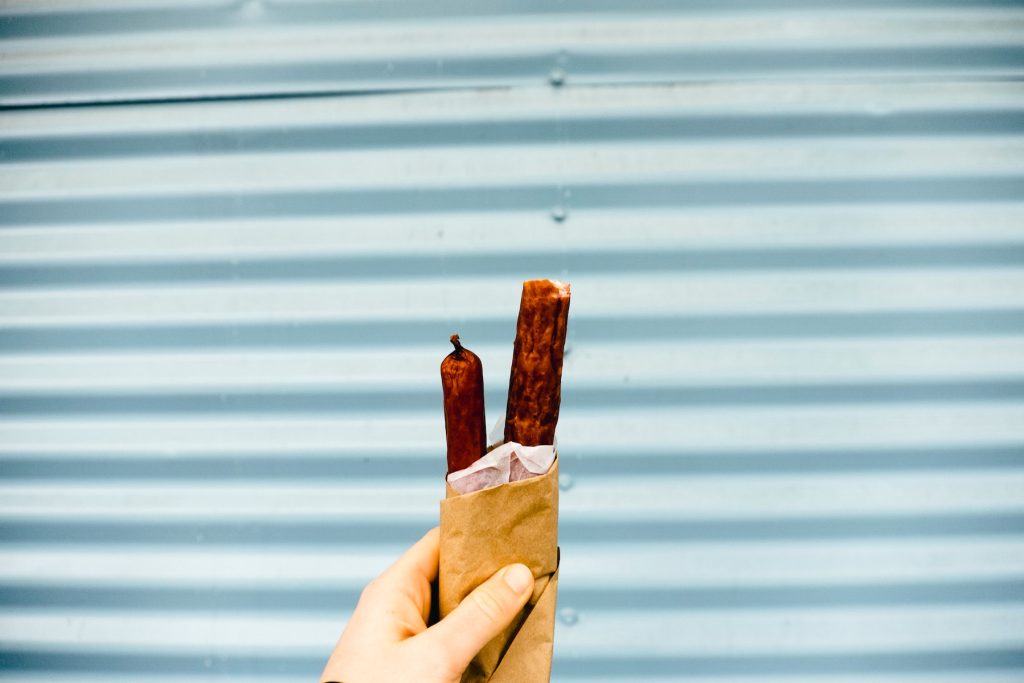 This weekend, the CDC announced another Salmonella outbreak. CDC, public health and regulatory officials in several states, and the U.S. Department of Agriculture's Food Safety and Inspection Service (USDA-FSIS) are collecting different types of data to investigate a multistate outbreak of Salmonella I 4,[5],12:i:- infections. Epidemiologic data shows that Citterio brand Premium Italian-Style Salame Sticks may be contaminated with Salmonella and are making people sick. Here is everything we know about this Salami Sticks Salmonella Outbreak:
Salami Sticks Salmonella Outbreak
Illnesses: 20
Hospitalizations: 3
Deaths: 0
States: 8
Recall: No
Investigation status: Active
According to the CDC:
As of October 22, 2021, 20 people infected with the outbreak strain of Salmonella I 4,[5],12:i:- have been reported from eight states (see map). Illnesses started on dates ranging from September 18, 2021, to October 3, 2021 (see timeline).
Sick people range in age from 2 to 75 years, with a median age of 11. Most of the sick people (80%) are younger than 18, and 65% are female. Of 11 people with information available, 3 have been hospitalized. No deaths have been reported.
The true number of sick people in an outbreak is likely much higher than the number reported, and the outbreak may not be limited to the states with known illnesses. This is because many people recover without medical care and are not tested for Salmonella. In addition, recent illnesses may not yet be reported as it usually takes 3 to 4 weeks to determine if a sick person is part of an outbreak.
State and local public health officials are interviewing people about the foods they ate in the week before they got sick. Among nine people interviewed, all (100%) reported eating salami sticks. This percentage was significantly higher than the 39.8% of respondents who reported eating salami, pepperoni, or other Italian-style meat in the FoodNet Population Survey—a survey that helps estimate how often people eat various foods. This comparison suggests that people in this outbreak got sick from eating salami sticks.
Of the nine people who reported eating salami sticks, eight ate or may have eaten Citterio brand Premium Italian-Style Salame Sticks purchased from Trader Joe's grocery stores.
Recall in this Salami Sticks Salmonella Outbreak?
No recalls have been announced at this time. In the meantime, if you are curious what the packaging may look like for the affected products, here's a label:
Trader Joe's has voluntarily stopped selling this product in its stores nationwide until we learn more.
Investigators are working with Citterio to determine next steps and if additional products may be contaminated.
About Salmonella
Salmonella bacteria typically live in the intestines of humans and animals and are shed through feces. A common disease that affects the intestinal tract, humans usually become ill with Salmonella after consuming food or water contaminated with that feces.
Most people develop diarrhea, fever and abdominal cramps within eight to 72 hours. Most healthy people recover within a few days without specific treatment, but as usual with diarrhea, it's important to drink plenty of fluids to avoid dehydration. In some cases, the diarrhea associated with Salmonella infection can be so dehydrating as to require prompt medical attention and can disrupt bowel habits for several months. Life-threatening complications also may develop if the infection spreads beyond your intestines, causing infection in urine, blood, bones, joints, or the nervous system, and can cause severe disease.
Some people with Salmonella infection develop pain in their joints, called reactive arthritis, after the infection has ended. Reactive arthritis can last for months or years and can be difficult to treat. Some people with reactive arthritis develop irritation of the eyes and pain when urinating.
How The Lange Law Firm Can Help
Our mission is to help families who have been harmed by contaminated food or water.  When corporations cause Salmonella food poisoning outbreaks, we use the law to hold them accountable.  The Lange Law Firm is the only law firm in the nation solely focused on helping families in food poisoning lawsuits and contaminated water lawsuits.
If you got Salmonella food poisoning and are interested in making a legal claim for compensation in this Salami Sticks Salmonella Outbreak, we can help.  Our Salmonella lawyer can help you pursue compensation for your Salmonella food poisoning.  Call us for a free no obligation legal consultation at (833) 330-3663 or send us an e-mail here.