These 16 States Involved in Salmonella Beef Outbreak
Posted in Outbreaks & Recalls,Salmonella on October 6, 2018
Put that ground beef in the trash. Sorry, that's all its good for now. Curious about the Salmonella Beef Outbreak states? Here's what you need to know:
Currently, 57 people have been hospitalized across 16 states. To check if your state is at risk, see this map or find your state here: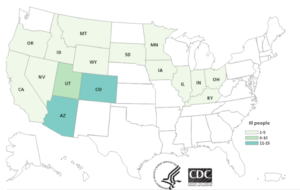 | State | Ill People |
| --- | --- |
| Arizona | 15 |
| California | 4 |
| Colorado | 12 |
| Idaho | 1 |
| Iowa | 1 |
| Illinois | 1 |
| Indiana | 1 |
| Kentucky | 1 |
| Minnesota | 1 |
| Montana | 5 |
| Nevada | 2 |
| Ohio | 2 |
| Oregon | 1 |
| South Dakota | 2 |
| Utah | 6 |
| Wyoming | 2 |
| Total | 57 |
More Info
Though Utah, Arizona, and Colorado have suffered the most impact, reported illnesses have stretched across the nation. Due to the large distribution of JBS products, it is likely there will be an increase of illness reporting before all is said and done. JBS distributes livestock products to brand names such as Cedar River Farms Natural Beef, Showcase, Walmart, and JBS Generic.
Millions of pounds of raw beef have been recalled due to Salmonella contamination. While recent reports have shown the number to be approximately 6.5 million pounds, the United States Department of Agriculture has labeled this a Class I recall at 6,912,875 lbs. According to the USDA, a Class I recall is "a health hazard situation where there is a reasonable probability that the use of the product will cause serious, adverse health consequences or death."
After store receipt tracking from eight contaminated persons, JBS Tolleson was identified as the supplier of contaminated raw beef. Reported Salmonella cases began August 5, 2018; however, the contaminated products date from July 26 to September 7, 2018. Products packaged within this date period should be immediately disposed of.
The ground zero of the current JBS Salmonella outbreak is located in Arizona and is identified as products labeled with the establishment number "EST. 267." You can find this number within the USDA mark of inspection. A list of recalled items will continue to be updated and can be found here.
Horrendous conditions for livestock may be the cause.
JBS faces allegations of "egregious and inhumane" livestock practices after an inspection by USDA Food Safety last year. This report cited "mentally incoherent" cows that were showing signs of pain were found in a JBS establishment. JBS was reprimanded with a federal notice to euthanize the cows, however one died in its pen before the action could be carried. As of 2017, JBS was ordered to provide an action plan to prevent further reprimand.
So, JBS… Again?
This is not the first contamination rodeo for JBS, as over a year ago the JBS North Carolina plant was issued an enforcement notice due to the recall of 35,000 pounds of ground beef. Also in February, Pilgrim's Pride Line, a JBS majority owned company, recalled 101,000 pounds of breaded chicken. There seems to be a negative pattern emerging for this wide-spread company.
What can you do?
It is important to show extreme caution with the growing numbers of contamination. Check your freezers and fridges for meats associated with the abovementioned labels. Return the product to the store for refund or toss it out with the trash. Either way, play it safe, rather than risking you or your family's health.
There have been no reported deaths associated with this Salmonella Newport outbreak at this time. But, that does not mean consumers are immune to extreme ramifications. Symptoms of Salmonella poisoning often show within 12 to 72 hours of exposure, and time taken for health care professionals to diagnose, verify, and report often causes a lag to public notification.
The nature of Salmonella Newport is that symptoms often pass without medical intervention. These symptoms include: diarrhea, fever, stomach cramps, and can last four to seven days. Those showing signs of illness should immediately seek medical help as food borne illness contamination effects each individual at varying degrees.
Salmonella infections can travel from the intestines to the blood stream, then disperse to other areas of the body. Children under five and those above 65 are most often those who suffer extreme ramifications for the infection; however, a weakened immune system can be further compromised by Salmonella regardless of age. It is also important to quickly seek medical help, so your infection can be reported to the CDC, offering the chance for others to become aware of their risk.
On a personal note from this writer…
After combing through JBS's website, I believe a bit of humbling is in order. Though they "voluntarily" recalled the beef to comply with USDA regulations, as well as to prevent further illness caused by their product, I find myself uncomfortable with their heavily marketed food safety representation.
As of 10/5/2018 at 12:20 MT, the press release section of JBS's website does not show notice of the current salmonella outbreak. I believe there is an ethical obligation of transparency that is not being met. Somewhere on the website their notice may be buried, but it is not easily found within their formatting.
I have followed, wrote, and researched multiple outbreaks during my time with Make Foods Safe and my life as a consumer. This will be the first that I have seen a disregard for the public's safety by a brand. This stance is derivative from the lack of notification on their website. It is common practice for brands to insert a banner on their website during an outbreak to notify their consumers. This is partially because public relations often choose to control the tone of the information, to notify their consumers, and also to prevent increased ramifications. Not all of those reasons are perfectly moral, but the lack of exposure by JBS has a resounding underhandedness about it. I don't doubt there have been companies in the past who have not overtly notified their consumers through their homepage, but JBS choosing to forfeit website notice is a shaded act nonetheless.
This prodded me to take a gander at their food safety section. I found this JBS promise:
"Confidence in the safety of our products. That's what you expect. We adopt an aggressive and innovative approach to food safety, always focused on the provision of wholesome, safe products to give you the confidence you expect when partnering with JBS USA and Pilgrim's®."
JBS's animal care section becomes somewhat of a joke with the recent exposures of their livestock treatment standards. These reports coupled with the tone of sincerity within their mission statements makes for a satire read.
JBS will need an overhaul to wipe the stain of multiple contaminations off their products and their ethics, and I don't doubt a public relations stunt will be headlining their future. While JBS may provide positive economic progress with employment and trade, this does not forfeit their responsibility to livestock and consumers.
That's some food for thought from the annoyed mind of hungry writer. For now, I'll be skipping the burger.
Our Salmonella Lawyer is Here to Help You
If you believe you have developed a Salmonella infection, we want you to know that a Salmonella Lawyer at the Lange Law Firm, PLLC is currently investigating this matter and offering free legal consultations. Our lawyer, Jory Lange became a lawyer to help make our communities and families safer.
If you or a loved one have become ill with Salmonella after eating ground beef products, you can call (833) 330-3663 for a free consultation or complete the form here.
By: Heaven Bassett, Contributing Writer (Non-Lawyer)