Salmonella in Sprouts – Are We on the Brink of Another Outbreak?
Posted in Outbreaks & Recalls,Salmonella on June 23, 2018
Raw sprouts are among the riskiest foods you can eat. I am not alone in this belief. Mike Doyle, the Director of the Center for Food Safety at the University of Georgia stated "I consider sprouts to be among the most risky foods sold at retail".
Mike and I are not alone in our concerns and aversion.
Since 1996, there have been at least 30 reported outbreaks of food poisoning linked to raw and/or lightly cooked sprouts. Most of these were due to Salmonella and E. coli contamination.
And why are they risky?
Because they are grown in an environment that bacteria love and thrive in – by keeping them wet, and preferably in a warm, dark place. And if your seeds come pre-contaminated, there is nothing one can do to reduce the likelihood of harvest-wide contamination.
Raw Sprouts in 2018
We have already had one outbreak this year linked to raw sprouts. As of the final outbreak report on February 27, 2018, the CDC confirmed 10 people in 3 states were infected with the outbreak strain of Salmonella Montevideo from eating raw sprouts. According to the CDC's website: "The information available to date indicates that raw sprouts served at Jimmy John's restaurants in Illinois and Wisconsin may be contaminated with Salmonella Montevideo and are not safe to eat. CDC recommends that consumers not eat raw sprouts served at Jimmy John's restaurants in Illinois and Wisconsin. Jimmy John's announced on January 19, 2018, that it had directed all of its locations chain-wide to temporarily stop serving sprouts."
In March of 2018, the FDA reported River Valley Sprouts voluntarily recalled its 5 ounce Alfalfa Sprouts, 4 ounce Alfalfa Sprouts, 5 ounce Garlic/Alfalfa and 5 ounce Variety sprouts because of the potential to be contaminated with Salmonella.
A new outbreak on the horizon?
This week, the FDA reported that Illinois-based sprouts manufacturer, the Now Health Group Inc., initiated a recall of 10,000 packages of its Select Now Real Food® Zesty Sprouting Mix due to possible Salmonella contamination. The recall includes Lot No. 3031259 with a "best by" date of Dec. 20, 2018, and Lot No. 3038165 with a "best by" date of Jan. 21, 2019. The lots numbers can be found on the back of the packages. At this time, no other products are included in the recall, but more recalls may be forthcoming, depending on whether they were made into other foods.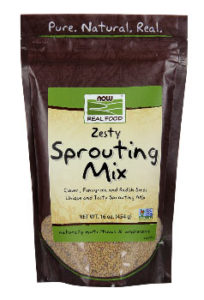 The affected products were sold online and in retail stores since December 2017. The product includes: crimson clover seeds, radish seeds, and fenugreek seeds.
The company's Canadian website appears to also allude to a similar Canadian recall.
But this may be more than just a recall. According to a news report, the NOW Foods spokesperson Alana Horinko commented that the company's clover sprout seeds are "potentially implicated" in FDA and CDC investigations of two salmonella outbreaks. The FDA and independent testing is ongoing to confirm the link.
Meanwhile, the health agencies are weighing in on their thoughts. According to the Washington Department of Health:
"Due to the uncertainty of this product being involved in a multistate outbreak, and Salmonella (infection) being a very serious illness, we are recommending local health jurisdictions contact affected retailers to verify they have been notified of the recall, confirm they have removed the product from sale, and ask how they are informing customers of the recall."
All we can do now is await testing and confirmation.
What can you do to reduce the risk of food poisoning from sprouts?
It is a good idea to avoid eating raw sprouts, as even washing them cannot guarantee they will be safe to eat. If you are a sprout-lover and cannot live without them, here are some recommendations to help you stay safe:
Those with compromised immune systems, like children, the elderly, pregnant women, and persons should avoid eating raw sprouts of any kind. These include:

Alfalfa
Clover
Radish
Mung bean
And other types
You can cook sprouts to reduce the risk of illness. By heating sprouts, you can kill the harmful bacteria that may be lurking within.
Staying Leery of Sprouts
The CDC reminds the public that "regardless of where they are served, raw and lightly cooked sprouts are a known source of foodborne illness and outbreaks. People who choose to eat sprouts should cook them thoroughly to reduce the risk of illness."
Salmonella 
The Centers for Disease Control and Prevention (CDC) estimates 1.2 million people are infected with Salmonella in the United States each year. Of these, an estimated 450 deaths occur from the non-typhoidal versions of Salmonella, annually. Sadly, for us in June, infections are more common in the summer than in the winter. Yikes! Statistically, young children (children under the age of 5) have higher rates of Salmonella infection compared to other age groups. But, according to the CDC, the elderly, infants, and people with compromised immune systems are especially likely to develop severe Salmonella infections.
Salmonella bacteria can cause Salmonellosis infection.  Salmonellosis symptoms can include: diarrhea, fever, and abdominal cramps.  Symptoms typically start anywhere from 6 to 72 hours after eating a food product contaminated with Salmonella bacteria.  Most illnesses last 4 to 7 days, but some could last much longer.  However, severe cases can lead to hospitalization or may even have long-term complications, including reactive arthritis or irritable bowel syndrome. Only a doctor can make a formal diagnosis of Salmonella, usually through a stool test.
Because Salmonella bacteria can be spread from person to person, it is important to practice good hygiene, like thorough hand washing, and thoroughly cook raw meats and sprouts.
If you or someone you love has recently eaten sprouts or sprout mix and have become sick, urgent medical attention is recommended, even if you are unsure what actual types of sprouts you ate. If diagnosed with Salmonella, it is also a good idea to report your Salmonella illness to your local county or city health department.
MakeFoodSafe will continue to follow this recall, and report on the CDC's findings if the two Salmonella clusters and investigations are indeed linked to sprouts. Stay tuned to our blog for updated posts as more information is made available.
By: Candess Zona-Mendola, Senior Trial Paralegal (Non-Lawyer)