Touching Shrimp Causes Man to Fight for His Life from Vibrio
Posted in Vibrio on November 28, 2018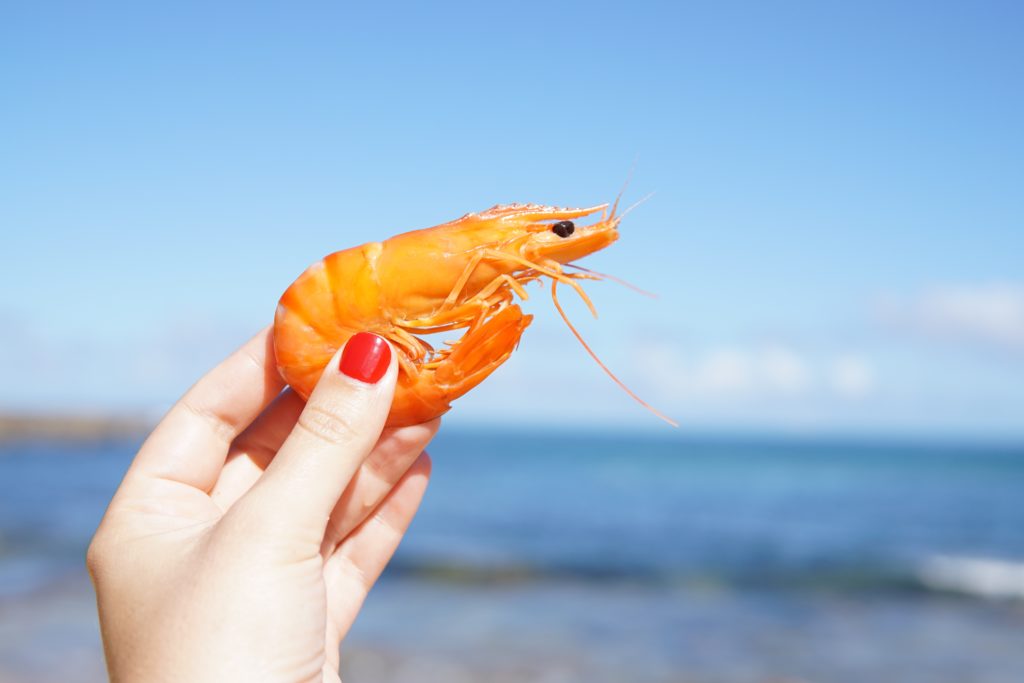 Succulent shrimp is a taste that sends the taste buds into overdrive. This delicious delicacy is a staple of the American diet and is a must for any visit to the beach. Scenes from Forrest Gump and his best friend Bubba's love of shrimp come to mind when picturing shrimp. For if it's good enough for Forrest Gump, it is good enough for me! As wisely told in the movie "shrimp is the fruit of the sea. You can barbecue it, boil it, broil it, bake it, saute it. Pan fried, deep fried, stir-fried. There's pineapple shrimp, lemon shrimp, coconut shrimp, pepper shrimp, shrimp soup, shrimp stew, shrimp salad, shrimp and potatoes, shrimp burger, shrimp sandwich". Unfortunately, as we enter the winter months those summer days at the beach feasting on shrimp are a distant dream. As a seafood, shrimp are not without their own danger. They can pose a huge food safety risk. The latest case happened in Raleigh, North Carolina with devastating impact, where shrimp and vibrio caused a man illness.
A man recently fell victim to deadly food poisoning after contracting a bacterial infection from shrimp. He was put at risk due to the recent Hurricane Florence which ravaged the East coast in September with 50 people dying in the Carolinas. This disaster hit North Carolina hard, being over 350 miles wide when it hit. Hurricane Florence knocked out power for hundreds of thousands of homes and downed trees. Life-threatening storm surges led to winds of up to 70 miles per hour and evacuation warnings for 1.7 million people in the area. Hurricane Florence is yet another example of how deadly mother nature can be. Global warming is leading to more devastating disasters such as this with hurricanes becoming stronger and more frequent.
There are strange circumstances regarding the infection of this man. First, he was infected by a shrimp that was given to him by a friend a whole three weeks after Hurricane Florence hit North Carolina. Second, he didn't eat the shrimp, but rather transfer it into a smaller bag for freezing. His wife explained how "he took them out of the 10-pound bags and put them in smaller bags, and he put them in the freezer. That's it." As more information is becoming known to authorities, it is becoming clearer that he suffered from extreme bad luck. The situation turnt nasty and deadly extremely quickly and the medical community is still perplexed. After a few hours of his wife discovering that something was wrong, her husband was shaking and slurring his words. This tragic turn of events happened at a breathtaking pace.
Two days after the first discovery that something was wrong, the man was left fighting for his life and put on life support and into an induced coma at WakeMed in Raleigh, North Carolina. He had more than 11 bags of medically needed "stuff" dripping into a port within a port in his neck. He had been fighting against the odds and in the first two days, doctors said he had less than one percent chance to live. After intensive investigation from the doctors at WakeMed, a diagnosis of Vibrio vulnificus was given. This harmful bacteria lives in coastal waters and is more prevalent when the water is warmer. Clinton explains how "it entered his body and got in the bloodstream. It affected his organs – his heart, his liver, his kidneys." His heart went from 40 percent function down to 25 percent. The bacteria ate up his lower left leg and right foot to the point that they might have to be amputated.
All from touching shrimp.
Vibrio
Vibriosis is a relatively unknown, but can be a very serious, disease that causes an estimated 80,000 illnesses and 100 deaths in the U.S. every year. The bacteria can cause a skin infection or get into the bloodstream and cause more serious problems – one in seven people who contract an infection die, according to the Centers for Disease Control and Prevention (CDC). People with vibriosis become infected by consuming raw or undercooked seafood or exposing a wound to seawater. Most infections occur from May through October when water temperatures are warmer.
When ingested, Vibrio bacteria can cause watery diarrhea, often accompanied by abdominal cramping, nausea, vomiting, fever, and chills. Usually these symptoms occur within 24 hours and most people with a mild case of vibriosis recover after about 3 days with no lasting effects. However, people with a Vibrio vulnificus infection can get seriously ill and this typically occurs in people with a weakened immune system. Severe illness is rare needs intensive care or limb amputation. About 1 in 4 people with this type of infection die, sometimes within a day or two of becoming ill. To reduce the chance of getting vibriosis, the CDC recommends not eating raw or undercooked shellfish, such as oysters. If you have a wound (including cuts and scrapes), avoid contact with brackish or salt water. Brackish water is a mixture of fresh and sea water. It is often found where rivers meet the sea. Further, cover the wound with a waterproof bandage if there's a possibility it could come into contact with brackish or salt water, raw seafood, or raw seafood juices.
The Real Deal
There is a real urgency from doctors to deal with the rapidly spreading bacteria ravaging through the man's body. He had surgery on his legs where the bacteria had eaten away. The surgery was to remove more dead skin and clean the area, and put artificial skin on until they could graft skin there. It was worse than they thought. Given that he only had a one percent chance of survival, doctors tell his wife that he's lucky to be alive. She doesn't know how much longer he will be in the hospital, but she's raising money to help cover the cost of his treatment. A crowdfunding campaign set up by his wife has so far raised $12,780 of the $50,000 goal. This has been achieved by donations of 330 people in 15 days. The description on the Crowdfunding explains how "what a horrific journey so far! But he IS alive! It will be a long journey to recovery!"
We wish this man a speedy recovery and send our thoughts and prayers to his family.
By: Billy Rayfield, Contributing Writer (Non-Lawyer)