Dramatic Increase in Sushi Parasites over 40 Year Span
Posted in Our Blog,Outbreaks & Recalls on May 27, 2020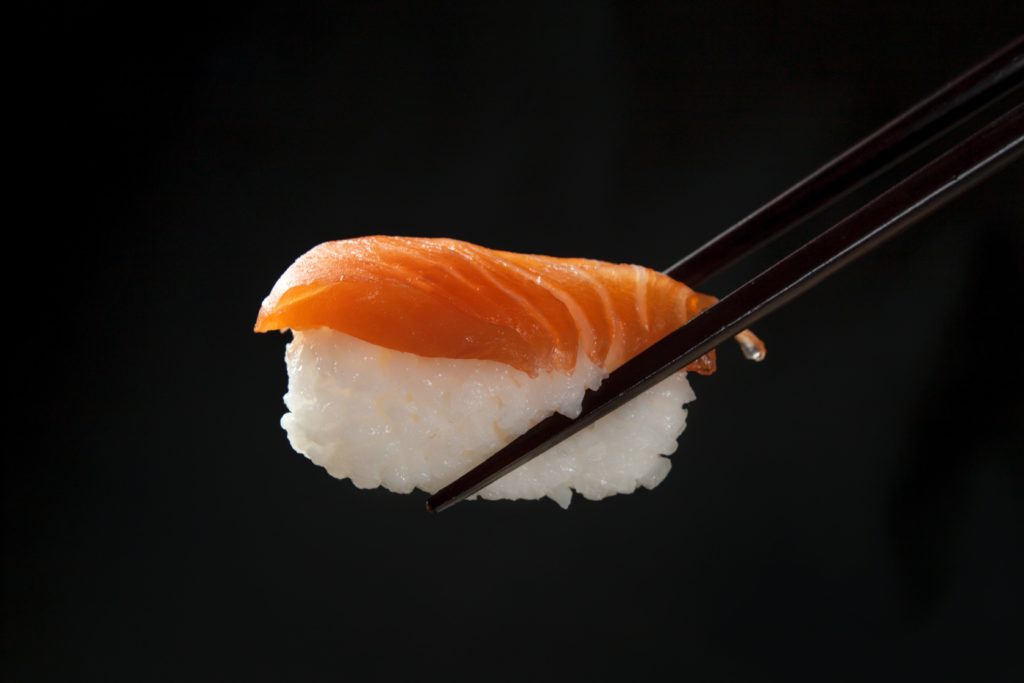 I was never a huge fan of sushi until my adult years when I found a few rolls and pieces that I did really love. I am always quite careful in where we dine when it comes to sushi, and we have a few trusted places where we choose to eat one of our favorites. Recently it was discovered that "sushi parasites" have increased 283-fold over the last 40 years, but why? What should you be doing when it comes to sushi? First you should check your sashimi, nigiri or other forms of raw fish for worms. Yes, you read that right. Worms.
Let's Talk Sushi Parasites
Thousands of papers have looked at the abundance of this parasitic worm, known as Anisakis or "herring worm," in particular places and at particular times. But this is the first study to combine the results of those papers to investigate how the global abundance of these worms has changed through time. The findings were published March 19 in the journal Global Change Biology.
Despite their name, herring worms can be found in a variety of marine fish and squid species. When people eat live herring worms, the parasite can invade the intestinal wall and cause symptoms that mimic those of food poisoning, such as nausea, vomiting and diarrhea. In most cases, the worm dies after a few days and the symptoms disappear. This disease, called anisakiasis or anisakidosis, is rarely diagnosed because most people assume they merely suffered a bad case of food poisoning.
After the worms hatch in the ocean, they first infect small crustaceans, such as bottom-dwelling shrimp or copepods. When small fish eat the infected crustaceans, the worms then transfer to their bodies, and this continues as larger fish eat smaller infected fish.
Humans and marine mammals become infected when they eat a fish that contains worms. The worms can't reproduce or live for more than a few days in a human's intestine, but they can persist and reproduce in marine mammals.
Seafood processors and sushi chefs are well-practiced at spotting the worms in fish and picking them out before they reach customers in grocery stores, seafood markets or sushi bars, Wood explained. The worms can be up to 2 centimeters in length, or about the size of a U.S. 5-cent nickel.
"At every stage of seafood processing and sushi preparation, people are good at finding worms and removing them from fish," Wood said.
Some worms can make it past these screening steps. Still, Wood — who studies a range of marine parasites — said she enjoys eating sushi regularly. For sushi consumers who remain concerned about these worms, she recommends cutting each piece in half and looking for worms before eating it.
For the analysis, the study's authors searched the published literature archived online for all mentions of Anisakis worms, as well as another parasitic worm called Pseudoterranova, or "cod worm." They whittled down the studies based on set criteria, ultimately keeping only those studies that presented estimates of the abundance of each worm in fish at a given point in time. While Anisakis worms increased 283-fold over the study period of 1978 to 2015, Pseudoterranova worms did not change in abundance.
What is Anisakiasis?
According to the CDC: Anisakiasis is a parasitic disease caused by anisakid nematodes (worms) that can invade the stomach wall or intestine of humans. The transmission of this disease occurs when infective larvae are ingested from fish or squid that humans eat raw or undercooked. In some cases, this infection is treated by removal of the larvae via endoscopy or surgery.
How does one become infected?
When certain infected marine mammals (such as whales or sea lions) defecate into the sea, eggs are released and become infective larvae while in the water. These larvae are ingested by crustaceans, which are then eaten by fish or squid. When humans eat raw or undercooked infected fish or squid, they ingest nematode larvae. Once inside the human body, the larvae can invade the gastrointestinal tract. Eventually, the parasite dies and produces an inflamed mass in the esophagus, stomach, or intestine.
Some people experience a tingling sensation after or while eating raw or undercooked fish or squid. This is actually the worm moving in the mouth or throat. These people can often extract the worm manually from their mouth or cough up the worm and prevent infection. Also, some people experience vomiting as a symptom and this can often expel the worm from the body.
 How is it diagnosed?
A history of eating undercooked fish or squid is helpful. Diagnosis is generally made by endoscopy, radiography, or surgery if the worm has embedded.
What are the signs and symptoms?
The signs and symptoms of anisakiasis are abdominal pain, nausea, vomiting, abdominal distention, diarrhea, blood and mucus in stool, and mild fever. Allergic reactions with rash and itching, and infrequently, anaphylaxis, can also occur.
How can I prevent Anisakiasis?
Do not eat raw or undercooked fish or squid.The FDA recommends the following for seafood preparation or storage to kill parasites.
Cooking (Seafood in General)

Cook seafood adequately (to an internal temperature of at least 145° F [~63° C]).

Freezing (Fish)

At -4°F (-20°C) or below for 7 days (total time), or
At -31°F (-35°C) or below until solid, and storing at -31°F (-35°C) or below for 15 hours, or
At -31°F (-35°C) or below until solid and storing at -4°F (-20°C) or below for 24 hours.
Conclusion
While most "sushi" that I prefer to eat is actually cooked I will be certain to be more careful while inspecting the other varieties that are not. It is quite hard to believe that something the size of a nickel could do so much harm but the knowledge of what to look for in the future will be helpful not only to myself but will give me the ability to educate family and friends as well.
By: Samantha Cooper