The Future of Buffets is Grim
Posted in Food Safety,Our Blog on June 20, 2020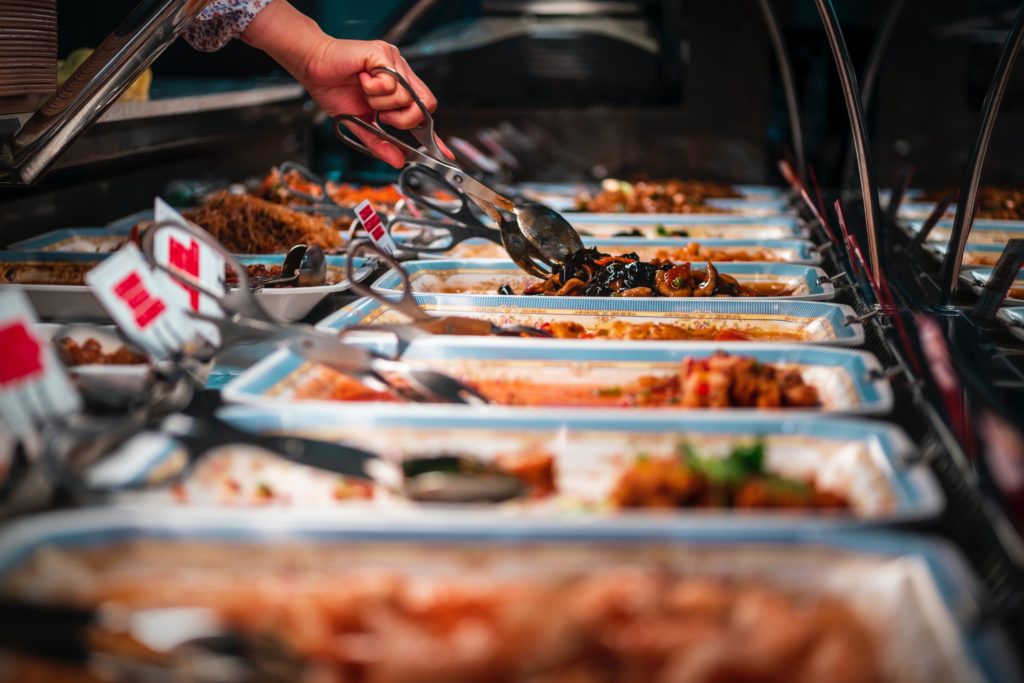 There has been a battle raging in my house ever since my wife and I decided to eat out for the first time. Lines have been drawn in the sand, peace talks have crumbled, and neither side wishes to budge. What is this fierce fight you ask? I have always enjoyed a good buffet, my wife detests them. So, in order to keep the peace after many failed attempts at persuading her to eat at one, I have thrown in the white flag.  Now that we are starting to see signs that the pandemic that has occupied so much of our lives is nearing an end, I hate to admit it but she may have been right all along. Let's just say, the future of buffets is quite grim looking.
Post-COVID and Buffets
We all have felt the effects of COVID-19 on our daily lives. We have all made sacrifices and played a little closer to home. The devastation this pandemic has brought with it will be felt for decades to come I fear. Some of this change in our lives will be for the good and some for the bad. Things WILL change folks. That much I can assure you.
Whatever camp you may find yourself in, there are going to be some changes to the way we go out to eat. One of these changes may even spell the end of the buffet as we know it.
Buffet style restaurants have been on the decline over the past decade or so. Analysts point to a younger generation wanting healthier food choices and not settling for the traditional buffet line. It was more of a quality versus quantity mindset that started the decline. Not that this idealism is a bad thing mind you.
Nutrition became more of a concern and this not only led to a decline in buffet style restaurants but fast food restaurants as well. Fast food restaurants adjusted but the buffet is still trying to figure out how to get back in good graces with the consumer.
A second reason for the decline of the buffet is the "bad taste" it has left in consumer's mouths (and minds) with the amount of food poisoning related cases reported over the years. I bet most of you know of a local buffet that has had a food poisoning scare. Does that knowledge want to make you eat there again? I know personally for me it does not.
Bye Bye Buffet
Now that we are on the brink of a brave new world, trying to leave the pandemic behind us, there are those in the food industry that think buffets will be a thing of the past. That the idea of communal eating, in such close proximity, will keep consumers at bay and those loyal to the buffet line re-thinking their favorite eating establishment.
To be honest, I have had to take a long look at how much I enjoy buffets and if the risk is worth it. The jury is still out but coupled with the dangers surrounding this style of restaurant plus my wife already not wanting to eat there, I am sure my time having almost everything I want to eat at my fingertips is short.
One of the biggest hurdles in my opinion will be following the FDA's COVID-19 Best Practice Guidelines when it comes to restaurant safety. These bullet points are just a few of the tough guidelines restaurants have to follow in order to open up:
Follow the 4 key steps to food safety
Frequently disinfect surfaces repeatedly touched
Help customers practice social distancing
Emphasize effective hand hygiene for employees
Avoid touching your eyes, nose, and mouth
While these are just a few of the new points in the guidelines, most of what you will see there should already be a practice. We can see though, that the ones I pointed out will directly influence the way a buffet operates. Because of social distancing and repeatedly washing surfaces, buffet lines will either be interrupted or food could become contaminated.
The use of common utensils is also another thorn in the side of buffet restaurants. I see a great increase in price of food to cover the cost of each person using a utensil once. If the cost of a simple buffet meal goes up more, consumers will certainly look elsewhere.
Golden Corral, one of the country's largest buffet chains, has already taken proactive steps to ensure the safety of their patrons. The restaurant is planning on moving to a more cafeteria style serving mentality with servers at stations to cut down on customers touching more than they need to. They also plan to add family style dining where you can have your favorites delivered to your table. This kind of forward thinking is what is needed after the quarantine is fully lifted.
Other buffet chains are deep in their think tanks working on solutions to keep this industry alive. Owners want to breathe new life into these types of restaurants and not see them die off. Until we know more, most companies are keeping their cards close to the vest.
After what seems like years in the house, going stir crazy but not wanting to risk going out in public; states are starting to slowly lift restrictions on businesses. This is good for economy but still scary due to the nature of viruses.
I am ready to go out with my family and visit our local zoo or maybe even brave the mall. For those of you who have already been out and about or back to work, remember to take care and stay safe.
I will be watching the development and direction of buffet style restaurants to see how or if they can rebound. I am sure I will be bringing you more post-quarantine food safety tips and plans soon.
If I had one piece of advice it would be: if you have the opportunity to visit a local buffet, please take every precaution before, during, and after your meal. Leave nothing to chance.
Stay safe.
By: Dwight Spencer