This Time, French Fries are Better for You Than a Salad
Posted in Cyclospora,Outbreaks & Recalls on September 2, 2018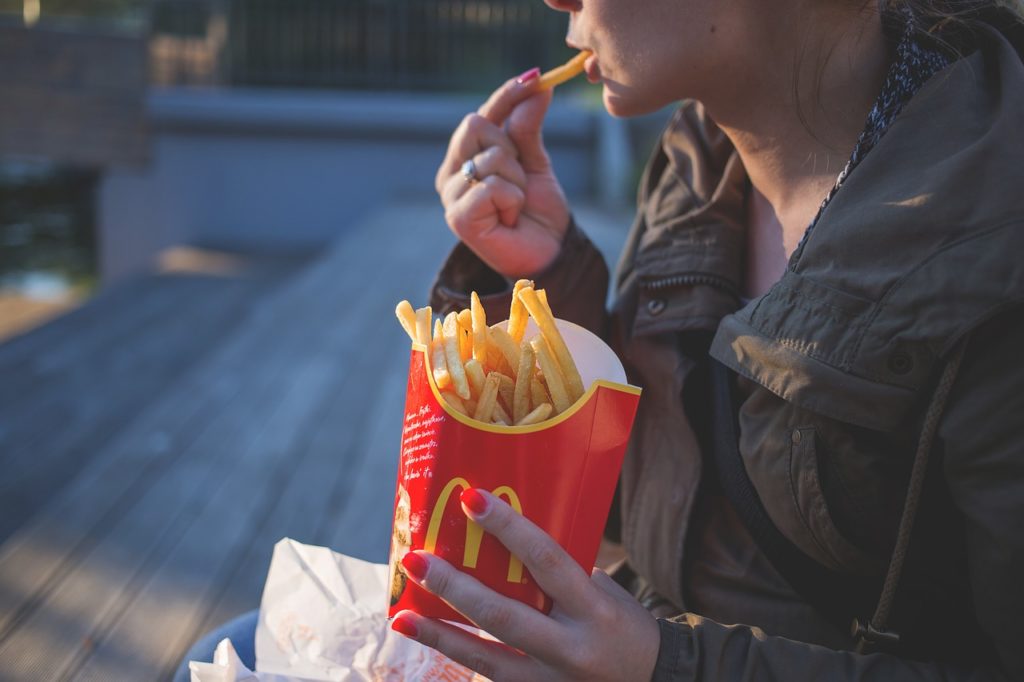 The illustrious, gleaming golden arches of McDonald's are under attack. As we have all been basking in the sun and enjoying our favorite guilty pleasures, a viscous outbreak of cyclospora has been raging across the Midwest United States. The home of the Big Mac, McFlurry, and the best nuggets in the game has been tirelessly promoting their healthy alternatives in the past years to fight off the negative reputation linking fast food to obesity. Healthy, delicious and flavoursome salads offer an abundance of tasty vegetables to the health warrior within us. However, despite the best intentions of McDonald's to offer salads as a healthy alternative, cyclospora has been conspiring to undo all the best work of their advertising prowess.
To elaborate, cyclospora is a parasite that has been found in certain vegetables served in affected food outlets. McDonald's is the main restaurant affected with the deadly outbreak as their supplier of salads has been handling contaminated produce thus gaining the attention of food safety agencies. Further, the outbreak has spread rapidly due to the vast number of outlets that McDonald's operates throughout the region. With Nation Restaurant News reporting that McDonald's enjoying the most sales of any fast food chain in the U.S., with $36.4 billion worth of sales in 2017, the potential for a quick spread of Cyclospora in amongst their food supply chain is phenomenal. Consequently, there are 3,000 McDonald's restaurants affected with the outbreak of cyclospora with at least one found in IL, IA, IN, WI, MI, OH, MN, NE, SD, MT, ND, KY, WV, and MO.
As of August 23, there have been 507 laboratory-confirmed cases of the parasite cyclospora, an illness that is now linked to contaminated lettuce and carrots sold at a Midwest food service company. Fear not fellow burger lovers, the guilty dish in question is only the McDonald's salad mix made by Fresh Express processor in Illinois. This epidemic broke out in mid-May and due to migration between states, there are 16 states affected. Avid McDonald's fans that are now panicking over their loyalty to the golden arches can be reassured that of the 16 affected states, five only report one incident and that is due to migration to Illinois. Those Instagram pictures uploaded using the WiFi of a McDonald's in the Windy City have now come at a cost! Unquestionably, the states most affected are in the Midwest with Illinois reporting 273 cases with Iowa next with 99 given their close proximity and ease of access to contaminated Fresh Express produce. The connection between McDonald's and Cyclospora is extremely profound with one in four Illinois cases have reported eating McDonald's salads before becoming ill.
What is Cyclospora?
Cyclospora is a microscopic parasite that infects humans through the consumption of contaminated food. Painful side effects once the parasite is allowed to become familiar with the environment cause intestinal illness with most people developing diarrhea. Additional side effects include vomiting, nausea, fatigue, weight loss and cramping. The impact of the cyclospora parasite varies in each case with an arbitrary time for the effects to be felt. However, there can be no doubt that the effects are extremely uncomfortable and will cause great anguish. The parasite needs time in the body to adapt to the environment and get to work with unleashing its full wrath. According to the CDC,
"Persons of all ages are at risk for infection. Persons living or traveling in the tropics and subtropics may be at increased risk because cyclosporiasis is endemic in some countries in these zones. In some regions, infection appears to be seasonal. But the seasonality varies in different settings and is not well understood… Cyclospora infects the small intestine and typically causes watery diarrhea, with frequent, sometimes explosive, stools. Other common symptoms include loss of appetite, weight loss, abdominal cramping/bloating, increased flatus, nausea, and prolonged fatigue. Vomiting, body aches, low-grade fever, and other flu-like symptoms may be noted. If untreated, the illness may last for a few days to a month or longer and may follow a remitting-relapsing course. Although cyclosporiasis usually is not life threatening, reported complications have included malabsorption, cholecystitis, and reactive arthritis."
Now if you know that you are under attack from cyclospora, then help is at hand. Please seek help from health care providers. Affected people can be tested by health professionals to give the illness the full attention it deserves. Once tested, treatment is on hand to relieve symptoms and ensure a speedy recovery. The response from McDonald's has been to stop the sale of salads in the 3000 impacted restaurants.
The outbreak of Cyclospora is not just limited to McDonalds. Given that the lettuce involved in the outbreak has been widely distributed, other large food companies operating in the Midwest are also affected. Walgreens, Trader Joe's and Kroger are examples of companies that have used the same distributor as McDonalds and are therefore also struggling with the impact of this deadly outbreak. Given the interconnectedness of the food supply chain, one culprit lettuce supplier can fuel a health crisis across a whole region. The FDA has put out a public health alert for salads containing contaminated lettuce distributed by Caito Foods LLC of Indianapolis, IN between July 15 to July 18, 2018 and have a "Best By," "Enjoy by," "Best if Sold By," or "Sell By" date ranging from July 18 through July 23, 2018. To try to keep the damage under control, the USDA has recalled several food products from the food supplier that provided the contaminated lettuce.
Unfortunately, food poisoning is becoming increasingly common in the U.S. The CDC estimates that there are 48 million cases of food poisoning in the U.S. each year. To avoid all salads would be an unrealistic demand from health professionals. A common myth of only having to worry about the safety of eating fresh vegetables in exotic locations no longer applies. As the world food supply becomes increasingly globalized, parasites do not respect international borders. The proximity of the U.S. to the global food market now requires extra care from restaurants, fast food outlets and grocery shops. The cyclospora outbreak shows us how fragile the food system is to contamination from foodborne illnesses.
By: Billy Rayfield, Contributing Writer (Non-Lawyer)