Tyson Recalls Nearly 12 Million Pounds of Chicken – 3 Injured from Ingesting Metal
Posted in Food Safety,Our Blog,Outbreaks & Recalls on May 5, 2019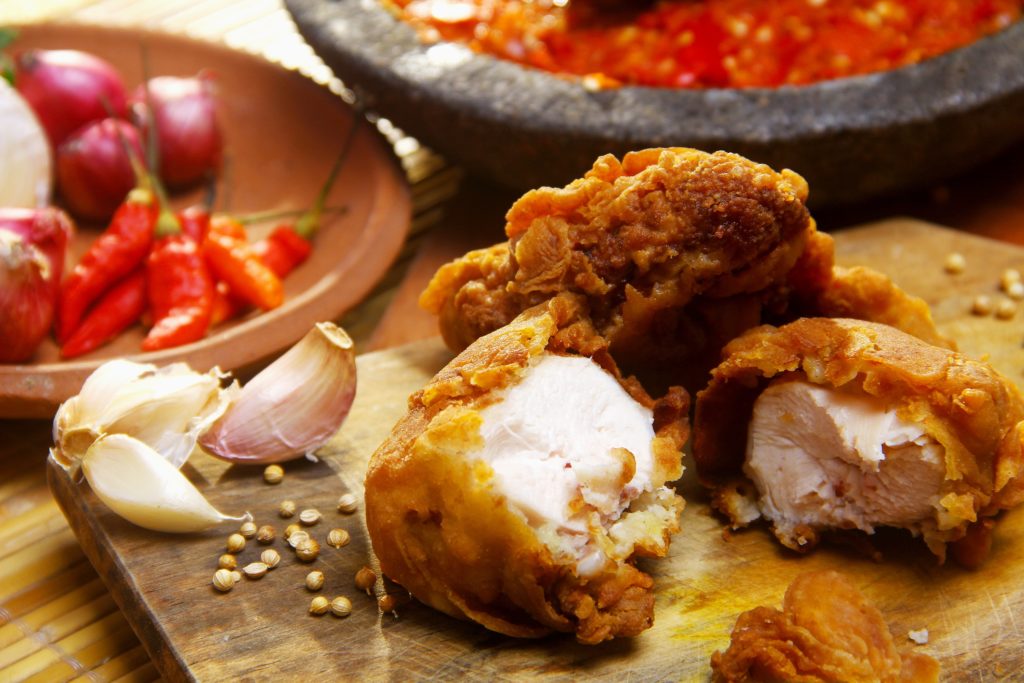 There's a Tyson Chicken Recall. If you haven't done so already, now is a good time to check your freezer for recalled product.  And I mean RIGHT now.  Tyson Foods, Inc recalled a whopping 12 million pounds of their frozen, ready-to-eat chicken strip products on Saturday, May 4, 2019 because of potential contamination with "extraneous materials" – metal shavings.
This recall comes from the USDA's Food Safety and Inspection Service (FSIS).  As you can imagine, 12 million pounds comes to a lot of chicken.  In fact, Tyson has listed 4 pages of products affected by this recall ranging from regular frozen chicken strips to the flavored variety.
Don't just assume that every package except ones labeled Tyson are safe.  Like many companies, Tyson Foods, Inc also produces their chicken products under other names.  You may find the complete list here.  A quick list includes: Best Choice, Food Lion, Giant Eagle, Great Value, Hannaford, Kirkwood, Meijer, Publix, Spare Time, and of course Tyson.
What's Being Recalled?
Recalled product includes frozen, ready-to-eat chicken strip items produced on various dates between October 1, 2018 and March 8, 2019.  These packages will show "Use By Dates" between October 1, 2019 and March 7, 2020.
Additionally, you will find the establishment number for the facility responsible located on the back of the package inside the USDA mark of inspection.  This establishment number will read "P-7221."
Where Was Product Sent?
Unfortunately, with such a wide recalled production period, these products were shipped pretty much everywhere.  They were shipped to retail locations nationwide, for institutional use nationwide and to the United States Virgin Islands, and even to Department of Defense locations nationwide.
What Prompted the Recall?
Like most cases of foreign material recalls, the recall was initiated after consumer complaints.  Initially, there were two consumer complaints indicating extraneous material in the form of metal shavings in the chicken strip products.
Upon FSIS investigations, the agency is now aware of 6 complaints during this production period that also involve similar pieces of metal contaminants.  In at least 3 cases, oral injury was indicated.
This Isn't Tysons First Time in Hot Water!
This is not the first time Tyson has been involved in a recall. Or even a recall for foreign material.  In fact, just over a month ago they had a similar recall.  Albeit, a smaller one.  But clearly there is a problem.
On March 21, 2019 Tyson foods issued a recall for the same reason.  Foreign material contamination – specifically pieces of metal.  This too came after two consumer complaints of adulterated chicken strip products.  This recall did not produce any reported injuries.
Nonetheless, this recall involved nearly 70 thousand pounds of product from the same facility as indicated by USDA establishment number "P-7221."  Though this production period was limited to a single date.  November 30, 2018.  If you scroll back up a few paragraphs, you will find this November 2018 date falls smack inside the range for the latest recall.  This indicates to me that whatever caused the problem during the first recall was not fully addressed.  Clearly the firm is unsure when the exact problem occurred based on the nearly 6-month production period recall window.
But how did it become contaminated.  With metal shavings of all things?
Where Does Metal Contamination Come From?
When it comes to chicken strip processing there are many potential places that come to mind for metal pieces to cause contamination.  In the absence of specific sources indicated in the recall, I decided to explore the most likely offenders of foreign material contamination.
Most chicken production surfaces are metal.  Primarily due to the ability for metal to be sanitized.  Of course, the knife that cuts the chicken pieces into the strips that we so much enjoy is a likely place.  But they don't individually cut each piece of chicken by hand.  Can you imagine how long that would take?  No.  A chicken strip manufacturing plant has a series of machines on a conveyer that move the pieces into place, chop it into the designated size, and even place it into packaging and label it.  These days, production facilities are highly automated.
Except for a few employees checking for quality control and making sure the machines are operating as expected, most facilities are entirely run by machines.  The human factor comes in during quality control and equipment inspection and maintenance (which should be done periodically).
Equipment failure and poor equipment maintenance are the primary source for metal foreign material contamination.  So, what is the likely suspect?  Just based on the sheer number of them along the production line and what happens when they fail, my guess is bearings.  Other more obvious pieces would prompt immediate action by anyone inspecting or running the line.  As indicated, there has been no specific source identified in the investigation – at least none that have been made public.  So, lets talk metal bearings.
What is a Bearing?
A bearing is a mechanical piece that allows heavy objects to slide.  In fact, "How Stuff Works" even describes your car wheels as a "big bearing," comparing it to the inefficiencies if they were replaced with skis instead.
Bearings are generally smooth metal balls (or rollers) inside a smooth inner and outer metal surface.  Fidget spinners, for example, are glorified bearings.  They are made of bearings much like the roller bearings found in a production line.  Roller bearings are designed to allow the free spinning of a moving part.  The roller portion is a cylinder that contacts the inner and outer portions of the bearings allowing free movement.  Most protein manufacturers use stainless steel conveyor belts that use these roller bearings.
How Do Bearings Cause Mechanical Contamination?
Eventually, without proper maintenance and lubrication even the best bearings will fail.  Sometimes failure isn't even caused by improper maintenance, but age.  All parts have a life-span.  Bearings in food production are protected by a seal to contain the lubricant and hopefully contain the bearings in the event of failure.
When the bearings break (and there are thousands on a conveyor line) they begin to sheer inside their sleeve.  Eventually, this will cause the seal to rupture, allowing pieces to escape and enter the production line unnoticed for a period of time.  That is until they are individually inspected.
My educated guess is that this is what has happened.  But we will not know for sure until information is released.
For now, check your freezers for recalled product and return anything within those "Best By Dates" to the place of purchase for a full refund.  It is a good idea to always check your food before preparing it to actively defend your family against injury.
By: Heather Van Tassell, Contributing Writer (Non-Lawyer)