Alberta Onions Salmonella Outbreak
Posted in Our Blog,Outbreaks & Recalls,Salmonella on August 2, 2020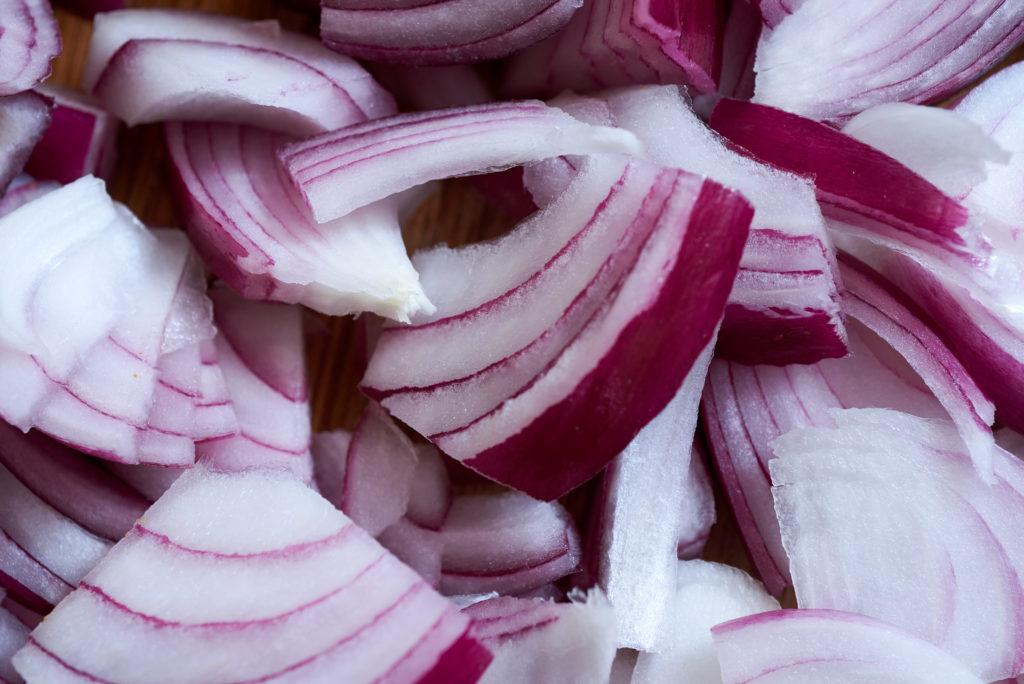 Red Onions from America are carrying Salmonella to Canada. Investigations have exposed the mysterious Salmonella outbreak that spread over two nations are linked to a California farm. The case is solved, but not closed as the source is newly discovered and consumers continue to eat unaware of the health concerns. Here is what we know about the Alberta Onions Salmonella Outbreak.
The Source of the Alberta Onions Salmonella Outbreak
It is likely a California company, Thomson International Inc., in Bakersfield, California, is to blame for this food borne crisis. With 114 infected spanning five provinces throughout Central and Western Canada, and upwards of 400 fallen ill in the United States, a distribution stop is in effect. As of August 1st, per the FDA, Thomson International has recalled all red, white, yellow, and sweet onions. Though the red onions are at the base of the problem, cross-contamination is possible.
Alberta, Canada stands as one of the hardest hit sufferers among its provinces. 55 people were infected with Salmonella after eating red onions. As expected, these numbers are likely to rise while new reports are assessed through the proper channels.
The Canadian Food Inspection Agency (CFIA), the CDC, and the FDA urge not to consume, sell, or serve any red onions. Being that I'm not Canadian (American, here), I am in Utah, a state greatly affected by this outbreak.
To better understand the affect on the people of Alberta, I took to multiple social media outlets to see what this massive recall means to my upstairs neighbors. After some lurking, I'd like to expand on the questions and concerns I found to be most prevalent amongst the citizens. Hopefully, I'll be able to dispel myths and provide support through knowledge and assist in making your food safe.
Can Salmonella be destroyed with heat?
Let's look at that:
It's a smart step to prepare meats with heat in order to destroy Salmonella bacteria. This helps avoid becoming a statistic in an outbreak. However, knowing your food is in the direct line of Salmonella contamination means more strict rules are necessary. So, throw your recalled onion in the trash.
You know it's a risk, not just a precaution. Also, meat is best cooked at high degrees for longer periods of time to be safe for eating. An onion is a different ballgame. Here's looking at you fresh onions on hamburgers. I see your risk. Even those delicious caramelized ones are best discarded at this time. Sorry for the bad news,
Are restaurants safe?
Just when you thought Covid-19 was all you had to worry about at restaurants, Salmonella screams for attention. Well, you've got the spotlight Salmonella. For now.
Until 2014, Alberta's food service growth led the nation in sales. So, it's safe to assume Albertans like their restaurants. To keep the patrons protected, those who set the restrictions during outbreaks report that no red onion should be served. This is the time to be a smart and watchful consumer. So, if you are out to eat, it might be a good idea to follow up on the source of the onions if one happens onto your plate.
As for how this outbreak made it to Alberta:
Many establishments are partnered with Sysco. Sysco is a distribution company that provides to multiple industries, such as: restaurants, healthcare and senior living, retail, higher education, and so forth.
A quick look at Sysco's website shows they distribute a wide range of foods and non-food items. They also boast a whopping 320 facilities. That makes for the ability to be far-reaching. Their market trends show 62% of their distribution is to restaurants while retail makes up 8%.
Sysco also happens to be the distributor of Thomson International's contaminated onions.
On that note, Sysco works with thousands of suppliers. So, this doesn't mean your Sysco-associated favorite food haunt is at risk, but it's something to chew on for a bit… Rather that to bite on than the onions.
Many Alberta people are considering growing their own fresh onions. It's late to start in the year, but onions can be grown inside with the right setup. Here are few tips from my own arsenal that can help you on that adventure for now or later.
Did you know: You can grow an onion from another onion. No seed is necessary. The bottom of an onion in well fertilized soil, proper attention, light, and regular watering will grow into its own stock in 90 to 120 days.
You shouldn't eat an onion that has sprouted. That's a sign of rotting. Eating one of those will give a food borne illness. Since you're here, I imagine that's exactly what you're trying to avoid. However, don't despair, when a sprouted onion is planted the sprout will flower. After this, you can harvest the seeds for your own onion garden.
Stores often pretreat onions, making them unsuitable for growing. Consider an onion set to start as seeds could take more than one season to sprout.
Finally, here are some more streamlined answers to provide you with more information about this growing infection as well as the proper ways to keep your family healthy. Also, with new information of Salmonella bacteria linked to Reactive Arthritis, it's more important than ever to be cautious with your food. Watch for more information to be shared by Make Foods Safe as I delve deeper into the ripple effects of this food borne illness.
I know the struggle Canada. This Utahn is with you salivating for a crispy onion. For now, I'll consider a substitute, like green onions or shallots. Maybe, I'll have to let the crunch of a raw onion go for a while and stick to onion powder. If you're desperately in need of a fix, consider local grown and carefully sourced produce.
I'll be kicking myself for not planting this year, but it is tomato season. In fact, it's there's a lot out there ready to be eaten. Keep yourself from thinking about the need for onions and check out what else is available here.
How The Lange Law Firm Can Help
Our mission is to help families who have been harmed by contaminated food or water.  When corporations cause Salmonella food poisoning outbreaks, we use the law to hold them accountable.  The Lange Law Firm is the only law firm in the nation solely focused on helping families in food poisoning lawsuits and contaminated water lawsuits.
As a US law firm, The Lange Law Firm is well positioned to pursue those responsible in the United States for growing, producing, and selling Salmonella contaminated red onions.
If you got Salmonella food poisoning in the Alberta Onions Salmonella Outbreak and are interested in making a legal claim for compensation, we can help.  Our Salmonella lawyer can help you pursue compensation for your Salmonella food poisoning.  Call us for a free no obligation legal consultation at (833) 330-3663 or send us an e-mail here.
By: Heaven Bassett