Better Homes and Gardens Room Spray Outbreak
Posted in Our Blog,Outbreaks & Recalls on October 23, 2021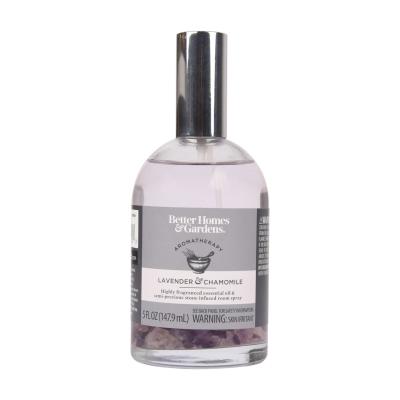 On October 22, 2021, the CDC announced an outbreak of Burkholderia pseudomallei illnesses linked to Better Homes & Gardens Room Sprays. Here is everything we know in this Better Homes and Gardens Room Spray Outbreak:
Better Homes and Gardens Room Spray Outbreak
Laboratory testing at the U.S. Centers for Disease Control and Prevention (CDC) has identified the bacteria Burkholderia pseudomallei in an aromatherapy spray — the same type of bacteria that sickened four people in the United States earlier this year. The spray, "Better Homes & Gardens Lavender & Chamomile Essential Oil Infused Aromatherapy Room Spray with Gemstones," was found Oct. 6 in the home of a Georgia resident who became ill with melioidosis in late July. CDC is continuing testing to see if the genetic fingerprint of the bacteria in the bottle matches those of the bacteria identified in the four patients – one each in Georgia, Kansas, Texas, and Minnesota. Two of the four patients died.
CDC has been testing blood samples from the patients, as well as soil, water, and consumer products from in and around the four patients' homes since the agency began receiving samples in May. A sample of the Better Homes & Gardens spray tested positive this week. The genetic fingerprint of the bacteria that sickened the four patients is similar to that of strains usually found in South Asia; the aromatherapy spray was made in India. CDC is coordinating with state health departments in Kansas, Minnesota, and Texas to try to determine whether the other three patients may have also used this or similar products.
"Our hearts go out to the families that have been impacted by this situation," said Inger Damon, MD, MPH, director of CDC's Division of High-Consequence Pathogens and Pathology, which manages melioidosis. "We at CDC have been very concerned to see these serious related illness spread across time and geography. That is why our scientists have continued to work tirelessly to try to find the potential source for the melioidosis infections in these patients. We hope this work can help protect other people who may have used this spray."
Walmart Recall in this Better Homes and Gardens Room Spray Outbreak
The $4 aromatherapy room spray was sold at about 55 Walmart stores nationwide and online at walmart.com from February 2021 through October 2021.
The recalled sprays come in the following scents: Lavender & Chamomile, Lemon and Mandarin, Lavender, Peppermint, Lime & Eucalyptus, Sandalwood and Vanilla, The bottles have "Better Homes and Gardens Aromatherapy" printed on the label on the front of the 5-ounce glass bottle.
"We are deeply concerned that there may be a connection between this product and this rare bacteria. Our sympathies and concerns are with the four families that have been impacted," Walmart said in a statement emailed to CNNBusiness.
The retailer said it has taken steps to prevent any further sales of the sprays both in its stores and online.
The aromatherapy was sold with a pump spray nozzle in the following scents and product numbers:
84140411420 Better Homes and Gardens (BHG) Gem Room Spray Lavender & Chamomile
84140411421 Better Homes and Gardens (BHG) Gem Room Spray Lemon and Mandarin
84140411422 Better Homes and Gardens (BHG) Gem Room Spray Lavender
84140411423 Better Homes and Gardens (BHG) Gem Room Spray Peppermint
84140411424 Better Homes and Gardens (BHG) Gem Room Spray Lime & Eucalyptus
84140411425 Better Homes and Gardens (BHG) Gem Room Spray Sandalwood and Vanilla
CDC Recommendations
CDC recommends that anyone who has this aromatherapy spray in their home:
Stop using this product immediately. Do not open the bottle. Do not throw away or dispose of the bottle in the regular trash.
Double bag the bottle in clean, clear zip-top bags and place in a small cardboard box. Return the bagged and boxed product to a Walmart store.
Wash sheets or linens that the product may have been sprayed on using normal laundry detergent and dry completely in a hot dryer; bleach can be used if desired.
Wipe down counters and surfaces that might have the spray on them with undiluted Pine-Sol or similar disinfectant.
Limit how much you handle the spray bottle and wash hands thoroughly after touching the bottle or linens. If you used gloves, wash hands afterward.
If you have used the product within the past 21 days and have fever or other melioidosis symptoms, seek medical care and tell your doctor you were exposed to the spray. If you do not have symptoms but were exposed to the product in the last 7 days, your doctor may recommend that you get antibiotics (post-exposure prophylaxis) to prevent infection.
What are Burkholderia pseudomallei bacteria?
Burkholderia pseudomallei, the causative agent of melioidosis, is a Tier 1 select agent that can infect animals and humans. Cases are most common in areas of the world with tropical and sub-tropical climates. The approximately one dozen cases reported to CDC annually predominantly occur in people returning from a country where the disease is endemic.
What is Melioidosis?
Melioidosis is a rare but serious disease in the United States, with about 12 cases reported annually. Worldwide, most cases are in people who live in or have traveled to areas where the bacteria naturally occurs, such as parts of South and Southeast Asia and northern Australia. It is also occasionally found in the Americas (e.g., Brazil, Mexico, Puerto Rico). Melioidosis causes a wide range of symptoms that can be confused with other common illnesses, like flu or a cold. Person-to-person spread is extremely rare.
Usually, when Americans are diagnosed with melioidosis, it's associated with travel. But these cases popped up in the middle of a pandemic, when international travel was virtually nonexistent. And none of the affected families had traveled.
According to the CDC Emergency Notice:
Melioidosis symptoms are nonspecific and vary depending on the type of infection. Melioidosis can present in a wide array of clinical syndromes with varying severity, including skin abscesses without fever, pneumonia, sepsis with multiple organ abscesses, sepsis without evident focus, genitourinary infection, and encephalomyelitis. Mortality varies depending on disease severity and clinical presentation, with case fatality ranging between 10 and 50% worldwide. People with certain conditions are at higher risk of disease when they come in contact with the bacteria. The most common factors that make a person more likely to develop disease include diabetes, chronic kidney disease, chronic lung disease, chronic liver disease, excessive alcohol use, and cancer or immune-suppressing conditions other than HIV. Melioidosis is confirmed by culture. Testing must be conducted by trained personnel because some automated identification methods in clinical laboratories may misidentify B. pseudomallei as a different bacterium. For example, the isolate from the Texas case in this cluster was initially misidentified as B. thailandensis by MALDI-TOF.
Melioidosis is not considered to be transmitted person-to-person via air or respiratory droplets in non-laboratory settings. There have only been a few documented cases of person-to-person transmission. In disease-endemic areas, percutaneous inoculation is a common route for natural infection. However, in the context of this cluster, the route of transmission is most likely intranasal or inhalation of the contaminated room spray. Healthcare personnel are generally not at risk if they follow standard precautions when working with infected patients.  However, laboratory personnel are at increased risk because some lab procedures may aerosolize particles that could inadvertently release B. pseudomallei into the air. Laboratory personnel can reduce their risk of exposure by following safe laboratory practices and using BSL3 practices and procedures when handling suspect cultures. Laboratory staff who may have been exposed to B. pseudomallei should refer to existing CDC guidance.
How The Lange Law Firm Can Help
Our mission is to help families who have been harmed by contaminated food or water.  When corporations cause bacterial outbreaks, we use the law to hold them accountable.  The Lange Law Firm is the only law firm in the nation solely focused on helping families in food poisoning lawsuits and contaminated water lawsuits.
If you got sick in the Better Homes and Gardens Room Spray Outbreak and are interested in making a legal claim for compensation, we can help.  Our lawyers can help you pursue compensation for your illness.  Call us for a free no obligation legal consultation at (833) 330-3663 or send us an e-mail here.