Don't Just Sit There! Get Rid of Those Eggs!
Posted in Outbreaks & Recalls,Salmonella on April 16, 2018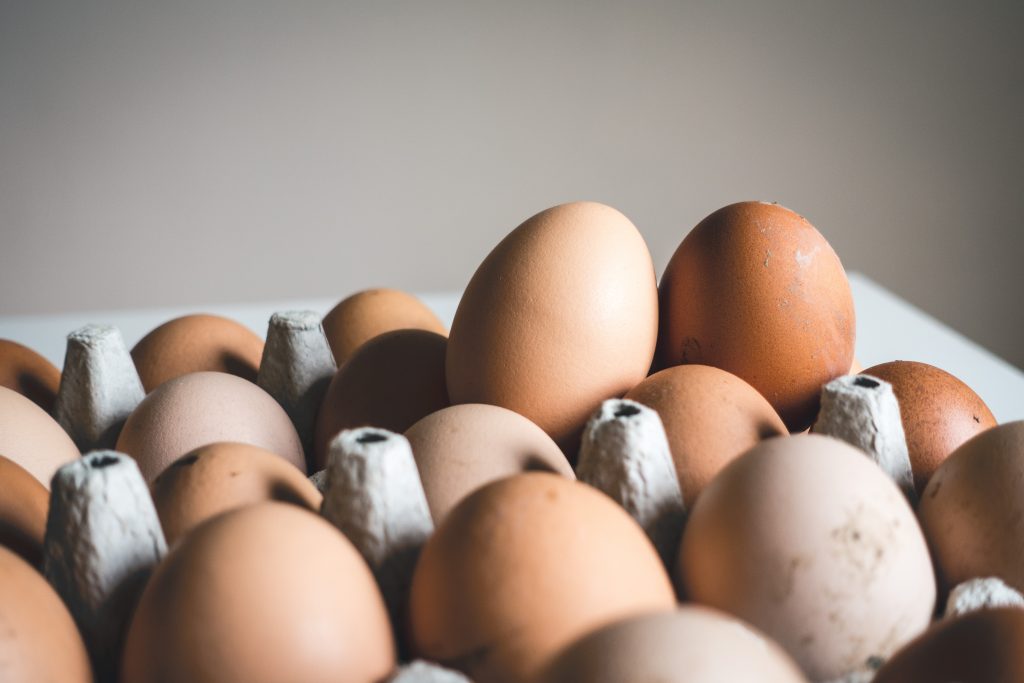 As I found myself making my children a breakfast of fried eggs yesterday, I happened upon the Food and Drug Administration's recall notices. Yes, as a food safety addict, I find myself reading the recall news in the most interesting of times.
To my chagrin, shell eggs are under a voluntary recall for a rare form of Salmonella. And not just a small recall. The largest of its kind since the 2010 DeCoster Farms outbreak. There are 22 people who are sick from the East Coast. And more may be linked soon in the coming weeks.
Needless to say, I dumped the eggs in the trash, and the children celebrated with cereal. Meanwhile, I scrubbed my refrigerator and countertops within an inch of their lives. I know I am not on the East Coast. But I have learned over the years that it is much better to be safe than sorry.
My worry is that children are the most likely to get salmonellosis, the fancy name for a Salmonella infection. In fact, the rate of infections diagnosed in children less than five years old is higher than in any other age group.
Well, with another outbreak comes a slew of questions. I am here to report that I have done my homework and have made a handy list of facts for those, like me, who want to keep their families safe during an outbreak (and recall) such as this one.
Just the Facts
Who?
Indiana-based Rose Acre Farms has been identified as the source of this outbreak. After traceback investigations were conducted by the Food and Drug Administration, a voluntary recall was issued. The farm is actually a collective of farms with 17 facilities spread across 8 states. The farm at the root of the issue hails from Hyde County, North Carolina. Interestingly enough, this particular facility produces 2.3 million eggs a day from 3 million hens.
What?
Eggs. Shell eggs to be more specific. Almost 207 million of them have been recalled. The eggs do not say "Rose Acre Farms" on their cartons, but rather, were sold under lots of different brand names like Coburn Farms, Country Daybreak, Food Lion, Glenview, Great Value, Nelms, and Sunshine Farms. For the specific lot codes, Julian calendar dates, and names, you can visit the FDA's recall announcement page here.
Where?
The potentially tainted eggs were distributed in Colorado, Florida, New Jersey, Pennsylvania, Virginia, West Virginia and the Carolinas. They were sold to retail stores and restaurants, including Walmart and Waffle House.
When?
The recall was announced on April 13, 2018. But that is not the "when" that is most important. So far, the eggs at issue appear to have been produced between January 2018 and April 11, 2018. The potentially contaminated eggs are most likely still on store shelves and in restaurant refrigerators waiting to be made into someone's breakfast.
Why?
The eggs are believed to be contaminated with a rare form of Salmonella called Salmonella Braenderup. How the eggs have become tainted is still under investigation. But in past outbreaks, eggs have become contaminated through exposure to poultry feces or infected chickens. You see, many believe the egg's shell is a barrier to prevent Salmonella bacteria from reaching the egg within. But an infected chicken can produce an infected egg before the shell is even formed, meaning the shell itself may already have Salmonella bacteria.
To add further to the question of "why," the tainted eggs could pose a cross-contamination threat to any kitchen – restaurant, home, or otherwise. Salmonella bacteria can contaminate refrigerators, food preparation surfaces and materials, even sinks and other foods sitting nearby.
Surely, there must be more information…?
Of course, there is. The FDA recommends that consumers and retailers avoid any shell eggs from Rose Acre Farms for the time being. In fact, the FDA is so concerned, they took to Twitter to get the word out: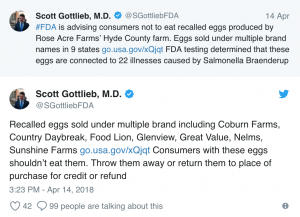 The FDA further recommends that:
"People who think they might have become ill from eating possibly contaminated eggs should talk to their health care providers."
"Consumers should always practice safe food handling and preparation measures. Wash hands, utensils, and surfaces with hot, soapy water before and after handling food."
"For food preparation surfaces and food cutting utensils that may have come in contact with the potentially contaminated eggs, it is very important that the consumers thoroughly clean these areas and items."
How do I know if I am sick?
Salmonella infections have a quick incubation period, usually anywhere from 6 to 72 hours. The symptoms are what someone would usually attribute to food poisoning, like:
Fever
Diarrhea
Abdominal cramps
Vomiting
(And in severe cases) bloody diarrhea, headache, chills, and body aches
Medical attention is recommended, as it can help reduce the risk of long-term complications. Some complications of Salmonella infections can include:
Blood infection
Sepsis
Infection of the tissues surrounding the brain and spinal cord (meningitis)
Infection of the lining of the heart or valves (endocarditis)
Infection of the bones or bone marrow (osteomyelitis)
Infection of the lining of blood vessels, especially if the infected person has previously had a vascular graft
How are we here again?
Haven't we (the proverbial "we" of the food production system) learned our lesson?
The FDA, the CDC, and the USDA are investigating the nuances of this outbreak. The answers are still to be found. It is not yet known exactly how the eggs became contaminated or what is being done to prevent future contamination. In the meantime, as we continue to eat our eggs, this food safety advocate recommends that you:
Avoid foods with raw eggs (homemade Hollandaise sauce, Caesar and other homemade salad dressings, tiramisu, homemade ice cream, homemade mayonnaise, cookie dough, and frostings);
Heat eggs and egg-based foods to their optimum cooking temperature;
Wash your hands often, especially before and after cooking and after handling animals; and
Keep an eye out for the lots subject to the recall (and other potential additions to the recalls).
As always, MakeFoodSafe will continue to report the details of this outbreak and recall as they are made available.
By: Candess Zona-Mendola, Senior Trial Paralegal