Empire Chicken Salmonella Recall
Posted in Outbreaks & Recalls,Salmonella on August 25, 2018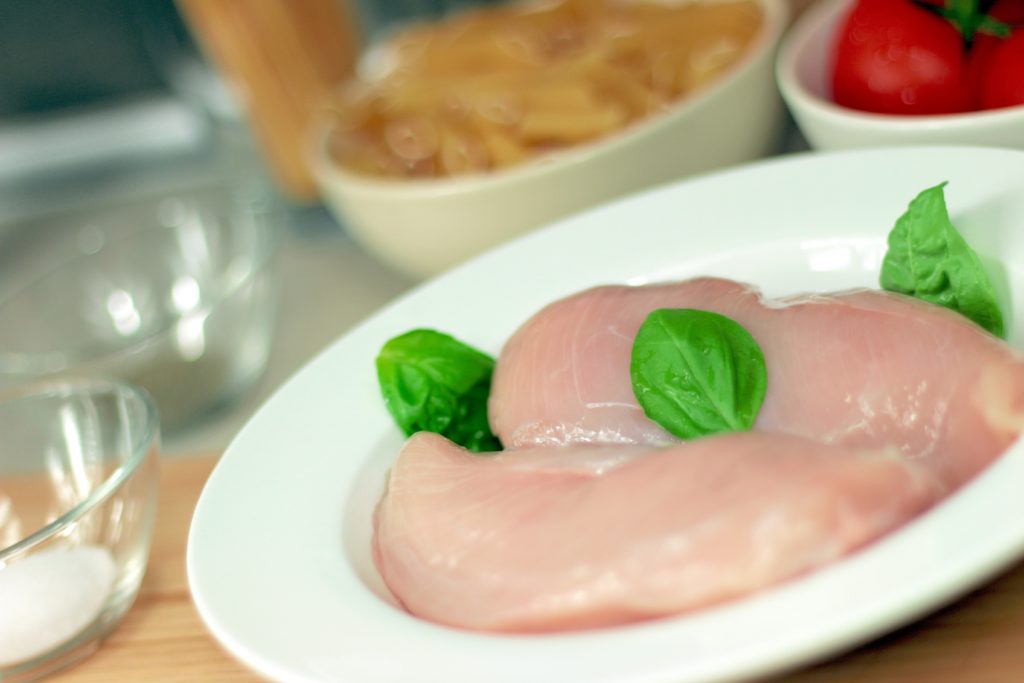 As of August 24th, 2018, the United States Department of Agriculture's Food Safety and Inspection Service (FSIS) and the Empire Kosher Poultry, Inc., issued a public health alert and an Empire Chicken Salmonella Recall. This alert was in response to high concerns of salmonella contamination of Salmonella enterica serotype I 4,[5],12:i: in the northeastern and mid-Atlantic United States most likely involved in raw chicken products, specifically the Empire Kosher brand. We saw Salmonella enterica serotype I 4,[5],12:i:  last in 2015, when pork products were recalled. 
What is Salmonella?
There is a specific group of bacteria that causes gastroenteritis illnesses, specifically by infecting the intestinal tract and causing diarrheal illness. This group of bacteria are called salmonellosis, which are gram-negative, rod-shaped bacterium. Of these there are over 2,300 subtypes, some much more likely to cause infection than others. Symptoms of salmonella poisoning include nausea, stomach pains, vomiting, diarrhea, chills, and fever, which tend to manifest anywhere from 12 to 72 hours after exposure to the contaminate. Infections can last up to a week.
While normally salmonella poisoning is not deadly and cases recover without the need of hospital care, 19,000 hospitalizations and 380 deaths occur yearly in response to salmonella infection. In addition, this particular outbreak is concerning with half of the people who have become ill requiring hospitalization. According to the United States Department of Agriculture, "In some person…the diarrhea may be so severe that the patient needs to be hospitalized. Older adults, infants, and persons with weakened immune systems are more likely to develop a severe illness. Individuals concerned about an illness should contact their health care provider."
Salmonella poisoning is most commonly caused by eating food or drinking water contaminated with salmonella bacteria.Humans can become ill with a Salmonella infection through exposure to contaminated food or water, but also through touching or petting common domesticated animals. In most cases, Salmonella infections occur through the lack of handwashing or not cooking food to its optimum cooking temperatures.  The most common culprits are meats, poultry, shellfish, and eggs. Apart from ingesting contaminated food and water, salmonella poisoning can be contracted by coming into contact with specific reptiles, such as turtles and some snakes. Salmonella contamination can also be found on surfaces that haven't been properly sanitized.
Poisoning by salmonella bacteria is fairly common, affecting approximately 1.4 million Americans annually, making it entirely responsible for nearly half of infections due to bacteria caused in the United States. In order to prevent salmonella poisoning, one should maintain proper food handling habits, and avoid keeping reptiles as pets.
Chicken Recall
The Empire Kosher brand seems to be the current culprit of this recent recall. Empire Kosher Poultry, Inc., is currently the United States' largest kosher poultry producer, and the company's headquarters, hatchery, and processing facility are all located in Mifflintown, Pennsylvania. The health alert that FSIS issued is meant to cover all of Empire Kosher's raw chicken products no matter when or where they were purchased.
The brand includes varying raw chicken items, such as raw whole chickens and raw chicken parts, all of which have been produced and sold for consumption between September of 2017 and June of 2018. It wasn't until this past June, however, that FSIS actively responded to multiple salmonella infection cases due to Empire Kosher chicken consumption, all of which came from the northeastern and mid-Atlantic United States.
FSIS responded by quickly working in conjunction with public health partners in order to investigate the determined link between Empire Kosher brand raw chicken products and the current food poisoning outbreak.  According to the USDA,
Based on available epidemiological information, multiple case-patients have been identified in the northeastern and mid-Atlantic United States, many of whom reported consumption of Empire Kosher brand chicken products. Approximately half of affected case-patients have been hospitalized due to illness with illness onset dates ranging from September 2017 to June 2018. FSIS continues to work with the company and public health partners and will provide updated information should it become available.
FSIS is currently most concerned that some of Empire Kosher's salmonella-contaminated products are currently stored in many consumers' freezers, meaning that an untold amount of illnesses are yet to manifest. FSIS strongly urges anyone who might have purchased Empire Kosher's raw chicken products to be sure to appropriately handle, prepare, and cook these raw chicken products in order to avoid increasing the current illness count.
Salmonella Safety
According to FSIS, consumers of all meat products–especially Empire Kosher raw chicken products–should be sure to properly cook their raw meats. No matter if the chicken is fresh or frozen, consumers must be sure to it has been cooked to an internal temperature of 165°F before consumption. Handling raw chicken products must be done with care, following the appropriate food handling precautions. Proper hand washing, both before and after coming into contact with raw poultry, meats, and eggs greatly reduces the risk of cross-contamination. Properly washing food preparation surfaces, such as countertops, sinks, cutting boards, etc., with hot and soapy water. Even a small amount of raw chicken juice can contain enough salmonella bacteria to infect a number of adults.
Conclusion
Salmonella is often found in raw poultry, raw eggs, and raw meats. Without properly cooking these food items, one runs the risk of developing a salmonella infection. However, by cooking chicken all the way through, cooking eggs until they're no longer runny, and ensuring that other meats reach the proper internal temperature, you ensure that any remnants of bacteria have been eliminated. Should you or a loved one end up encountering salmonella bacteria and developing an infection, be sure to report the illness appropriately and contact your health provider in order to receive proper treatment.
In addition, if you believe you've developed salmonella due to the contaminated products of Empire Kosher Poultry, Inc., please immediately seek medical attention. A Salmonella lawyer at the Lange Law Firm, PLLC is currently investigating this claim and offering free legal consultations.  If you or a loved one have become ill, you can call (833) 330-3663 for a free consultation or complete the form here.
By: Abagail Ryan, Contributing Writer (Non-Lawyer)