Honey Smacks and Salmonella? What's the Deal?
Posted in Our Blog,Outbreaks & Recalls,Salmonella on July 27, 2018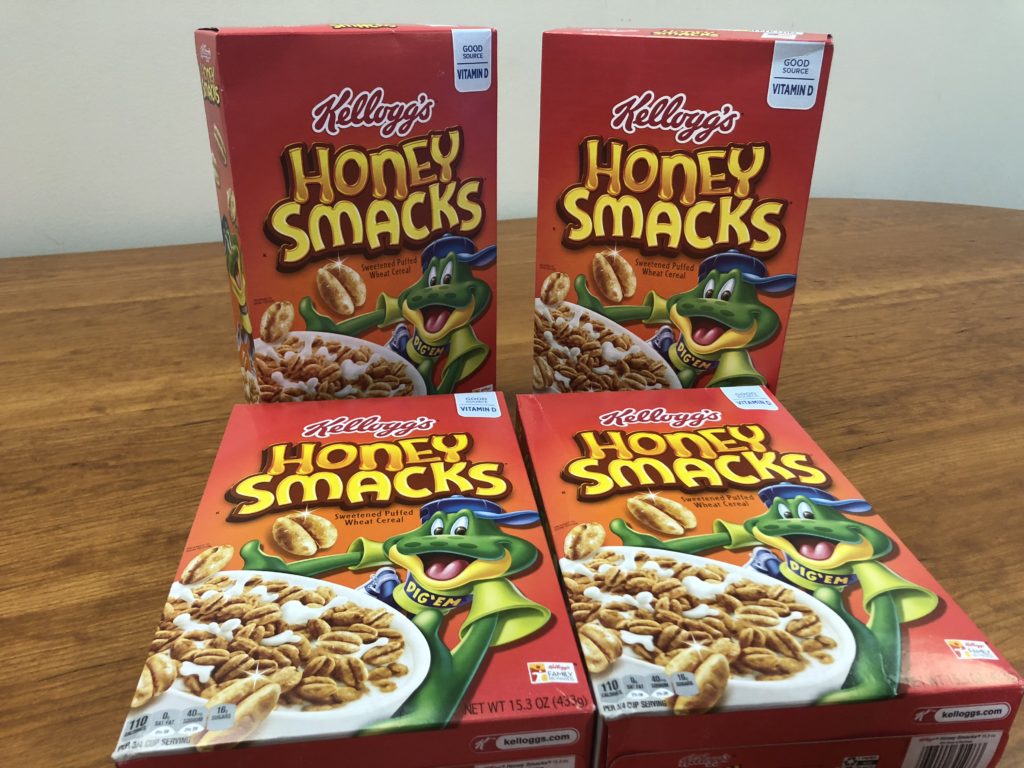 Make Food Safe has covered the outbreak of salmonella in cereal that triggered recalls in multiple countries last month. At this time, however, we don't know which company was responsible for manufacturing the cereal. We, as in, anyone in the supply chain.
The Outbreak, The Cereal, and The Cases
At least 73 people in more than 30 states fell ill with Salmonella after eating Honey Smacks cereal. They fell ill between March 3rd and May 28th.  The youngest victim was less than a year old and the oldest was 72. According to an update released on June 15th by the Centers for Disease Control and Prevention (CDC), 25 of those affected were sick enough that they went to the hospital.
In response, the Kellogg Company worked with local governments to issue a sweeping, multinational recall of Honey Smacks cereal. The Kellogg Company pulled batches of the cereal from store shelves in the United States, Mexico, Belize, Guatemala, Costa Rica, Guam, the Caribbean, Tahiti, and Saipan. They asked customers to throw out cereal with a best by date of June 14th 2018 to June 14th 2019. But was that enough? Did they really do all they could?
The most recent case was reported on July 2. Although a voluntary recall is in effect, the FDA emphasizes that not all retailers have pulled the cereal, and some boxes of Honey Smacks subject to the voluntary recall may still be on store shelves.
Altogether, more than a million boxes of cereal were recalled. Other Kellogg brands aside from Honey Smacks were not affected by the outbreak.
Hmmm… But We Have a Bit of a Dilemma
Here's the rub: the Kellogg Company alleges that they did make the cereal themselves, and so far, they aren't saying who did. The company's recall notice says that the cereal in question was manufactured by a contractor, rather than being made at a Kellogg owned factory.
In that recall notice, Kellogg's said that they were working jointly with the Food and Drug Administration to identify the source of the outbreak. What does that mean?
They did not identify the third party manufacturer in question. The facility where the Honey Smacks were made has not yet been identified. We don't yet know whether or not the Kellogg Company also contracts the company in question to make other cereals aside from Honey Smacks, or whether the company makes cereals or other products for companies aside from Kellogg's.
Initially, neither the Kellogg company nor the FDA have said whether or not the contractor in question is still making cereal. After collecting samples from the site, however, the FDA confirmed that the facility in question had been closed until further notice.
The Kellogg Company contracts with businesses on a global scale to manufacture, distribute, and retail their products. On their website, they claim to work with over 20,000 suppliers all around the world. But the FDA cannot tell us who this mystery manufacturer is because of corporate confidentiality.
Global Supplier Codes
You can find the Global Supplier Code of Conduct for the Kellogg Company on their website. That code of conduct says that Kellogg's suppliers must follow all applicable health and safety standards, as well as demonstrate "robust food safety and quality management systems." Any concerns that suppliers have, according to the code of conduct, must be reported to Kellogg's immediately.
The Kellogg Company website also has supplemental resources to their Global Supplier Code of Conduct. Under the Quality, Health & Safety section of those supplemental resources, they provide a bit more to flesh out how exactly they expect their suppliers handle food safety.
It's relatively slim: the section is a single bullet point with a link to the FDA's page on Hazard Analysis Critical Control Point, or HACCP. That system, according to the FDA, is "a management system in which food safety is addressed through the analysis and control of biological, chemical, and physical hazards from raw material production, procurement and handling, to manufacturing, distribution and consumption of the finished product."
That's not much to go on. There is a bit of text in the code of conduct that directly addresses how the Kellogg Company interfaces with their suppliers, however. The Kellogg company focuses on establishing awareness of their expectations for suppliers; using "external supplier events" as an occasion for further training; and a surveying and auditing process for high risk suppliers.
There are some other clues in the code of conduct and accompanying resource guide as to how Kellogg's handles suppliers. Under the "compliance verification" section of the code of conduct, Kellogg's stipulates that "we expect suppliers to review their operations and the operations of the supply chain that provides goods and services to Kellogg." They go on to state that suppliers must comply with audits by Kellogg or an authorized third party of that supply chain.
Under the "systematic approach" section, it's written that suppliers should maintain a culture of "integrity and compliance," with "sufficient oversight" to ensure that processes are being followed. But how can the public be certain other types of cereal they are buying are safe, if they are unsure of who is actually making their cereal? How can a consumer make informed choices without this transparency? The Kellogg Company needs to do better.
There's a lot that's left to interpretation in those publicly available documents. What isn't up for interpretation is that salmonella is serious. Check the expiration dates if you're buying Honey Smacks, as some boxes may still be on shelves despite the voluntary recall. In fact, it may be a good idea to stay away from this particular cereal for a while, until it is clear that all of the recalled product is removed from shelves.
Salmonella is No Joke
Salmonella typically causes diarrhea, a fever, and abdominal cramps. The elderly, very young, and immunocompromised are at higher risk of serious illness or death than healthy children or adults. Typically, the sickness passes in about a week, although more serious infections may require antibiotics or a trip to the hospital. Stay safe from the Honey Smacks and Salmonella outbreak.
By: Sean McNulty, Contributing Writer (Non-Lawyer)