Iowa Hardest Hit Cyclospora Outbreak Linked to Bagged Lettuce
Posted in Cyclospora,Cyclospora,Our Blog,Outbreaks & Recalls on June 29, 2020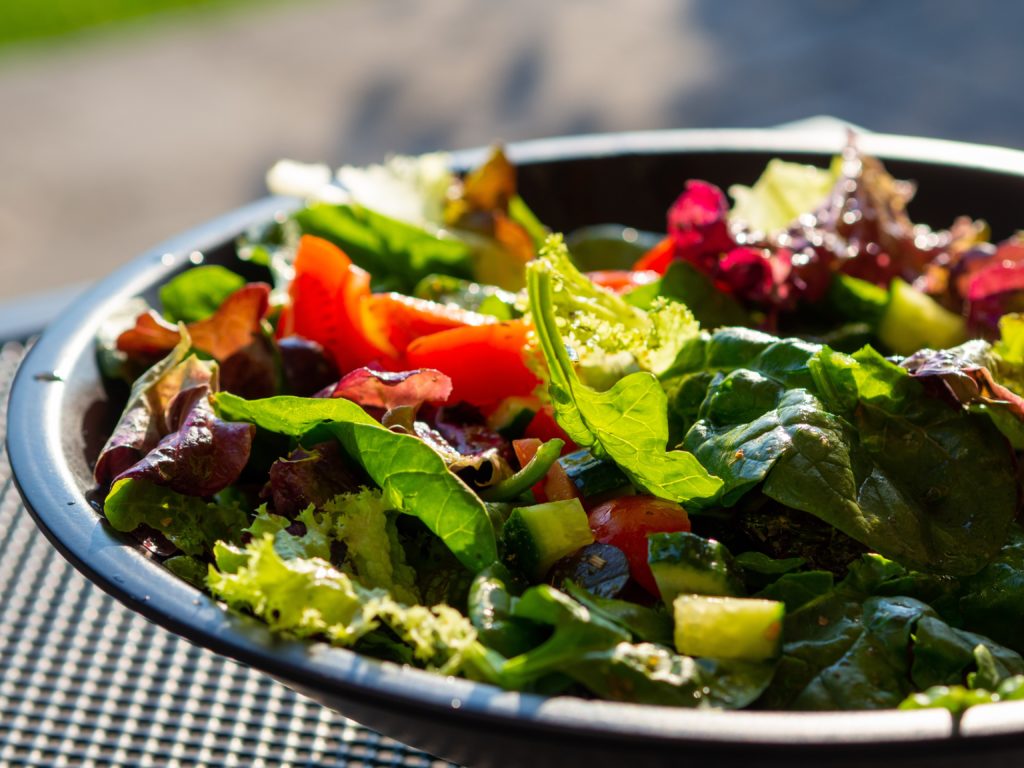 Iowa is among the hardest hit of Cyclospora outbreak cases amid a multistate outbreak linked to bagged salad mix containing iceberg lettuce, carrots, and red cabbage produced by Fresh Express and purchased at ALDI, Hy-Vee, Jewel-Osco, and Walmart stores across the Midwestern United States. Here is what we know about this Iowa Cyclospora Outbreak linked to bagged salads:
The Outbreak
As of June 25, 2020, 74 Iowans have been reported with laboratory-confirmed Cyclospora infections associated with this outbreak. Between Iowa with 74 cases, Illinois with 57, Minnesota with 25, Nebraska with 20, Missouri with 10, Wisconsin with 13, North Dakota with 6, and Kansas with 1 linked case, there have been a total of 206 people linked to this outbreak so far.  This has resulted in 23 hospitalizations.  Illness onset collectively ranged from May 11, 2020 to June 17, 2020.
Recalled Products in Response to Outbreak
Several brands have initiated recalls in response to this outbreak.  Those affecting Iowa include:
Marketside brand Classic Iceberg Salad

Sold at Walmart stores in the states of Iowa, Michigan, Minnesota, Nebraska, North Dakota, South Dakota, and Wisconsin
Affected produce was sold in 12-ounce and 24-ounce bags with Use-By dates of 05/19/2020 through 07/04/2020.

Little Salad Bar brand Garden Salad

Sold at ALDI stores in the states of Arkansas, Illinois, Indiana, Iowa, Michigan, Minnesota, Missouri, North Dakota, South Dakota, and Wisconsin
Affected produce sold in 12-ounce bags with Use-By dates of 05/01/2020 through 06/29/2020

Hy-Vee brand Garden Salad

Sold at Hy-Vee stores in the states of Illinois, Iowa, Kansas, Minnesota, Missouri, Nebraska, South Dakota, and Wisconsin
Affected produce sold in 12-ounce bags. All Use-By dates are subject to this recall.

Jewel-Osco Signature Farms brand Garden Salad

Sold at Jewel-Osco stores in the states of Illinois, Indiana, and Iowa
Affected produce was in 12-ounce bags with Use-By dates of 05/16/2020 through 07/04/2020
Even if some of the recalled product has been consumed and no one has gotten sick, you should discontinue use of the product.  Consider saving the product by packaging it up safely and clearly labeling it so it won't be consumed.  This could be useful in traceback processes in the event that you or someone in your household falls ill from this outbreak.
Iowa-Based Hy-Vee and the Investigation
Hy-Vee, a West Des Moines, Iowa-based grocery chain learned of the Cyclospora contamination when Fresh Express, the manufacturer of their store-brand Garden Salad Mix product, announced an investigation.  The U.S. Food and Drug Administration (FDA), Center for Disease Control and Prevention (CDC), and the company announced the recall response to certain products that were flagged as linked to a multi-state outbreak affecting 8 Midwestern states (Illinois, Iowa, Kansas, Minnesota, Missouri, Nebraska, North Dakota, and Wisconsin).  Fresh Express packages private label products in addition to their own brand, widening the impacted product.
"The U.S. Food and Drug Administration, along with the Centers for Disease Control and Prevention and state and local partners, have likely linked a new outbreak of illnesses caused by Cyclospora to certain store-brand 'garden salad mix' products from Hy-Vee, Aldi, and Jewel-Osco, predominantly in Midwestern states," Frank Yiannas, deputy commissioner for food policy and response at the FDA, said in a statement.  "The FDA is working with the companies to determine the source of the products, but in the meantime, we are issuing a public warning to consumers to avoid the identified products to prevent additional infections."
He goes on to say, "While there is no widely available method to DNA-fingerprint Cyclospora, the epidemiologic investigation has identified grocery stores and products linked to illnesses caused by this parasite."  Additionally, "The FDA continues to stand ready to respond to outbreaks of foodborne illness, and we will update the consumers as out investigation continues."
What is Cyclospora?
Cyclospora is a parasitic infection often linked to imported produce from Mexico and other Central American countries.  It results from consuming food products infected with the parasite Cyclospora cavetanensis.  Unfortunately, this infection is difficult to diagnose or identify the cause due to the fairly long latency period, anytime from a week to several weeks.
Human to human infection is extremely rare due to the life cycle of the organism.  The disease is spread when the parasite oocysts (a type of egg) pass through the infected individual and into their feces.  These oocysts are not infectious right away.  It takes about a week for them to become mature and to become infective again.  This often occurs once the feces contaminate some kind of food or water and consumed again, restarting the cycle.
This little parasite, too small to see with the naked eye, lives in watery environments and reproduces in the intestinal tracts of humans.  Like most foodborne infections, anyone is susceptible to contract this illness, but some groups of people have a higher chance of infection along with more severe symptoms or long-term effects.  The very young, the very old, and those with a compromised immune system are of highest risk.  Young children and AIDS patients have shown to experience a higher rate of morbidity than other groups.  Those who are living or traveling in areas where this parasite is endemic are also at an increased risk for infection.
Symptoms and Long-Term Complications
One of the primary indicators of Cyclospora infection is watery diarrhea.  This can be frequent and sometimes explosive.  Additional symptoms are those typical of foodborne illness.  They include:
Stomach issues (abdominal bloating, increased gas, stomach cramps/pain, nausea, and vomiting)
Loss of appetite and weight loss
Dehydration
Flu-like symptoms (not limited to fever, body aches, and fatigue)
Often these infections can resolve on their own without treatment; however, expect symptoms to persist anywhere from a few days to even months.  Due to the life cycle of this particular bug, you may have periods between symptoms where you can be infectious (shedding the immature oocysts for future infection) but non-symptomatic.
In some cases, someone infected with Cyclospora may experience long-term complications such as Guillain-Barré syndrome, reactive arthritis, long-term malabsorption issues, and infection relapse.
What Should I Do If I Think I Am Infected?
If you are infected as a result of this outbreak, even if your symptoms are mild, your participation in the traceback process could help others who are not so lucky.  More information obtained from the public allows investigators to better narrow the source on infection to help prevent others from becoming sick as well.
Talk to your healthcare provider.  Tell them you may have been exposed to Cyclospora.  The appropriate testing and reporting will provide you with answers and a more specific treatment protocol, along with putting your information into the outbreak infection database.
If you did not need medical care, report your illness to your local health department.  They may wish for you to be tested for the outbreak organism to confirm.
Assist traceback efforts by writing down what you ate in the two weeks prior to falling ill.  Try to capture everything.  Sometimes investigators are looking into multiple food sources.  Finding common foods allows them to test these products for the outbreak organism.  Be available for a potential interview.  Public health investigators may need you to answer questions about your illness.
The Lange Law Firm Can Help 
Our mission is to help families who have been harmed by contaminated food or water.  When corporations cause Cyclospora food poisoning outbreaks or Legionnaires' disease outbreaks, we use the law to hold them accountable.  The Lange Law Firm, PLLC is the only law firm in the nation solely focused on representing families in food poisoning lawsuits and Legionnaires disease lawsuits.
If you or your child was infected with Cyclospora or any other parasite and are interested in making a legal claim for compensation, we have a Cyclospora lawyer ready to help you.  Call us for a free no obligation legal consultation at (833) 330-3663 or send us an e-mail here.
By: Heather Van Tassell