Jimmy Johns Sprouts Outbreak, Ecoli O103 This Time
Posted in E. coli,Our Blog,Outbreaks & Recalls on February 28, 2020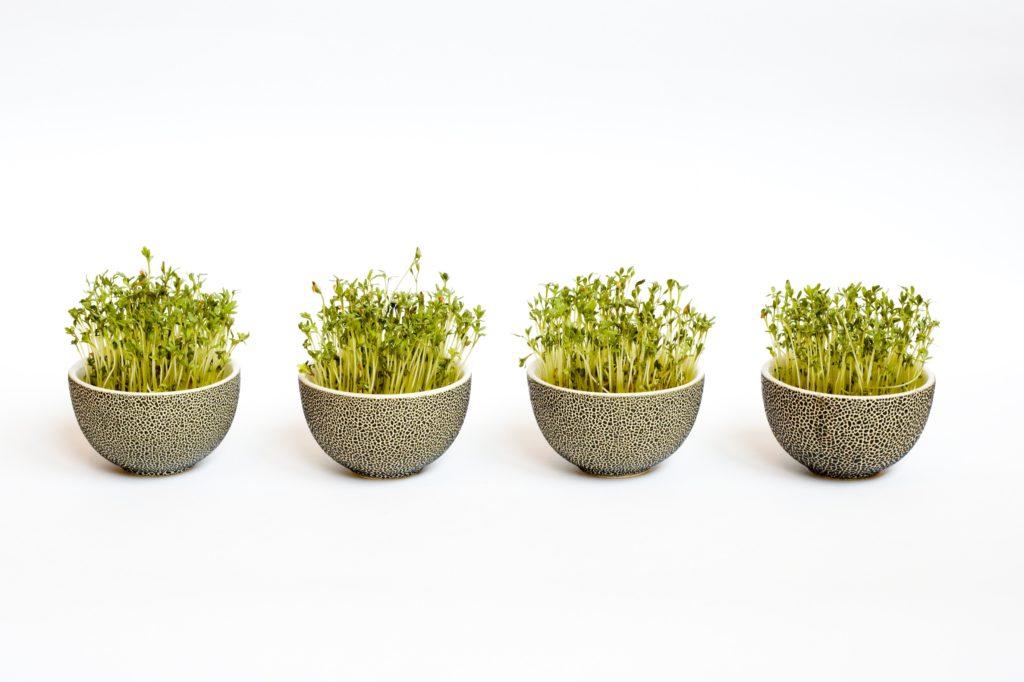 Jimmy John's sprout lovers everywhere take heed – there is yet another outbreak linked to sprouts. This time, Ecoli O103 is our bacterial culprit. The CDC posted on its website that 14 people reportedly got sick between Jan. 6 through Feb. 11 after eating sprouts from Jimmy John's restaurants in Texas, Utah, Missouri, Illinois and Iowa. Thankfully, the CDC has not reported any hospitalizations or deaths in this latest Jimmy Johns Sprouts Outbreak.
CDC Investigation
Current epidemiologic evidence points to raw sprouts from Jimmy John's as the outbreak source.  Patients with the same strain of Ecoli O103 were interviewed and questioned about their dining habits over that past few weeks to help identify what they may have in common. This was when they found that sprouts topping Jimmy John's subs were to blame.
The 14 people who are sick come from 5 states: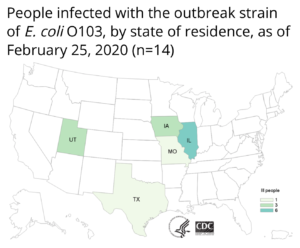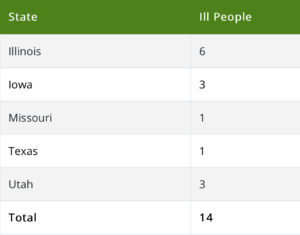 The CDC is continuing traceback investigations to identify more information about the source so that a recall can be possible if needed.  This traceback will hopefully identify where the sprouts were distributed and how they became contaminated.  Though sprouts have been cited as a source of many previous foodborne outbreaks, they are already a high-risk food.
But when did these illnesses happen? Illnesses started on dates ranging from January 6, 2020, to February 11, 2020. But some illnesses might not yet be reported due to the time it takes between when a person becomes ill and when the illness is reported. This takes an average of 3 to 4 weeks.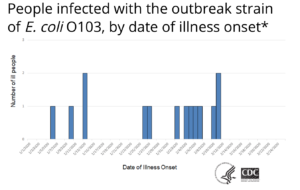 Jimmy John's LLC reported that all of its restaurants stopped serving clover sprouts on February 24, 2020.
About Ecoli O103
The exact strain of E. coli involved in these cases is Ecoli O103. Although it isn't Ecoli O157, it can still be dangerous.
Symptoms of the outbreak strain E. coli O103 may vary from person to person in severity with those in higher risk demographics such as the very young, the very old, and those with a compromised immune system at highest risk of infection and complication.
Onset often occurs somewhere around 3 to 4 days after consuming contaminated food but can occur anywhere from 1 to 10 days after exposure.  You can also become sick from coming in contact with contaminated foods or food surfaces without washing your hands or consuming raw or undercooked beef products.  Food sanitation and cooking to an appropriate internal temperature of 160 ⁰F to 165 ⁰F for ground beef and ground beef containing casseroles respectively.
Symptoms generally last around 5 to 7 days with some people experiencing a longer illness.  The most common symptoms include severe stomach cramps, diarrhea that is often bloody, and vomiting.
Potential Complications
A serious and life-threatening complication known as HUS that results in kidney failure may occur.  In fact, 5 to 10% of those diagnosed will fall victim to this complication.  HUS symptoms often develop about a week after initial symptoms and can coincide with improvement in the diarrheal symptom.  Look for decreased urination, paleness in the cheeks and lower eyelids, and feeling very tired.  While most people will recover from HUS after treatment, it is important for HUS patients to be hospitalized right away to avoid complete kidney failure or death.
Past Outbreaks
Past outbreaks involving sprouts, or Sproutbreaks as coined by our own Samantha Cooper, have been more common than one would think.
Jimmy John's is no stranger to outbreaks involving sprouts. In fact, there have been several. It is a wonder they continue to serve sprouts on their menu (or at least post a sprout warning). But recently, the FDA has sent Jimmy John's a warning letter – take sprouts off of your menus! The letter mentions:
"The evidence demonstrates that your corporation, through your franchised Jimmy John's restaurants, engaged in a pattern of receiving and offering for sale adulterated fresh produce, specifically clover sprouts and cucumbers."
"Taken together, these outbreaks, which spanned over the past seven years and impacted no fewer than seventeen states demonstrate the corporate-wide supplier control mechanisms you have in place for receiving fresh produce are inadequate."
Here are some past Jimmy John's outbreaks linked to sprouts:
2018 – Ten people infected with the outbreak strain of Salmonella Montevideo were reported from three states. Eight (80%) of ten people interviewed reported eating at multiple Jimmy John's restaurant locations. Of these eight people, all eight (100%) reported eating raw sprouts on a sandwich from Jimmy John's in Illinois and Wisconsin. Two ill people in Wisconsin ate at a single Jimmy John's location in that state.
2014 – An outbreak of E. coli O121 linked to consumption of clover sprouts was announced by health officials in Washington and Idaho. In total 19 patients had been confirmed with E. coli O121. Sprouts were eaten in sandwiches at several food establishments including Jimmy John's Gourmet Sandwich locations in King and Spokane counties as well as two Pita Pit locations in Spokane County. In Kootenai county case patients had eaten raw clover sprouts at Jimmy John's and Daanen's Deli.
2011 – A total of 29 persons infected with the outbreak strain of Shiga toxin-producing Escherichia coli O26 (STEC O126) were reported from 11 states. Traceback information identified a common lot of clover seeds used to grow clover sprouts served at Jimmy John's restaurant locations where ill persons ate. FDA and states conducted a traceback that identified two separate sprouting facilities; both used the same lot of seed to grow clover sprouts served at these Jimmy John's restaurant locations.
2010 – Two separate outbreaks of Salmonella illnesses linked to alfalfa and clover sprouts served at Jimmy John's restaurants in California, New York, Oregon, Maryland, Pennsylvania, Virginia, Hawaii, South Dakota, District of Columbia, Georgia, Indiana, Nebraska, New Jersey, South Carolina.
2008 – In Colorado, several residents at a sorority became sick with Ecoli O157 from alfalfa sprouts at the Jimmy John's Restaurants in Boulder County and Adams County were risk factors for illness. In addition, the environmental investigation identified Boulder Jimmy John's food handlers who were infected with E.coli and who had worked while ill.
How The Lange Law Firm Can Help
Our mission is to help families who have been harmed by contaminated food or water.  When corporations cause Ecoli food poisoning outbreaks, we use the law to hold them accountable.  The Lange Law Firm PLLC is one of the only law firms in the nation focused on representing families in food poisoning lawsuits.
If you got sick in this latest Jimmy Johns Sprouts Outbreak and are interested in making a legal claim for compensation, we can help. We want you to know that an E coli Lawyer at the Lange Law Firm, PLLC is currently investigating this matter and offering free legal consultations. Our lawyer, Jory Lange became a lawyer to help make our communities and families safer. Anyone who was infected with E coli from romaine lettuce may be entitled to compensation for their injuries.
If you or a loved one have become ill with E coli in this Jimmy Johns Sprouts Outbreak, you can call (833) 330-3663 for a free legal consultation or complete the form here.
By: Candess Zona-Mendola, Editor (Non-Lawyer)