Peaches Salmonella Outbreak
Posted in Our Blog,Outbreaks & Recalls,Salmonella on August 19, 2020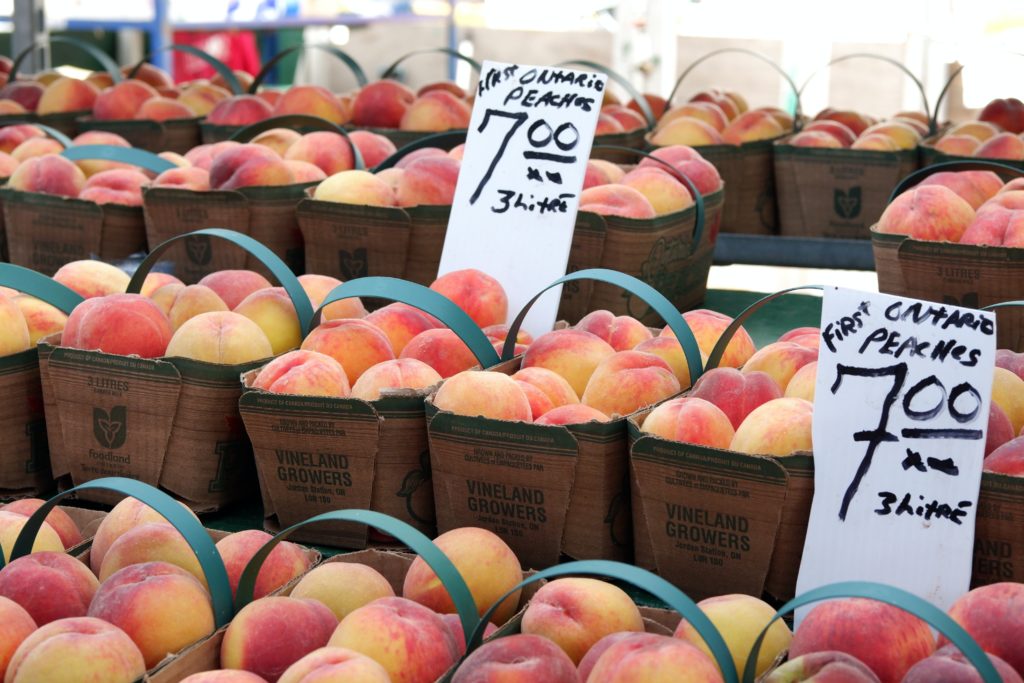 On the heels of a Salmonella Onion outbreak and a listeria fruit panic, we now have concerning news about peaches. There is a new multi-state outbreak of Salmonella linked to peaches. So far 68 people in 9 states are sick – 23 of which reside in Minnesota.
The Minnesota Department of Health (MDH) and Minnesota Department of Agriculture (MDA), along with the U.S. Centers for Disease Control and Prevention (CDC), the U.S. Food and Drug Administration (FDA) and several other states, are investigating a multi-state outbreak of Salmonella Enteritidis infections linked to peaches supplied by Wawona Packing Company. If you recently purchased and/or ate fresh, whole peaches supplied by Wawona Packing Company and purchased at retail locations including Aldi and Target in Minnesota, read on and check your kitchen. Here is everything we know about this Peaches Salmonella Outbreak:
About the Peaches Salmonella Outbreak
Twenty-three Minnesotans have been identified as part of this outbreak, with a median age of 28 years (range, 3 to 92 years). The patients became ill between July 12 and Aug. 3. Six were hospitalized and all have recovered.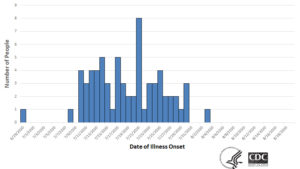 As of this afternoon, there have been at least 68 cases of Salmonella Enteritidis infection identified in nine states. The investigation is ongoing and more cases may be detected.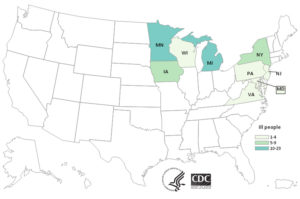 | State | Ill People |
| --- | --- |
| Iowa | 8 |
| Maryland | 1 |
| Michigan | 17 |
| Minnesota | 23 |
| New Jersey | 4 |
| New York | 8 |
| Pennsylvania | 1 |
| Virginia | 3 |
| Wisconsin | 3 |
| Total | 68 |
Recalls
Ill people reported purchasing peaches from Aldi, Target, and possibly other retail locations. On August 19, Aldi announced a recall of peaches from Wawona Packing Company, including both loose and bagged peaches. Of 31 people with information, 27 (87%) reported eating peaches. Of the 19 people who reported information on how the peaches were packaged, 12 (63%) reported pre-bagged peaches. Of the 12 people reporting pre-bagged peaches, 10 (83%) reported purchasing pre-bagged peaches from ALDI stores.
"As a precautionary measure, ALDI is voluntarily recalling assorted peaches received from its supplier, Wawona Packing Company, due to possible Salmonella contamination. ALDI has removed the affected peaches from select ALDI stores in Connecticut, Florida, Illinois, Iowa, Kentucky, Massachusetts, Maryland, Michigan, Minnesota, North Dakota, New Hampshire, New York, Ohio, Pennsylvania, Rhode Island, South Dakota, Vermont, Virginia, Wisconsin and West Virginia. The items were also available for purchase through the company's partnership with Instacart, a grocery delivery service. The affected products and UPC codes can be found below: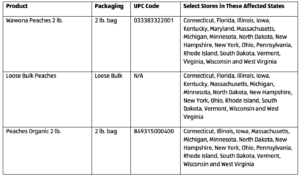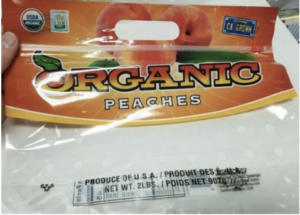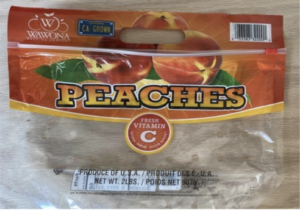 Target is also in the process of removing peaches from its stores, as follows:
Target Item Number:
Target Item # 267-03-4038, Peach per pound; UPC # 492670340386
Target Item # 266-03-0010, Peach by the each; UPC # 204038000005
Target Item # 266-03-0002, 2 lb peach bag; UPC # 033383322056
Target Item # 267-50-4044, 2 lb organic peach; UPC # 849315000400
Target Item # 267-03-4405, White Peach per pound UPC # 492670344056
Anyone can become sick with a Salmonella infection. There are no visible indicators of contamination. Contaminated food does not usually look, smell, or taste spoiled. The Prima Wawona fruit company of Fresno, California recently shipped peaches contaminated with Salmonella Enteritidis to companies throughout the U.S., Canada, and at least 14 other countries around the world. The outbreaks in the U.S. and Canada have sickened 111 people; 78 in the U.S., and 33 in Canada. The FDA, as well as the CDC are on the case and the investigation to identify the source of the contamination is ongoing.
The FDA's website states that the contaminated peaches were shipped to companies in Australia, Canada, China, Costa Rica, Ecuador, El Salvador, Guatemala, Honduras, Mexico, Panama, the Philippines, Singapore, Taiwan, and the United Arab Emirates. Currently, recalls have been issued in the U.S., Canada, New Zealand, and Singapore. George Nikolich, Vice President of Technical Operations for Prima Wawona, said: "We're conducting this voluntary recall in cooperation with the FDA out of consideration for the wellbeing and safety of our customers and consumers. We continue to be committed to serving consumers with high quality fruit." Anyone who has purchased the recalled peaches, should dispose of them immediately or return them to the place of purchase for a refund. Retailers and product codes for the recalled peaches are available on the FDA website. Bagged and bulk peaches supplied by Wawona specifically from June 1, 2020 to August 19, 2020 are being recalled. When in doubt, throw it out! If you don't remember the brand or date of purchase, the FDA recommends that any fresh or frozen peaches should be disposed of. A recent media statement released by the CDC also includes peach salsa on this list of items to dispose of.
Health Agency Recommendations
Health officials recommend throwing out or returning fresh, whole peaches supplied by Wawona Packing Company. Do not eat them. Other peaches (including frozen or canned peaches) are not known to be affected. Fresh peaches supplied by other companies are not known to be affected. If people are unsure whether the peaches they bought are supplied by Wawona, they should contact the retail location where they were purchased. If they have any doubts about where their peaches came from, they should not eat them and should throw them away.
What You Need to Know About Salmonella
Salmonella is a foodborne bacterium and a common cause of food poisoning. It is often found in a variety of sources. Fruits, vegetables, meats (poultry in particular), and even dairy.
Common Symptoms
While each individual may experience some varying types and degrees of symptoms, most people with Salmonella infections experience:
• Diarrhea (sometimes bloody)
• Stomach cramps
• Fever
Other common symptoms include nausea, vomiting, or headache. Symptoms generally begin anywhere from 6 hours to 4 days after exposure. These infections will typically last around 4 to 7 days.
More Serious Symptoms
While many cases are so mild that the sickened individual may chalk it up to a little stomach bug and ride out the symptoms until they resolve on their own, others may not fair so well.
More serious Salmonella symptoms include:
• Diarrhea with a fever higher than 102 ºF
• Diarrhea lasting more than 3 days without improvement
• Bloody Stools
• Prolonged vomiting that prevents you from keeping liquids down
• Dehydration symptoms that include:
Dry mouth and throat
Dizziness when standing up
Very little urine production
How The Lange Law Firm Can Help
Our mission is to help families who have been harmed by contaminated food or water.  When corporations cause Salmonella food poisoning outbreaks, we use the law to hold them accountable.  The Lange Law Firm is the only law firm in the nation solely focused on helping families in food poisoning lawsuits and contaminated water lawsuits.
If you got Salmonella food poisoning in this Peaches Salmonella Outbreak and are interested in making a legal claim for compensation, we can help.  Our Salmonella lawyer can help you pursue compensation for your Salmonella food poisoning.  Call us for a free no obligation legal consultation at (833) 330-3663 or send us an e-mail here.
By: Candess Zona-Mendola