Cooked Chicken Listeria Outbreak
Posted in Listeria,Our Blog,Outbreaks & Recalls on July 3, 2021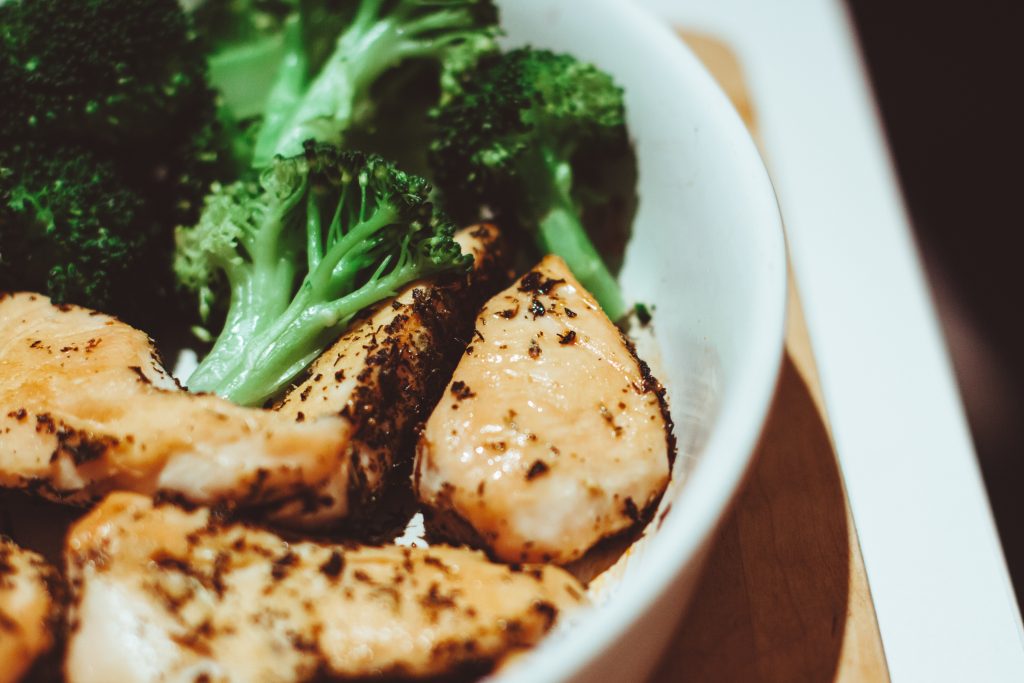 On July 2, 2021, the CDC, public health and regulatory officials in several states, and the U.S. Department of Agriculture's Food Safety and Inspection Service announced their investigation a multistate outbreak of Listeria monocytogenes infections. This PreCooked Chicken Listeria Outbreak has already sickened 3 people, one who has died.
The PreCooked Chicken Listeria Outbreak
Here's what we know:
Illnesses: 3
Hospitalizations: 3
Deaths: 1
States: 2
Recall: No
Investigation status: Active
| Location | Number of Sick People |
| --- | --- |
| Delaware | 1 |
| Texas | 2 |
The three people infected with the outbreak strain of Listeria monocytogenes have been reported from two states. Illnesses started on dates ranging from April 6, 2021, to June 5, 2021.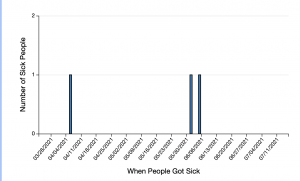 Sick people range in age from 60 to 95 years, with a median age of 89, and 66% are male. All three people were hospitalized, and one death has been reported from Texas.
The true number of sick people in an outbreak is likely higher than the number reported, and the outbreak may not be limited to the states with known illnesses. This is because some people recover without medical care and are not tested for Listeria. In addition, recent illnesses may not yet be reported as it usually takes 3 to 4 weeks to determine if a sick person is part of an outbreak.
State and local public health officials interviewed people about the foods they ate in the month before they got sick. All three people were in a long-term care facility or hospital when they got sick. These facilities served many food items, including meals with precooked chicken.
Source?
Listeria was found in samples of precooked chicken products. Investigators are working to identify which precooked chicken products are making people sick. Until we learn more, people at higher risk for severe Listeria illness and facilities caring for them should take extra precautions when eating or serving precooked chicken.
PreCooked Chicken Listeria Outbreak Prompts Massive Chicken Recall
       On July 3rd the U.S. Department of Agriculture's Food Safety and Inspection Service (FSIS) announced a massive recall of Tyson brand ready-to-eat chicken products. Approximately 8,955,296 lbs. of chicken have been recalled due to potential contamination with Listeria. The recalled products were shipped to retailers and institutions worldwide including hospitals, nursing facilities, restaurants, schools and Department of Defense locations.
As of the July 9th update, 3 illnesses across 2 states, all resulting in hospitalization, and one death in Texas have resulted from this outbreak. The illnesses occurred between April 6th, 2021 and June 5th, 2021. It usually takes 3 to 4 weeks to determine if a sick person is part of an outbreak, which means these known cases, in Texas and Delaware, may not be the only illnesses that have resulted from it. Additionally, some people recover without medical care and are not tested for Listeria, therefore it is not reported.
The products listed in this recall include frozen, fully cooked chicken strips, diced chicken, chicken wing sections, and fully cooked pizza with chicken. These products were sold under many brand names including Tyson, Jet's Pizza, Casey's General Store, Marco's Pizza, and Little Caesars.
Consumption of food contaminated with L. monocytogenes can cause listeriosis, a serious infection that primarily affects older adults, persons with weakened immune systems, and pregnant women and their newborns. Less commonly, persons outside these risk groups are affected. Symptoms can occur anywhere from 3 to 70 days after exposure to the bacteria and include:
Fever
Nausea
Achy neck
Confusion
Loss of balance
Convulsions
Achy muscles, and/or
Diarrhea – In some cases, diarrhea may be so severe that the ill person requires hospitalization.
Persons in the higher-risk categories who experience flu-like symptoms within two months after eating contaminated food should seek medical care and tell their health care provider about eating the contaminated food.
FSIS classifies this outbreak as a Class 1, medium or high-risk outbreak. Which means this is a health hazard situation where there is a reasonable probability that the use of the product will cause serious, adverse health consequences or death. They warn that consumers should not eat the recalled chicken products, institutions should not serve them, and they should be thrown away or returned to the place of purchase as soon as possible.
Working in conjunction with the Centers for Disease Control and Prevention (CDC) and state public health partners, FSIS determined there is evidence linking the Listeria monocytogenes illnesses to precooked chicken produced at Tyson Foods Inc. During routine sample collection, FSIS collected two precooked chicken samples from two establishments that are closely related genetically to the Listeria monocytogenes from those affected by the outbreak. One of the samples was collected at Tyson Foods Inc. in Dexter, MO. FSIS is continuing to work with federal and state public health partners to determine if there are additional illnesses linked to these products.
The products included in the recall were produced between December 26th, 2020 and April 13th, 2021, and bear the establishment number "EST. P-7089" either on the bag or inside the USDA mark of inspection. The specific list of recalled products can be found here. The recalled products were distributed to schools, however it was the result of a commercial sale and was not part of the food provided by the USDA for the National School Lunch Program.
PreCooked Chicken Listeria Outbreak Prompts A Sandwich Recall
LSG Sky Chefs also announced that it is issuing a voluntary recall of its Chicken Salad Sandwich because it has the potential to be contaminated with Listeria monocytogenes, an organism which can cause serious and sometimes fatal infections in young children, frail or elderly people, and others with weakened immune systems. Although healthy individuals may suffer only short-term symptoms such as high fever, severe headache, stiffness, nausea, abdominal pain and diarrhea, Listeria infection can cause miscarriages and stillbirths among pregnant women.
The company produces the Chicken Salad Sandwiches for Circle K stores in the Phoenix, Arizona and Southern California areas. All affected product produced by LSG Sky Chefs has already been pulled from Circle K stores. No other products or retailers are involved in this voluntary recall.
The chicken used in this product is subject to a national recall issued by Tyson Foods Inc., Dexter, MO. To date, LSG Sky Chefs has received no reports of illnesses associated with this product. The quality of our products and safety of our consumers is our foremost priority.  The company will continue to work to resolve this issue as quickly as possible.
Retail customers who purchased the 5.9 oz. Chicken Salad Sandwich at Circle K stores between 6/1/21 – 7/5/21 are asked to dispose of the product or return it to Circle K for a full refund. Additionally, consumers should also look for a "best buy" date of 6/7/21 through 7/9/21. This product is packaged with Circle K branding and contains the UPC code: 815138013996.
Listeria – Quick Facts
The onset of symptoms of a Listeria infection usually occur 3 to 70 days after exposure
Symptoms of a Listeria infection include:

Diarrhea
Nausea
Achy neck
Confusion
Loss of balance
Convulsions
Achy muscles, and/or
Fever

In some cases, diarrhea may be so severe that the ill person requires hospitalization.
Pregnant women and their newborns, the elderly, the very young, and people with weakened immune systems are more likely to get sick with listeriosis. They are also at the highest risk of severe illness and complications, including central nervous system issues.
CDC Advice to Consumers in Listeria Outbreak 
CDC is not recommending that consumers avoid any particular food at this time. CDC will update its advice if more information becomes available, such as a supplier or specific food product linked to illness.
Listeria is most likely to sicken pregnant women and their newborns, adults aged 65 or older, and people with weakened immune systems. People who have underlying medical conditions or take medicines (like steroids or chemotherapy) that lower the body's ability to fight germs and sickness have weakened immune systems.
Some foods are more likely to contain Listeria. People at higher risk for infection should:
Heat lunch meats, cold cuts, or other deli meats to an internal temperature of 165°F or until steaming hot just before serving.
Avoid eating cold smoked fish, unless it is canned or shelf-stable or it is in a cooked dish, such as a casserole. A food is shelf-stable if it can be safely stored at room temperature.
Choose pasteurized milk and milk products, including soft cheese, ice cream, and yogurt.
How Do I Know If I Have a Listeria Infection from this Outbreak?
Only a doctor can make a diagnosis of a Listeria infection. If you have eaten ready-to-eat chicken products and have become sick, urgent medical attention is highly recommended.
It is best not to panic, but it is a good idea to monitor your health and symptoms in the days and weeks after exposure.
And if you do start feeling the symptoms of Listeria, seek medical attention. The Centers for Disease and Control and Prevention estimate that approximately 1,600 people get listeriosis each year with 260 fatalities. These statistics show that despite the relatively low number of infections, the risk of fatality is significant.
Why is Listeria of Such Concern?
Listeria can cause serious infection in young children, elderly people, or those with compromised immune systems. Also, pregnant women are especially at risk as the infection can pass directly to the fetus. Symptoms of Listeria include high fever, severe headache, stiffness, nausea, abdominal pain, and diarrhea. Listeria monocytogenes can grow at refrigerator temperatures, as low as 40 degrees Fahrenheit (4 degrees Celsius). The longer ready-to-eat refrigerated foods are stored in the refrigerator, the more opportunity Listeria has to grow. Listeria monocytogenes is very hardy because it resists freezing, drying, and heat. Additionally, Listeria is particularly virulent as it can cause meningitis and spontaneous abortion, and has a mortality rate of approximately 30 percent. In fact, 32 percent of 165 culture-confirmed listerios cases could be traced to the consumption of food purchased from store delicatessen counters or from the ingestion of soft cheeses.
Listeria is a common presence in nature, found widely in such places as water, soil, infected animals, human and animal feces, raw and treated sewage, leafy vegetables, effluent from poultry and meat processing facilities, decaying corn and soybeans, improperly fermented silage, and raw (unpasteurized) milk. So why does it seem as if we, as consumers, are noticing more and more reports of foodborne illnesses such as listeriosis? One of the answers may be the globalization of the food supply, and instances of "gaps" in safe food handling procedures from farm to fork. There is also the reality of our industrialization and exposure to technology and media that highlights the incidences of foodborne illnesses and outbreaks. There is also the "evolution" of new pathogens that emanate from previously-identified ones, the increase in international travel and trade, drug-resistant pathogens, and finally, changes in the food production system.
How The Lange Law Firm Can Help
Our mission is to help families who have been harmed by contaminated food or water.  When corporations cause Listeria food poisoning outbreaks or Legionnaires' disease outbreaks, we use the law to hold them accountable.  The Lange Law Firm is the only law firm in the nation solely focused on representing families in food poisoning lawsuits and Legionnaires disease lawsuits.
If you got sick after eating precooked chicken and are interested in making a legal claim for compensation, we can help.  Our Listeria lawyer can help you pursue compensation for your Listeria infection.  Call us for a free no obligation legal consultation at (833) 330-3663 or send us an e-mail here.