Cereal Safety
Posted in Outbreaks & Recalls,Salmonella on June 21, 2018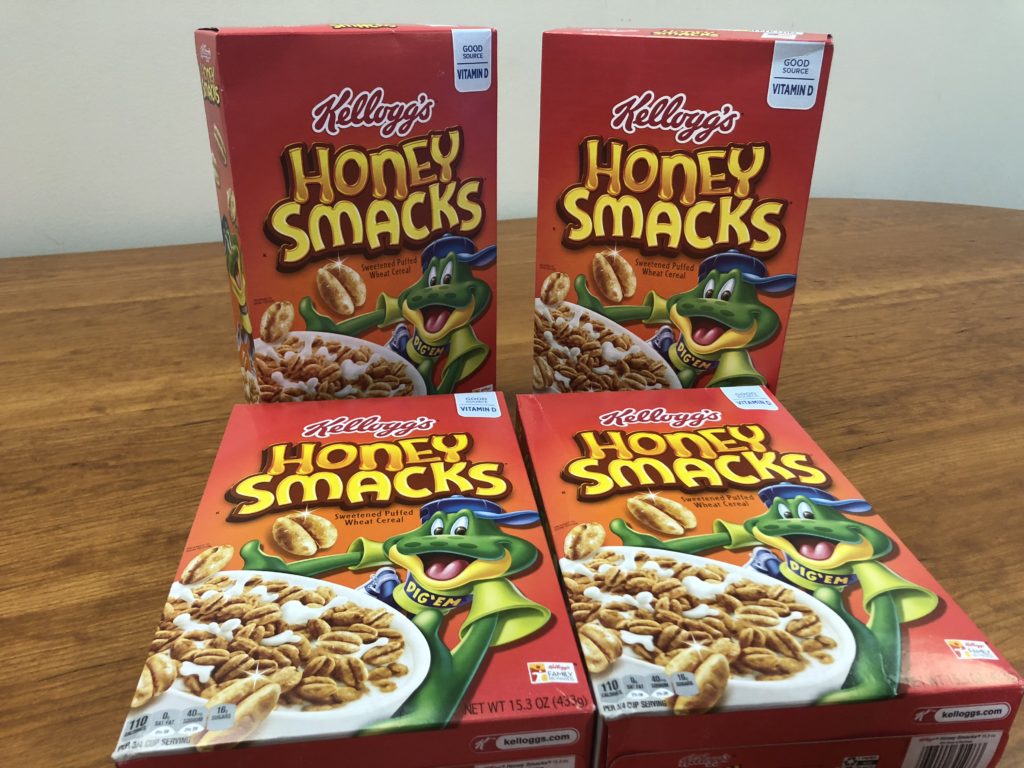 Nothing seems to be safe anymore. No one ever thinks about Cereal Safety.  Even your everyday breakfast cereal.  The Center for Disease Control and Prevention (CDC) and U.S. Food and Drug Administration (FDA) are currently investigating a Salmonella outbreak that has been linked to Kellogg's brand Honey Smacks cereal.
Cereal is a staple in most households.  In fact, the average American eats 160 bowls of cereal per year.  This accounts for 2.7 billion boxes of cereal sold each year in the United States.  If you are a household that keeps cereal stocked in your pantry, you should head over to the kitchen to see if you have this cereal.  But first, let's explore what is going on with this product and how a simple, unoffending cereal could be responsible for so much illness.
Current Outbreak Statistics
As of the most recent reporting, 73 people have fallen ill with the same strain of Salmonella posted to PulseNet (a foodborne illness database).  This outbreak spans 31 states and has resulted in 24 hospitalizations.  At this time, no deaths have been reported.  Current data indicates that illness onset ranges from March 3, 2018 to May 28, 2018, though we may see more cases as reported information trickles in.
It can take several weeks for an individual to become symptomatic enough to seek medical attention, for tests results to come back, and then for the case linked to the outbreak.  Additionally, only the severe cases tend to be counted.  Those who have milder symptoms generally do not seek medical attention, so their sample is never genetically analyzed to be linked with the outbreak.  According to the CDC, for every reported case in an outbreak there are another 30 that are not captured.  If you are experiencing any symptoms of Salmonella infection (diarrhea, fever, abdominal cramps, vomiting) after consuming Kellogg's Honey Smack cereal, the CDC urges you to see your health care provider and be tested.
Based on epidemiological evidence, the CDC has cited Kellogg's Honey Smacks cereal as "a likely source of this multistate outbreak."  Investigators interview those who have been linked with the outbreak. Of those interviewed, 77% reported that they had eaten cold cereal during the week they became ill.  Many of those reported eating Kellogg's Honey Smacks in particular.  According to the CDC, "ill people in this outbreak reported this cereal more often than other cereals or food items."
Recall Issued
The Kellogg's Company issued a recall last week for two specific sizes of product, 15.3-ounce packages with UPC code 3800039103 and 23-ounce packages with UPC code 3800014810, both with "Best If Used By Dates" JUN 14, 2018 though JUN 14, 2019.  The company says the product was distributed across the United States but also had limited distribution to Costa Rica, Guatemala, Mexico, the Caribbean, Guam, Tahiti, and Saipan.
While the recall helps take current product off of store shelves, the CDC has issued more conservative warnings. "Do not eat Kellogg's Honey Smacks cereal of any size package or with any "best if used by" date."  Even if you or someone in the household has eaten some of the product and has not become sick, DO NOT EAT the product.
If you have any of the product in your home you should throw it away or return to your place of purchase for a refund.  Retailers are asked to not sell or serve Kellogg's Honey Smacks cereal.  If you have checked your pantry and you do have the product, you will want to take a few extra steps to protect yourself and your family.
Many people store cereal in another container.  If you do not remember the brand or type of cereal, throw it away.  Be sure to thoroughly wash the container with warm, soapy water before refilling it to prevent cross-contamination to new foods being stored in it.
Salmonella in Cereal?
When you think about Salmonella, you generally think the more common culprits, such as eggs, poultry, or meat.  Even unpasteurized food items such as milk, juice, or cheese makes sense.  We have heard about raw fruits and vegetables in the news as well for Salmonella.  But there really is not limit to areas or types of food Salmonella may contaminate.  But cereal?! Why not?
Every food manufacturing plant should have process controls to ensure safe products are made for consumers.  While manufacturers may have all of the right procedures in place, there is always a chance for a breakdown in those practices.  This is when things go wrong and people can become sick.
While the specifics of what went wrong and caused the introduction of Salmonella bacteria to be introduced to the Kellogg's Honey Smacks product, it is safe to say that Salmonella made its way into the ready-to-eat steps of the production process from either a contaminated product, piece of equipment, or employee.
Contaminated Product – Manufacturers trust that their vetted suppliers are providing safe ingredients that they use to make their products.  Sometimes the breakdown occurs before even making it to the manufacturing plant.  If an individual ingredient comes to the facility already contaminated, it might also contaminate surfaces in the facility.  Even if an ingredient is processed in such a way that might kill any harmful bacteria, if the facility becomes contaminated it may make its way into the ready-to-eat product.
Contaminated Equipment – If equipment becomes contaminated, the product coming in contact with that equipment is likely to become contaminated.  Particularly if the bacteria are introduced in a ready-to-eat state.  This is sometimes the most frustrating type of contamination, as all processing steps must be halted until all equipment is clean and tested.  It might take several rounds of cleaning to find the exact area where contamination is being introduced.
Contaminated Employee – Sometimes contamination originates from a sick employee.  Someone who is infected with Salmonella that has not washed their hands effectively after using the restroom may contaminate any food product he or she comes in contact with.  This person may also contaminate equipment, further complicating the traceback process.
However, the contamination occurs, halting production and ensuring that additional product is safe for consumption is a top priority.  While some may only experience mild gastrointestinal illness, others could succumb to life-threatening infection and complications.
MakeFoodSafe.com will continue to monitor this outbreak and provide updates as they become available.
By: Heather Van Tassell, Contributing Writer (Non-Lawyer)