Manitoba Salmonella Onion Outbreak
Posted in Our Blog,Outbreaks & Recalls,Salmonella on August 4, 2020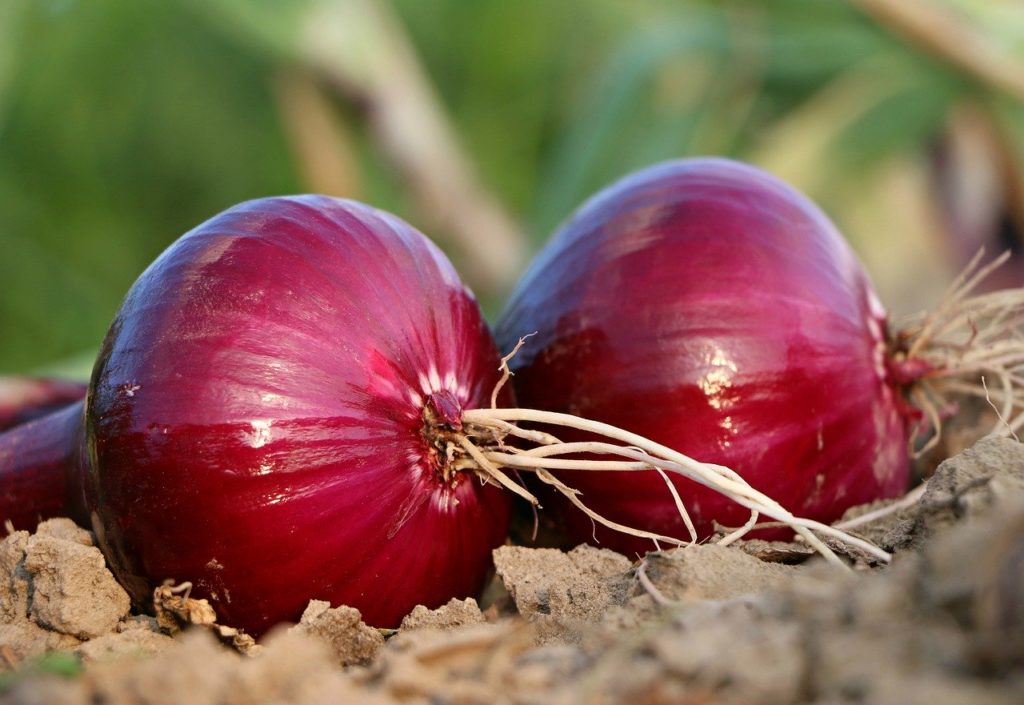 13 Manitoba citizens have fallen ill after contracting Salmonella poisoning from red onions. Investigations show the outbreak is linked to Imperial Fresh red onions imported from California to Canada. Here's what we know about this Manitoba Salmonella Onion Outbreak:
Manitoba Salmonella Onion Outbreak
As of August 1st, white, yellow, and sweet onions are also recalled due to possible cross contamination from the diseased red onions. Ground zero of this multi-national problem is said to be from Thomson International Inc., in Bakersfield California.
These onions began shipping after May 1st under supplier names:  Food Lion, Hartley's Best, Imperial Fresh, Kroger, and Thomson Premium. Though the FDA, CDC, and CFIA urge onions to be discarded immediately, the news came late for nearly 400 North Americans and 120 Canadians; 13 of which are Manitoba residents.
To keep your family protected from this food borne bacteria, it is imperative to source all onion products. This includes raw as well as any meals made with the above-listed varieties. Currently, public health notices assure Canadian grown onions are safe for consumption.
So, what does that mean for Manitoba?
As health departments work to find the contaminate causing the conundrum, you'll have to be a smart consumer. Your famous Salisbury Steak Nips might have to be served without fried onions. That is unless you can be guaranteed by restaurant owners that they aren't using recalled onions in their recipes.
With Sysco being a massive distributor to food-driven establishments, it's a good idea to check. Why Sysco? Well, they just happen to be partnered with Thomson International, which is how these contaminated onions had such a far reach. Try not to stress your onion-loving heart to the point of breaking. It's no time to panic, just simply be aware. Sysco has many suppliers; this means its not the end-all if your grandma's senior care center kitchen is serviced by this massive distributor. Again, check where the onions are from, get rid of risky produce, and your loved ones will be fine.
To find know your onion's "birthplace," read the label, or sticker. If that fails, seek management. Now, if you still can't find the answer, don't buy the onion. The idea is to avoid onions grown in North America until more information can be released.
That won't be too difficult for Manitobans, will it? You locals know what I'm blabbering about.
Manitoba has a defense system. Some of us in the states may not have heard about your own produce farms. So, let me explain.
Canada already has some big-time onion distributors that have caused a bit of ruckus amongst U.S. farmers. One of the many examples is 77-year-old Peak of the Market, located in good ole Manitoba. This "grower-owned, not-for-profit" distributor pumps 110 million dollars a year into the economy already. Imagine the possibilities now.
Their careful storage, year-round growing, and partnerships with a vast list of local farms has brought these master food-handlers into California. That's right. Manitoba exports onions to the very state that exported contaminated onions to them.
Talk about perfect positioning for a marketing and sales boosts.
It's not just Manitoba that can benefit from the trade. Peak of the market is also located in Alberta. That's a good safeguard to stifle more infections, as 55 Albertans fell ill after eating these Salmonella infected onions.
Is this prime opportunity for Manitoba's Peak of the Market to hit back with an economic boost via export? Maybe. I'd watch for the possibility to arise. The market was already competitive, and Coronavirus is making its own waves. It was only recently, as in the beginning of this year, that Canadian exported onions were outpricing American onion farms. This caused a lot of noise which had many farmers calling for investigation into trade violations. The end result? Canadian farms remained positioned for profitability and may be even better off now.
Illness
These economic possibilities may not bring comfort to the Manitoba people who are struggling with the many symptoms of Salmonella poisoning. Why would it? If I suffered from bloody stool, fever, pains, and possible long-term effects of reactive arthritis, I'd be inconsolable.
These symptoms can be mild to aggressive and may begin within 6 hours to 4 days after consumption. Specifically, those who consumed onions between the middle of June to mid-July and showed signs of illness should be aware they may have contracted Salmonella. While not all who become sick need hospitalization, the illness is incredibly interfering and let's be honest, retched.
It can't be stressed enough how vital it is to toss a questionable onion in the trash. Yes, we lower our risk of Salmonella infection by cooking meat; however, this does not mean the same treatment works for onions. As onions are eaten raw, caramelized, or deep fried, your safety cannot be guaranteed with produce that has been confirmed in the line of infection.
These onions should be treated with more than the precautions we use in our regular cooking habits. During an outbreak, extreme wariness is needed. I hate to use the adage "when in doubt, throw it out," but it fits. These onions are layered with doubt.
Be smart, be cautious, and keep your food satisfying rather than detrimental. While you're at it, I'd suggest keeping up with outbreaks in your area through Make Foods Safe.
How The Lange Law Firm Can Help
Our mission is to help families who have been harmed by contaminated food or water.  When corporations cause Salmonella food poisoning outbreaks, we use the law to hold them accountable.  The Lange Law Firm is one of the only law firms in the nation focused on representing families in food poisoning lawsuits.
If you got sick in this latest Manitoba Salmonella Onion Outbreak or from the onions recall and are interested in making a legal claim for compensation, we can help.  Our Salmonella lawyer can help you pursue compensation for your Salmonella food poisoning.  Call us for a free no obligation legal consultation at (833) 330-3663 or send us an e-mail here.
By: Heaven Bassett